SET DECORATORS SOCIETY OF AMERICA MISSION STATEMENT
The mission of the Set Decorators Society of America is to promote the highest standards of excellence in the field worldwide, and to entertain, inspire, teach and preserve the legacy of set decoration in motion pictures and television.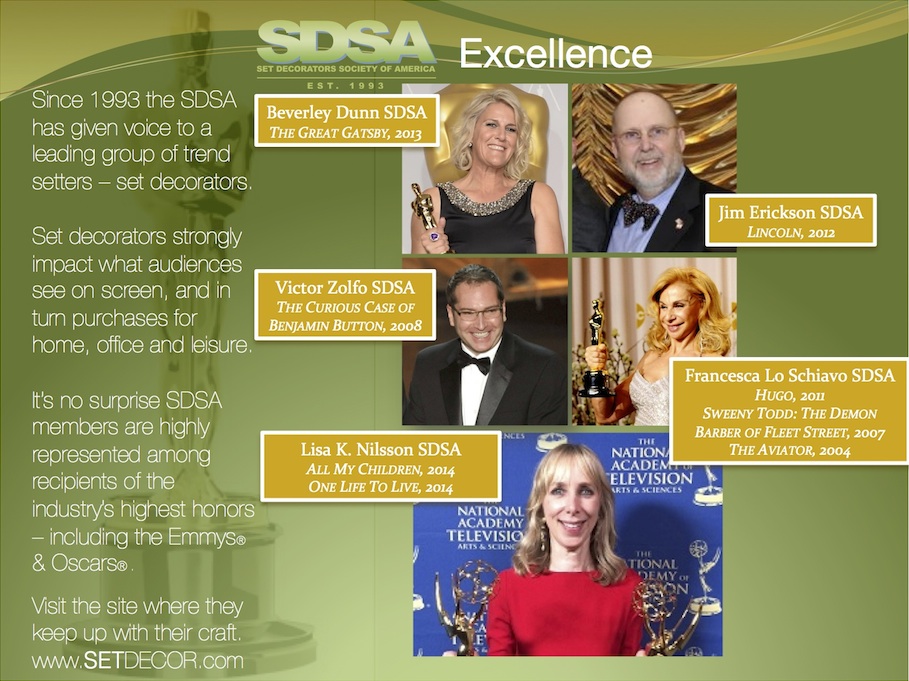 ---
What Is A Set Decorator?

Set Decorators are key members of the design team for film, television and commercials. Working closely with the Production Designer and the Director, the Set Decorator must research, resource, and acquire all the objects required to dress the sets. Typical examples of this set dressing may include furniture, drapery, lighting fixtures, art and other decorative objects. However, the Set Decorator is also charged with large scale items, which could include machinery or robots, sidewalk window dressing, street items (such as street lamps and mailboxes), even rubble and debris!

---
The Creative Process

Over the course of preparation and shooting, Set Decorators:
Collaborate: Meet with the Production Designer, Director, Producers, Costume Designer, Construction Coordinator, Cinematographer and other filmmakers regarding the design, decoration, lighting, and look of the project.
Budget: Negotiate for Production approval and monitor on a daily basis the Set Dressing Purchases & Rentals Budget, and the Set Dressing Labor Budget.
Hire: Bring together the Set Dressing Crew and support contractors, set the tone for the work to be done, supervise the process, and be available to answer questions.
Organize: Break down the script, identify sets and practical locations, plan the objects to be acquired for each set, and schedule all deadlines for acquisition.
Research: Present period and style inspiration appropriate for each project. Prepare presentation boards with research, swatches, colors, and examples of objects.
Imagine: With the Production Designer and Art Director how characters and environments are to be portrayed and reflected within the layers of the set.
Shop: For all set dressing needed: furniture, fabrics, decorative objects, industrial items, lighting fixtures
Design: We are responsible for the design and fabrication of objects unavailable in the marketplace. This may include organizing alterations and upholstery, creating window treatments, painting and aging of set dressing, working with illustrators, set designers, scenic artists, sculptors, prop makers, metal smiths and other specialty craftspeople to achieve a finished product.
Dress: Oversee the dressing of the sets with the Set Dressers to the satisfaction and agreement of the Production Designer.
Present: Open each new set with the Director, making any adjustments needed.
---
A Unique Professional Network

The Set Decorators Society of America, founded in 1993, is the only national nonprofit organization dedicated to the support of the past, present and future of our profession. Members include qualified Set Decorators of Motion Pictures and Television, including commercials and music videos, as well as Business Members who provide furnishings, materials, and professional services to our trade.
We offer fellowship and networking opportunities for set decorators, crew members and vendors within our craft, and a bridge to other design and technical professions in the entertainment industry. For emerging decorators, students and apprentices hoping to enter our field, we have Associate and Student Memberships as well as various educational opportunities.
Our many activities preserve the past, provide businesses with strategies for success, and pave the way for an ever more professional group of Set Decorators in the future.
---
SDSA CURRENT EXECUTIVE BOARD
Shirley Starks - President
Regina O'Brien, David Smith - Vice Presidents
Natalie Contreras - Recording Secretary
Jennife Gentile - Treasurer
Lisa Alkofer
Maryann Biddle
Amanda Carroll, NYC
Lisa Clark
Mimi Clarke**
Jon Danniells, ATL
William DeBiasio
Linda Sutton-Doll
Laura Evans
Daryn Reid Goodall
Phil Hoffman
Michele Harding-Hollie
Brandi Kalish
KayDee Lavorin
Lauree Martell
Chilly Nathan
Adrianna Cruz Ocampo*
Sara Osborne
Melinda Ritz
Rand Sagers
David Schlesinger, NYC
Beth Wooke
* Business Member Rep, U Frame It Gallery
**Buisness Membe Rep, Front Row Media

CURRENT SDSA MEMBERSHIP COMMITTEES

Awards Luncheon Committee
Plans and prepares the annual awards luncheon including: choose the award recipients, working with the venue, working with various members to procure funding through donations and sponsorships and prizes from Business Members.
Current members include: Daryn Reid Goodall, Shirley Starks, Corri Levelle (Sandy Rose Floral, Inc), Laura Richarz, Ellen Brill, Erica Rogalla, Christina Giovacchini, Demittajo Govan, Samantha Maggio, Cindy Patino (FIDM), Marcia Dios, Claudia Rovner, Colby Giovacchini, Adrianna Cruz-Ocampo (U Frame It Gallery), Tom Early (advisory)
Business Members Committee
Provides a network for those who offer goods and services to Set Decorators, including creative marketing channels that benefit the SDSA and the Business Members.
Current members include: Adrianna Cruz-Ocampo (U Frame It Gallery) and Corri Levelle (Sandy Rose Floral) Co-Chairs, Jennifer Gentile, Bambi & Danny Bremgartner (Aah Inspiring Balloons), Mimi Clark (Front Row Media), Pam Elyea (History for Hire), Gia Grosso, Marjori Madura (Frost), Natali Pope, Bob Pranga (Dr Christmas Rents), Shirley Starks, Chanida Trueblood.
Bylaws Committee
Updates the SDSA bylaws as needed.
Current members include: Regina O'Brien, Chair, Natali Pope
Community Outreach Committee
Devoted to giving service, support and educating the community that surrounds the commercial, television and film industry. Raises funds for donations to charity and SDSA member fund via art auction and other events.
Current members include Phil Hoffman, Chair, Valerie Brenci, Mae Brunken, Susan Chooljian, Michele Hollie, George Karnoff, Carol Bayne Kelley, Chad Norris (H.D. Buttercup), Kristin Peterson, Rob Turner, Richard Walker, Beth Wooke. NOTE: new members to be vetted by COC chairs.
Don Quixote
A media watchdog acknowledging positive portrayals of Set Decorator's contributions to and work in the industry. Corrects errors and inaccuracies, bringing attention to misinformation and misrepresentation about Set Decoration in the media, raising awareness about our art and craft.
Current members include: Tom Early, Chair, Donald Elmblad, Ron Olson, Lorraine Genovese
Educational Outreach
Organizes Day with the Set Decorator events. Outreach to SDSA Student Chapters and schools providing instruction in film and televsion.
Current members include: , William De Biasio, Daryn Reid Goodall Co-Chairs, Halina Siwolop Karen Burnett, Tricia Sullivan, Justine Mercado, Nicole Case, James Connelly, Natalie Contreras, Adrianna Cruz-Ocampo, Don Diers, Amy Feldman, Nancy Garber, Daryn Reid Goodall, Corri Levelle, Lia Lopez, Lauren Lustig, Laura Richarz, Rand Sagers, Dan Schultz
Elections
Oversees SDSA Elections: Board of Directors and Officers in alternating years. Contacts nominated members, explains duties to potential board members or officers. Oversees ballot by mail for board members, election by board for officers.
Current members include: Halina Siwolop, Regina O'Brien, Shirley Starks
Events
Provides networking opportunities and organizes the general membership meetings as well as member cocktail parties and mixers. Subcommittees my be introduced for putting together special events outside of regular calendar of events.
Current members include: Natalie Contreras, Ron V. Franco, Jerie Kelter, Michele Munoz, Sony Sikkila-Dias (Fox Studio Production Services)
Future Directions
Explores and defines the future growth of the organization within the profile of the craft as well as area of the community and industry.
Current members include: Rosemary Brandenburg
Membership
Reviews membership applications, contacts applicants and maintains memberships files and cards, Reaches out to prospective and new members with packets and guidance.
Current members include: Phil Hoffman, Chair, Maryann Biddle, Ellen Brill, Lynda Burbank, Cindy Carr, Don Diers, Linda Sutton-Doll, Shelley Freeman (The Mannequin Gallery), KC Fox, Carol Bayne Kelley, Jerie Kelter, Maria Nay, Denise Pizzini, Natali Pope, Beth Rubino, David Smith, Michele Stern (Astek), Beth Wooke
Revenue Enhancement
Plans for the financial health of the SDSA.
Current members include: Daryn Reid Goodall, Melinda Ritz
Website

SETDECOR
Karen Burg, Editor
Karen.Burg@setdecor.com

SDSA's face to the world. Maintains website, keeps content and articles current. Supports website via advertising sales, provides data on viewer statistics.
Current members include: Beth Wooke, Chair, Rosemary Brandenburg, Victor Zolfo, Natalie Contreras, Ron V. Franco, Regina O' Brien, Jan Pascale, David Smith, Bryan Venegas,Jennifer Gentile



---
Interested in sponsoring our website?
Advertising units start as low as $25 per month.
Set Decorators have purchasing and decision making power. Our website, www.setdecorators.org is the only website dedicated to the craft of set decoration within the film and television industry.
Email us at website@setdecorators.org or click on the PDF of the General Sponsorship rate card. (Members of the SDSA enjoy up to 50% discount-Membership Applications below):
SETDECOR Online:

Maria Margarita Lopez: Sales & Marketing
mmlopezmarketing@earthlink.net
1-323-702-4355
Email us at: website@setdecorators.org
Attention: Beth Wooke SDSA website chair
Please contact us in any of the following manners:
SDSA
7100 Tujunga Ave., Suite #A
North Hollywood, CA 91605
Gene Cane, Executive Director
Tel:
818.255.2425
Fax:
818.982.8597
email administration: sdsa@setdecorators.org
---
The SDSA is a 501-C6 Not for Profit Corporation
To support these ventures, we rely on membership dues, donations from Corporate Sponsors, magazine and website advertising revenues, activity fees, and grants from those concerned with small business development and educational support.
The SDSA is separate and apart from any labor union and the organization does not represent Set Decorators in negotiations regarding wages or working conditions, leaving this function to our local unions, including IATSE Local 44 in Los Angeles and Local 52 in New York.