(Click to enlarge)
Audrey Blasdel-Goddard- Lifetime Achievement Award Winner 2015



(Click to enlarge)
FUNNY LADY... Barbra Streisand.Photo by Mel Traxel © MPTV. Image courtesy mptvimages.com



(Click to enlarge)
FUNNY LADY... Barbra Streisand, Omar Sharif. Photo by Mel Traxel © MPTV. Image courtesy mptvimages.com



(Click to enlarge)
FUNNY LADY... Barbra Streisand. Photo by Mel Traxel © MPTV. Image courtesy mptvimages.com



(Click to enlarge)
I LOVE YOU ALICE B TOKLAS... Peter Sellars. Photo by Mel Traxel © MPTV. Image courtesy mptvimages.com



(Click to enlarge)
IRONSIDE... Raymond Burr. Photo by Gene Trindl © 1978 Gene Trindl. Image courtesy mptvimages.com



(Click to enlarge)
MUNSTERS... Photo courtesy of CBS Television Archives



(Click to enlarge)
MUNSTERS... Al Lewis, Fred Gwynne, Yvonne De Carlo, Beverly Owen, Butch Patrick. Photo CBS Television Archives



(Click to enlarge)
PETULIA... Julie Christie Photo © Warner Bros. Ent



(Click to enlarge)
THE BIG BOUNCE... Ryan O'Neal, Leigh Taylor-Young Photo © 1969 Warner Bros.



(Click to enlarge)
THE BIG BOUNCE... Ryan O'Neal. Photo © 1969 Warner Bros.



(Click to enlarge)
THE FURY... Amy Irving, Charles Durning. Photo © 1978 courtesy 20th Century Fox



(Click to enlarge)
THE JOHN FORSYTHE SHOW... John Forsythe. Photo by Gabi Rona © MPTV. Image courtesy mptvimages.com


Audrey Blasdel-Goddard: Earl Cooperman Lifetime Achievement Award 2015
Audrey Blasdel-Goddard SDSA Lifetime Achievement Award Winner 2015

As a trailblazer, Audrey Blasdel-Goddard SDSA was the first woman to head a major studio property department!

She set new standards throughout an extensive career ranging from Script Supervisor to Set Decorator and Producer, actively fighting the intrinsic cronyism of the old studio and union systems, ensuring that people be hired and promoted on merit, not patronage.

Audrey helped many top Set Decorators, Propmasters and Leadpersons get into and excel in the film and television industry. A glance at her credits will reveal numerous now well-recognized names working on her productions. Her set decoration work includes feature films such as FUNNY LADY and I LOVE YOU ALICE B. TOKLAS and television series THE MUNSTERS, among innumerable others!

Watch this exclusive video Produced by History for Hire and directed and edited by Gregory Gast, Syncopated Video on our SDSA Set Decorators Vimeo Channel…

…and read below the fascinating history of set decoration through the perspective of an amazing woman's struggles and accomplishments!



Audrey Blasdel-Goddard Audrey Blasdel-Goddard has always practiced the art of living life to the fullest. The arc of her career encompassed her delight in being part of a personal business. Friendships came easily, and she reached out a hand to help the new generation, just as she was helped by others who promoted her success along the way.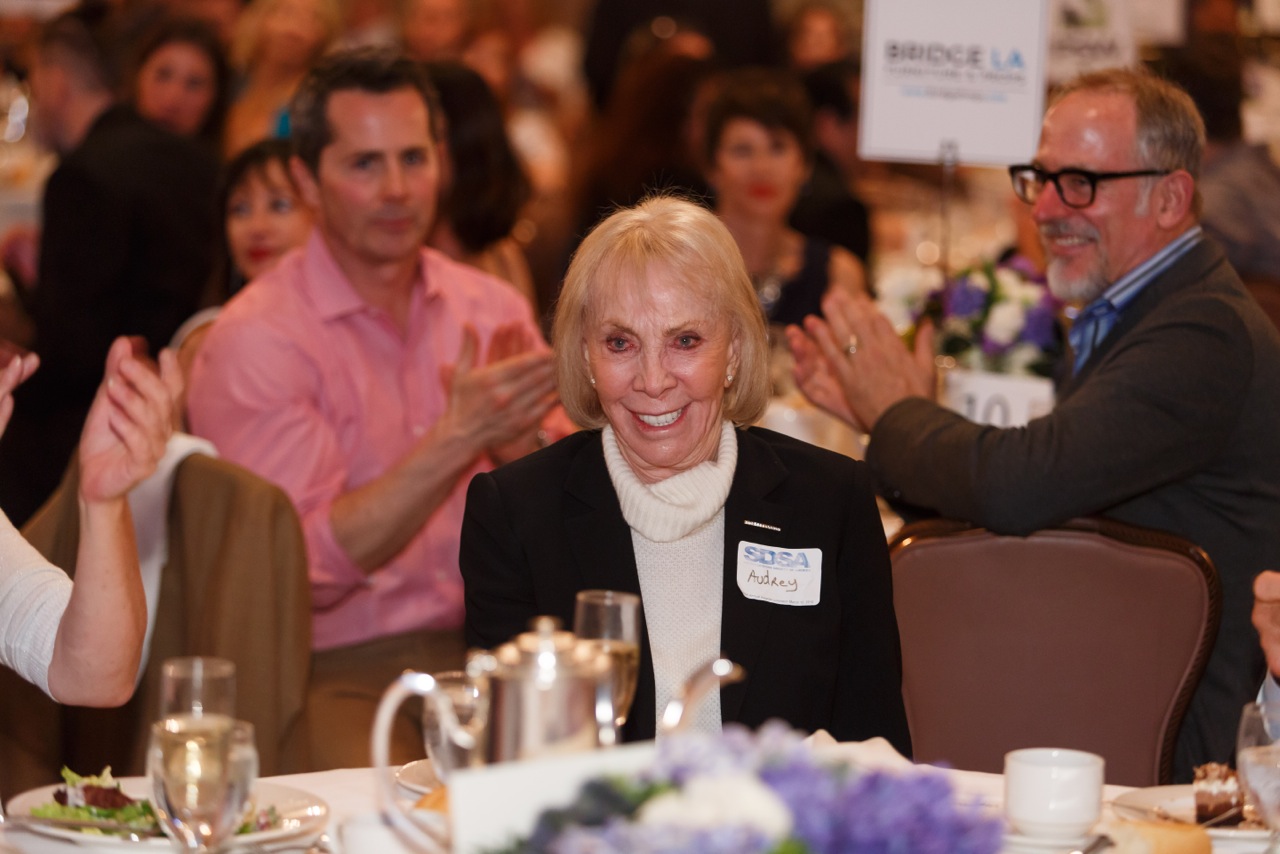 Audrey Blasdell-Goddard at the 22nd annual SDSA awards luncheon 2015. photo credit: Sean Twomey/2me Studios



Originally from Long Beach, CA, with a Master's in Sociology from UC Berkeley, Audrey's first career was in social welfare work. Drawn to the film business, she discovered through library research that Script Supervisor was a job she could handle as her entree.

The Script Supervisor's union insisted that no training was available and that there were no openings. The selection process for new hires was cronyistic at best. Eventually, the union opened a few opportunities through a new trainee program. After learning the basics of the craft for 3 short weeks on MAN WITHOUT A GUN, she was assigned to her first job on the TV series SKY KING, where she spent 2 years learning on the job. After 9 years as a Script Supervisor, gaining insight for story, character and the technical aspects of filmmaking, she set her sights on Set Decoration, drawn by how important this art form is to story development.

Audrey enjoyed a close friendship and trained with legendary Set Decorator Julia Heron. From 5:30-7:30 AM, Audrey accompanied Julia on her rounds, then worked as a script supervisor during the day. At night, she went to art school in design and interior decorating.

She inquired at Local 44 for acceptance into the union as a Set Decorator. At the time, Ed LeRoy was Business Agent. She remembers his words to her: "We haven't taken a woman into this union, except seamstresses, since it was called the IA."

LeRoy was referring to the difficult experience of Set Decorators, beginning in the 1930s and '40s, stemming from cultural and economic forces in the Great Depression, World War II, and the subsequent Red Scare, culminating with the Blacklist of many prominent Hollywood artists.

There were two separate unions vying for control of the back lots of Hollywood: the Confederation of Studio Unions, which was perceived as democratically run by its advocates, and the International Alliance of Theatrical and Stage Employees, whose leadership was characterized by its detractors as mob-controlled, with roots in the Chicago crime syndicate, allegedly on the take from studio chiefs as long as they kept wages down and there were no strikes.

Hollywood Black Friday - October 5, 1945: The police and Warner Brothers Studios security officers joined a melee involving over 1000 people, some wielding chains, hammers, pipes, tear gas and fire hoses. This bloody week-long riot marked the end of a six-month strike, led by none other than the Society of Motion Picture Interior Decorators. This group of 77 Set Decorators had broken with representation by the IATSE. In 1937, they formed the SMPID, negotiated their own contract with the Producers, and joined with the CSU. Producers stalled talks, and 10,000 CSU workers joined the Set Decorators in their strike against most of the major studios, due to the Studios' refusal to negotiate with the CSU. At Warner Brothers, 300 CSU strikers confronted IATSE-backed replacement workers, and the battle began. Before the year was out, IATSE workers filled the positions of CSU workers across the backlots. The SMPID was finished. The Producers gave IATSE jurisdiction over the Set Decorators, who were then assigned to Local 44.

In this context, Ed LeRoy's comment to Audrey, 20 years after Hollywood Black Friday, implied that Set Decorators' tendencies toward free expression would be suppressed, and any new members would be selected by the union leadership. The only female Set Decorators in Local 44: Julia Heron, Ruby Leavitt, Grace Gregory, and Ellie Benneke had been grandfathered in once the SMPID was dissolved; same with: Henry Grace, Hugh Hunt, Ray Moyer, Walter Scott, and other illustrious SMPID founders.

In the 1960s, the "studio system" was in force. The heads of the Property Departments for each studio assigned Set Decorators, Propmasters and Leads to the shows. Television Decorators rarely left the lot: if they needed something purchased on the outside, there was a studio buyer who would take the order, find it and have it brought in. If outside rentals were required, the Set Decorator would venture out, place the holds, and bring the order sheets to a special "rent room." The staff there would make the pickup, and bring it in for the lot crew to distribute to the stages. Very few purchases were allowed on television shows—most Decorators were limited to what was available in the prop stock. Only feature films made many outside purchases. Most of the fine antiques that were found in the stocks of many of the studio prop houses came from films made in the 1920s-1940s, and were available for use by all the shows until the elimination of back lot storage space in the 1990s and following decades decimated many of these collections.

When Audrey told John McCarthy, the Universal Property Department head, and Frank Arrigo, an Art Director at Universal, of Local 44's rejection, she found a sympathetic ear. The next time it got busy, they hired Audrey instead of the usual practice of promoting a Lead. Her first decorating jobs were the variety show CHRYSLER THEATER, THE MUNSTERS and THE JOHN FORSYTHE SHOW—all at the same time, with the same Lead and crew, as was the practice for the most of the studios.

After 30 days of work at Universal, in accordance with the rules, Audrey submitted her application and dues to the union local for membership, and continued decorating the shows. After four months of no acknowledgement from Local 44, the union called the studio and insisted she be laid off, maintaining they had no application or payment on record for her. Luckily, she had paid her dues by money order and had the receipt: the paperwork was suddenly "found." In 1966, a year and a half after starting work as a Set Decorator, Audrey Blasdel was finally sworn into IATSE Local 44.

The TV business was booming. Property Department heads started hiring people outside of Local 44 as Set Decorators. The union leadership countered, proclaiming that all outside hires were now "Group 2" and had to wait behind the "Group 1" Set Decorators before they could work. This category system had never existed before for Set Decorators, only for the crews. The Local had Audrey pulled off THE MUNSTERS, saying there were too many "Group 1's" out of work.

All of these union policies, from the initial rejection by the Script Supervisors union, to stonewalling tactics by Local 44, had planted a seed in Audrey. She would go on to bring many new people into the union, rewarding merit, education and drive, instead of the old practices of cronyism she despised. "If you're good, you don't care about the competition," she asserts to this day.

Some years later at a union meeting, many Set Decorators were quite concerned about the roadblocks being placed in the way of their professional progress. Set Decorator Bunny Berkeley, Busby Berkeley's brother, made a speech to the effect that the hierarchical setup of Group 1 & 2 was unfair. Audrey made a motion to move those in the Group 2 category to Group 1, and with the votes of this energetic group, the motion passed. Ten years later, the Group 2 category was finally eliminated for Set Decorators, and, eventually, for the entire membership of Local 44. This progressive energy continued to revolutionize Local 44 over the ensuing years, and today the union has evolved to become a competitive environment, where cronyism is a thing of the past.

Audrey's career continued to lead her to new challenges. She decorated many prominent feature films, some notably stylish with a contemporary flair. Among them: PETULIA, I LOVE YOU, ALICE B. TOKLAS, THE ARRANGEMENT, THE FURY, and FUNNY LADY. She worked with many artists repeatedly—including Writer/Director Paul Mazursky and Art Director Pato Guzman—at Warner Brothers, MGM, Paramount, Columbia Pictures and 20th Century Fox, on location around California and nationally.

At Columbia TV, the Studio brass offered Audrey the leadership of the Property Department. By this time, she had married Set Decorator Richard Goddard, and they were raising their daughter Jennifer. The idea of staying in Los Angeles was appealing.

During her tenure as the chief of Columbia Television's Property and Set Decoration Department, Audrey used her position to advocate for higher creative standards. She implemented the practice of hiring a separate crew for each show. She launched the careers of many Set Decorators, Propmasters, Leadmen and Set Dressers including: Jerry Adams, John Anderson, Jim Colburn, Linda DeScenna, Jim Duffy, Dick Goddard, David Horowitz, Richard Kent, Ted Lake, Rusty Lipscomb, Mickey Michaels, and Deborah Siegel-Cosentino.

Audrey was promoted at Columbia and awarded the opportunity to be a Producer or Associate Producer on many TV movies. She was honored with an Outstanding Drama Special Emmy nomination for FALLEN ANGEL, on the subject of pedophilia. She is also proud of BEATRICE, LIFE OF THE PARTY, starring Carol Burnett, about the first recovery house for women alcoholics, and MONEY ON THE SIDE, about housewife hookers. Her roots in sociology informed her producing career, fulfilling her desire to illuminate major social issues.

When Sony bought Columbia Television in 1991, she moved to the MGM lot in Culver City. At this point, the studio system had changed and she was being asked to run a prop house, not designate Set Decorators, Propmasters and crews for the shows at Sony. She built the inventory from scratch, since Columbia's stock stayed at Warner Brothers. On the Sony lot, she arrayed lighting fixtures and drapery, and at the Alla Road building in the Marina, organized the furniture, smalls and artwork warehouse. Sony was an early supporter of the SDSA and hosted several General Membership meetings at the prop house, where SDSA members were duly impressed by her continuing high standards and creativity.

Audrey was also a partner at the prop house Hollywood Central, a founding sponsor of the SDSA. First located in Glendale then moving to North Hollywood, her co-owners were Set Decorators John Anderson, Richard Goddard, Jerry Wunderlich, Art Director Bill Nally, actress Debbie Reynolds, and Leads Nigel Boucher and Frank Brown.

A long career, friends and family now provide the backdrop to a rich and active retirement. She shares her life with her husband, Set Decorator Richard Goddard SDSA, their daughter Jennifer and son-in-law Mark Nye, grandchildren Zoe and Wyatt, and a beloved dog, splitting their time between homes in Toluca Lake and Sunset Beach. Audrey has a group of 6 fast friends dubbed the "Fab 5 +1," belongs to several book clubs, volunteers her time for causes such as the Cancer Society, goes to the latest restaurants, travels, and generally has a great time. Now quite open about her age of 84, she does caution, "If you're still working, don't tell!"

Audrey is simultaneously elegant and tough, adamant in her defense of Set Decorators. With the perspective of the social scientist, her understanding of human nature and the dynamics of power, she stood fast in the face of protectionism and complacency, fostered quality work conditions and insisted upon excellence in everything she did, and in the performance of those under her command.

Audrey Blasdel-Goddard Film & Television Credits

Timeline:
• Born Oct 25, 1930, Long Beach CA
• Masters Degree in Sociology from UC Berkeley 1954
• Social worker 1955-58
• Script Supervisor 1957-65
• Set decorator 1965-88
• Member of Academy of Motion Pictures 1967 - present
• Producer: Columbia TV 1976-1982
• Head of Columbia TV Property Department 1975-1991
• Academy of Motion Picture Arts and Sciences: Art Directors Branch Executive Committee: 1988-1997, 2002-2007
• Joined SDSA 1994
• Member of SDSA Executive Board 1997-99
• Co-owner Hollywood Central Props 1981-1996
• Head of Property, Sony Pictures Entertainment, 1991-98


• Retirement 1998 - present


SET DECORATOR

Feature Films:
PETULIA (1968) Warner Bros.
Director Richard Wester. Production Designer Tony Walton. Shot in San Francisco. Stars Julie Christie, George C. Scott, Richard Chamberlin
I LOVE YOU, ALICE B. TOKLAS (1968) Warner Bros.
Writer Paul Mazursky, Production Designer Pato Guzman. Shot in LA. Star Peter Sellers
THE ARRANGEMENT (1969) Warner Bros.
Director Elia Kazan. Production Designer Gene Callahan. Shot in LA & NY. Stars Kirk Douglas, Faye Dunaway, Deborah Kerr
THE BIG BOUNCE (1969) Warner Bros.
Director Alex March, Production Designer Serge Krizman. Shot in Carmel & Monterey. Star Ryan O'Neil
ALEX IN WONDERLAND (1970) MGM
Director Paul Mazursky, Production Designer Pato Guzman. Stars Donald Sutherland, Ellen Burstyn. Shot in LA
LITTLE FAUSS & BIG HAUSY (1970) Paramount
Director Sidney J. Furie, Production Designer Lawrence Paull. Star Robert Redford. Shot in CA & AZ
BROTHER JOHN (1971) Columbia
Director James Goldstone, Production Designer Al Brenner. Star Sidney Poitier. Shot in CA
THE MARRIAGE OF A YOUNG STOCKBROKER (1971) 20th Century Fox
Director Lawrence Turman, Production Designer Pato Guzman. Star Richard Benjamin. Shot in CA
GOING HOME (1971) MGM
Director Herbert Leonard, Production Designer Peter Wooley. Stars Robert Mitchum, Brenda Vaccaro. Shot in PA & NJ
BAD COMPANY (1972) Paramount
Director Robert Benton. Production Designer Paul Sylbert. Star Jeff Bridges. Shot in Kansas.
THE THIEF WHO CAME TO DINNER (1973) Warner Bros.
Produced by Norman Lear. Director Bud Yorkin, Production Designer Polly Platt. Stars Ryan O'Neal, Jacqueline Bisset. TX locations
BLUME IN LOVE (1973) Warner Bros.
Director Paul Mazursky. Production Designer, Pato Guzman. Shot in CA
FUNNY LADY (1975) Columbia
Director Herb Ross, Production Designer George Jenkins. Set Decorator credit shared with John Franco, Jr. Stars Barbara Streisand, James Caan. Shot in CA
THE FURY (1978) 20th Century Fox
Director Brian DePalma, Production Designer Bill Malley. Stars Kirk Douglas, John Cassavetes. Shot in Chicago

Television:
THE MUNSTERS (1965-66) Universal TV
Half-hour comedy: 19 episodes
TAMMY (1965-66) Universal TV
Half-hour comedy: 21 episodes
THE JOHN FORSYTHE SHOW (1966) Universal TV
Half-hour comedy
PISTOLS N PETTICOATS (1966-67) Universal TV
Half-hour comedy: 25 episodes
IRONSIDE (1967) Universal TV
TV Movie. Shot in San Francisco
STRANGER ON THE RUN (1967) Universal TV
TV Movie. Stars Henry Fonda, Anne Baxter
JARRETT (1973) TV Movie. Screen Gems TV
Set Decorator credit shared with John Lamphear. Star Glenn Ford
THE PARTRIDGE FAMILY (1970-74) Screen Gems TV
Half-hour comedy: 28 episodes
BOB & CAROL & TED & ALICE (1973) Screen Gems TV
Half-hour comedy: 2 episodes. Creator Larry Rosen, Writer Paul Mazursky
THE GIRL ON THE LATE, LATE SHOW (1974) Screen Gems TV
TV Movie
THE LAST ANGRY MAN (1974) Screen Gems TV
TV Movie. Set Decorator credit shared with John H. Anderson
QB VII (1974) Screen Gems TV
TV Mini-series. Stars Ben Gazzara, Anthony Hopkins, Leslie Caron
Nominated: Primetime Emmy For Art Direction/ Set Decoration: Parts I & II CAGE WITHOUT A KEY (1975) Columbia TV
TV Movie
FROM HERE TO ETERNITY (1979) Columbia TV
Mini-series. Starring Natalie Wood. Shot in Oahu, HA & CA
THE BILLION DOLLAR THREAT (1979) Columbia TV
TV Movie
THE NEW GIDGET (1986-1988) Columbia TV
Half-hour comedy
THE DIAMOND TRAP (1988) Columbia TV
TV Movie
_____________________________________________________
HEAD OF COLUMBIA TELEVISION PROPERTY & SET DECORATION DEPARTMENT
1975 to 1991
Audrey Blasdel-Goddard was the Department Head, assigning Set Decorators and Propmasters to all of Columbia's television shows.

In the past, the practice at the Studios was to give the Department Head the top credit, along with the Set Decorator assigned to that show. Once the studio system disintegrated, and filmmakers wanted to hire their own selected crewmembers, this way of operating disappeared.

During her tenure Audrey was credited, along with the Set Decorator, on many TV series, TV movies and TV mini-series, including:
THE QUEST: The Longest Drive (1976)
TV Movie. SD: John Anderson
THE QUEST (1976)
Series. SD: John Anderson
KISS ME, KILL ME (1976)
TV Movie. SD: David Horowitz
MEDICAL STORY (1975)
1-hour series. SD: John Anderson
BANJO HACKETT (1976)
TV Movie SD: Bruce Weintraub
THE LINDBERGH KIDNAPPING CASE (1976)
TV Movie. SD: John McCarthy
MATT HELM (1975-76)
1-hour series. SDs: David Horowitz, Richard Kent
IN THE GLITTER PALACE (1977)
TV Movie. SD Richard C. Goddard SDSA
POLICE WOMAN (1974-78)
1-hour series. SDs: Sal Blydenburgh (24 Episodes), Fred Goetz (14 Episodes), John Franco Jr. (3 Episodes)
POLICE STORY (1973-77)
2-hour series. SDs David Horowitz (85 Episodes), Lloyd A. Linnean (6 Episodes)
ROGER & HARRY: The Mitera Target (1977)
TV Movie. SD: John Anderson
TABITHA (1976-78)
Half-hour comedy. SDs: Sidney Clifford (7 Episodes), James Hassinger (5 episodes)
QUARK (1977)
Series. SD: Jim Duffy
NEVER CON A KILLER (1977)
TV Movie. SD: Richard D. Kent
COVER GIRLS (1977)
TV Movie. SD: Richard C. Goddard SDSA
THE FANTASTIC JOURNEY (1977)
Mini-series. SD: Linda DeScenna
KILL ME IF YOU CAN (1977)
TV Movie. SD: Richard C. Goddard SDSA
THE LAST HURRAH (1977)
TV Movie. SD John Anderson
DAVID CASSIDY: MAN UNDERCOVER (1978-79)
Series. SDs: James Van Leeuwen (3 Episodes), Ronnie D. Chambers (1 Episode), Michele Guiol (1 Episode)
INSTITUTE FOR REVENGE (1979)
TV Movie. SD: Jim Duffy
THE LEGEND OF THE GOLDEN GUN (1979)
TV Movie. SD: David Horowitz
SALVAGE 1 (1979)
1-hour series. SD: David Horowitz
THE INCREDIBLE JOURNEY OF DOCTOR MEG LAUREL (1979) TV Movie. SD: Jim Duffy
POLICE STORY: CONFESSIONS OF A LADY COP (1980)
TV Movie. SD: Fred Goetz
THE DREAM MERCHANTS (1980)
TV Movie. SDs: John Anderson, Lowell Chambers
TO FIND MY SON (1980)
TV Movie. SD: Jim Duffy
GOLDIE AND THE BOXER GO TO HOLLYWOOD (1981)
TV Movie. SD: David Horowitz
GOLIATH AWAITS (1981)
TV Movie. SD: David Horowitz
CODE RED (1981-82)
1-hour series. SD: John Anderson
MR. MERLIN (1981-82)
Half-hour series. SD: Fred Goetz
THE SHADOW RIDERS (1982)
TV Movie. SD: David Horowitz
COCAINE AND BLUE EYES (1983)
TV Movie. Set Decorator: Jim Duffy
BRING 'EM BACK ALIVE (1982-83)
1-hour series. SD Lowell Chambers
MIKE HAMMER: MURDER ME, MURDER YOU (1983)
TV Movie. SD: John Anderson
MIKE HAMMER: MORE THAN MURDER (1984)
TV Movie. SD: David Horowitz
BLUE THUNDER (1984)
1-hour series. SDs: Mickey Michaels (9 Episodes), Joe Kroesser (2 Episodes)
FANTASY ISLAND (1977-84)
1-hour series. SDs: Ted lake (90 Episodes) Frank Lombardo (5 Episodes), David Horowitz (3 Episodes)
HART TO HART (1979-84)
1-hour series. SDs: Bob Signorelli (65 Episodes) James Colburn (37 Episodes) Robinson Royce SDSA (3 Episodes), Jim Duffy (2 Episodes)
A TOUCH OF SCANDAL (1984)
TV Movie. SD: David Horowitz
THE EAGLE AND THE BEAR (1985)
TV Movie. SD: Richard Kent
DEADLY MESSAGES (1985)
TV Movie. SD: John Anderson
CRAZY LIKE A FOX (1986)
1-hour series. SDs: David Horowitz, Jerry Adams
I DREAM OF JEANNIE: 15 Years Later (1985)
TV Movie. SD: John Anderson
ALICE IN WONDERLAND (1985)
TV Movie. SD: Robert De Vestel
OUTRAGE (1986)
TV Movie. SD: Ernie Bishop
A WINNER NEVER QUITS (1986)
TV Movie. SD: Ernie Bishop
THE RETURN OF MICKEY SPILLANE'S MIKE HAMMER (1986)
TV Movie. SD: David Horowitz
T.J. HOOKER (1982-1986)
1-hour series. SDs: David Horowtitz (41 Episodes), Ted Lake (21 Episodes)
STARMAN (1986-87)
1-hour series. SD: Deborah Siegel SDSA
POLICE STORY: THE FREEWAY KILLINGS (1987)
TV Movie. SD: Mickey Michaels
THE NEW MIKE HAMMER (1984-1989)
1-hour series. SDs: David Horowitz (31 Episodes), Jim Duffy (7 Episodes), Ted Lake (4 episodes)
MIKE HAMMER: MURDER TAKES ALL (1989)
TV Movie. SD: Rusty Lipscomb SDSA
DESIGNING WOMEN (1986-1993)
Half-hour series. SDs: Rusty Lipscomb SDSA (75 Episodes), Deborah Siegel SDSA (23 Episodes), Jim Duffy (2 episodes)


CAST THE FIRST STONE (1989)
TV Movie. SD: Jerry Adams




PRODUCER/ ASSOCIATE PRODUCER
Columbia TV Movies of the Week:
A KILLING AFFAIR (1977)
DOCTORS PRIVATE LIVES (1978)
THE CHILD STEALER (1979)
GOLDIE & THE BOXER (1979)
FALLEN ANGEL (1981)
Nominated: Primetime Emmy: Outstanding Drama Special
MONEY ON THE SIDE (1982)
Supervising Producer. Stars Jamie Lee Curtis, Karen Valentine, Christopher Lloyd
LIFE OF THE PARTY: The Story of Beatrice (1982)
Top-Billed Producer. Stars Carol Burnett, Lloyd Bridges
DESIRE, THE VAMPIRE (1982) – Top Billed Producer

CBS:
CBS SUMMER PLAYHOUSE: Doctors Wilde (1987)