In recognition of his estimable body of work in feature films and his contributions to the industry, Set Decorator Hilton Rosemarin SDSA is the recipient of the Set Decorators Society of America Career Achievement Award, the organization's highest honor.
<![endif]-->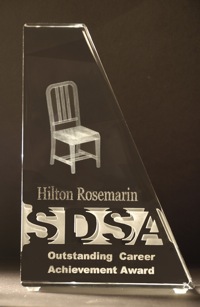 Rosemarin's early experience in classical theater combined with his love of film and enthusiasm for technology epitomize the journey of the modern professional. His film career began in the 1970s, his most recent work will be seen in the upcoming film ZOOKEEPER (July 2011).
As the decades unfolded, he has embraced each form of emerging technology: cell phones, the internet, digital photography, and computer programs ranging from budget tracking to those enhancing the practice of design.
A member of the SDSA Board of Directors, when he was not abroad working, 2000-2007, Rosemarin has introduced fellow set decorators to the newest technical tools, extolling the virtues of hardware or software innovations, whether at board meetings or over coffee…always with a grin of delight.
Rosemarin brings excitement and zeal to each project, and openness to new experiences. His film work has ranged from action-adventure: HELLBOY, XXX, JUMPER, ROLLERBALL, to character-driven films about strong women: MERMAIDS, THIS IS MY LIFE, USED PEOPLE, to westerns & psychological thrillers: THE QUICK & THE DEAD, THE GHOST & THE DARKNESS, A SIMPLE PLAN, to pop culture: COCKTAIL, to family films: MARLEY & ME, ZOOKEEPER…and myriad others…s.
He has welcomed the opportunity to work all over the world, from his native Montreal & Toronto, across the US, the Czech Republic, Egypt, France, Ireland, Italy, Japan, Kenya, Mexico and South Africa. His favorite cities include: Los Angeles, Prague, Rome, London and Cape Town. With that variety comes a passion for inclusiveness and a worldwide perspective.
His wife Philippa, VP Business Affairs for a multi-media company, points out, "Hilton has always been a restless soul and has loved travelling to new places; working in different countries around the world, experiencing other languages and cultures, meeting new people and making new friends. Hilton could be dropped into the middle of a city he had never been to before and by the end of the day he would know where everything was and how to get there."
Rosemarin studied technical theater at Ryerson University in Toronto, and pursued music studies for many years, discovering and sharing music from around the world. His daughters, Chloe and Astrid, have inherited the technical gene, one trained in technical theater, the other works for a trade association for media companies.
Hilton Rosemarin's filmography includes works by Arthur Miller and Stephen King, and a diverse group of directors including Guillermo Del Toro, Richard Benjamin, John McTiernan, Sam Raimi, Robert Redford, and Nora Ephron.
2011 ZOOKEEPER
2008 MARLEY & ME
2008 STREET KINGS
2008 JUMPER
2005 XXX: STATE OF THE UNION
2004 HELLBOY
2002 XXX [with Chris Spellman]
2002 MURDER BY NUMBERS
2002 ROLLERBALL
2000 THE ADVENTURES OF ROCKY & BULLWINKLE
1998 A SIMPLE PLAN
1998 THE HORSE WHISPERER [with Gretchen Rau]
1997 BOOTY CALL [with Danielle Fleury]
1996 THE GHOST AND THE DARKNESS
1996 BOGUS
1996 HIGH INCIDENT [TV series]
1995 THE QUICK AND THE DEAD
1994 IRON WILL
1993 MADE IN AMERICA
1992 USED PEOPLE
1992 THIS IS MY LIFE [with Jaro Dick]
1991 BILLY BATHGATE [with George DeTitta Sr]
1990 MERMAIDS
1990 EVERYBODY WINS
1988 COCKTAIL
1988 A NIGHT IN THE LIFE OF JIMMY REARDON
1987 THREE MEN AND A BABY [with Jacques Bradette]
1987 THE BEDROOM WINDOW
1986 RAW DEAL
1985 JOSHUA THEN AND NOW [with Rose Marie McSherry]
1984 MRS. SOFFEL [with Dan Conley]
1984 A MATTER OF SEX [TV movie]
1982 CLASS OF 1984
1982 THE INCUBUS
1980 MIDDLE AGE CRAZY
1977 THE CREEPER
1975 SUDDEN FURY
In Memoriam: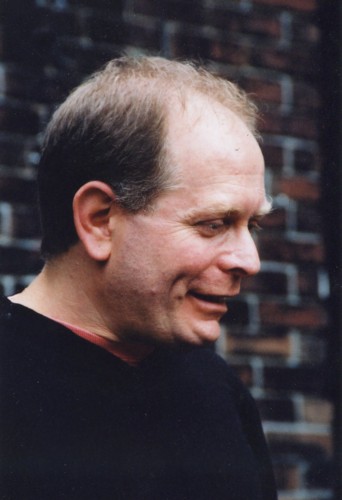 Hilton died at home on Sunday, May 8, 2011 of brain cancer. He leaves behind and brokenhearted his partner, Philippa King, and their two daughters, Chloe (Adam) and Astrid (Andrew). Dear son of Anne Rosemarin and brother of Freya Schnitzler (Larry) and Arno Rosemarin. Predeceased by his father Samson, his father-in-law Robert King, his brother-in-law Matthew King and sister-in-law Brenda King. He was much loved and will be terribly missed by his extended family of aunts, cousins, nephews, nieces, his brother-in-law, Andrew King and sister-in-law, Jennifer King, as well as Maaret Koskinen.

Hilton studied music and theatre in Montreal, where he was born on June 16, 1952, and studied technical theatre at Ryerson University in Toronto. He worked around the world as a Set Decorator on more than fifty motion pictures. He has received the Set Decorators Society of America's Outstanding Career Achievement Award (click here to read Spotlight story on his award). A complete list of his credits is available on the IMDB website. 

He faced terminal illness with courage, peace and equanimity. He has led the way for all of us. We thank our friends and family, the Palliative Care team and caregivers for all of their love, care and support, without which we would not have been able to care for Hilton at home as he wished.

A memorial service will be held on Friday, May 13 at 2 p.m. at the Mount Pleasant Visitation Centre, 375 Mount Pleasant Road, Toronto, East Gate Entrance (416-485-5572). It will be webcast for the benefit of his many friends living all over the world who would like to share it with us. Log-in information will be posted at www.caringbridge.org/visit/hiltonrosemarin In lieu of flowers, please give generously to the Gerry & Nancy Pencer Brain Tumor Centre at Princess Margaret Hospital in Toronto.

For information and condolences, please visit www.etouch.ca