Congratulations to the 82nd Academy Award nominees!
Two SDSA members have been honored with nominations for the Academy Award for Outstanding Art Direction: Gordon Sim with Production Designer John Myhre for NINE, and Katie Spencer with Production Designer Sarah Greenwood for SHERLOCK HOLMES. See below for a glimpse of each film!
[For full list of Art Direction Oscar® nominees click here.]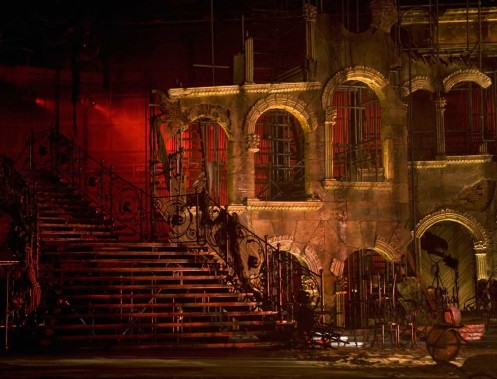 NINE
Photo:Stage 5 at Cinecitta Studios
Photo by David James © 2009 The Weinstein Company. All Rights Reserved.

Set Decorator Gordon Sim SDSA
Production Designer John Myhre
Weinstein

NINE, a musical homage to Fellini, gave Director Rob Marshall and his CHICAGO Oscar® winning team, Set Decorator Gordon Sim SDSA and Production Designer John Myhre, the opportunity to explore the Italian maestro's theme: "Dreams are the only reality".

A re-creation of the historic Stage 5 at Cinecitta Studios in Rome served as the core representation of Director Guido Contini's [Daniel Day-Lewis] life from womb to miasma, morphing into ten different imaginative worlds intertwined with the women in his life. Reality and dreams are woven together through fantastical music pieces performed on these creatively presented manifestations.

Other key sets included a luxurious resort on the Italian Riviera, an earthy third-class pension in the same seaside town, and the ordered liveliness of Lili's realm. The costume designer's world of Contini's confidante [Judi Dench] offers momentary sanctuary and direct access to clarity.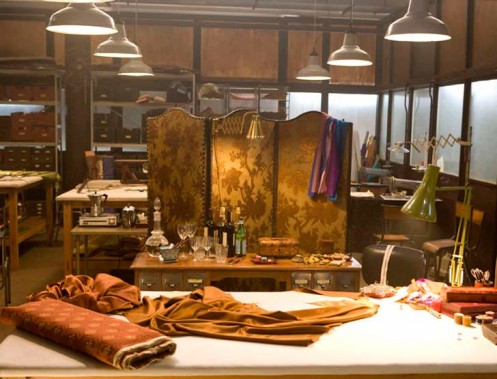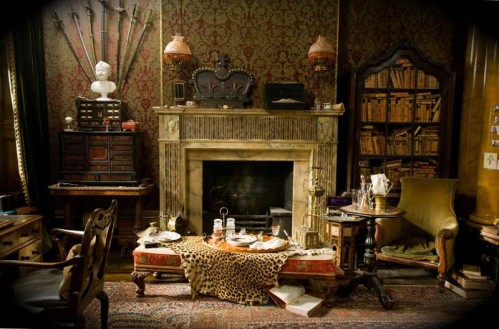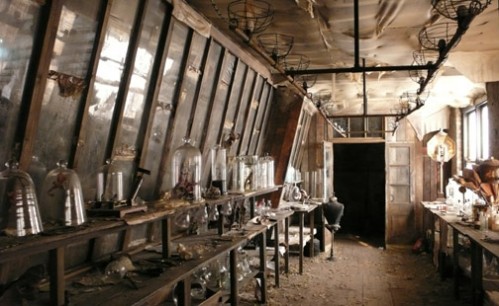 SHERLOCK HOLMES
Photo:
Reordan's Lab
Photo by Barry Wechter © 2009 Warner Bros. Pictures. All Rights Reserved.
Set Decorator Katie Spencer SDSA
Production Designer Sarah Greenwood
Warner Bros.
SHERLOCK HOLMES: New, innovative technologies contrasting with methods and architecture of the past bring the Victorian age to the cusp of the 19th and 20th centuries in the period film SHERLOCK HOLMES. Set Decorator Katie Spencer SDSA and Production Designer Sarah Greenwood have received their third Oscar® nomination for their depiction of the London of 1891 and the revealing environs of the film's characters, particularly those of the brilliant detective and his colleague.
The scope is wide: from gutter to grandeur, from industrial sites to secret societies, from Parliament and palace to decrepit laboratories and jails, from pubs to private clubs, from soaring towers to crypts, and beyond! The sets capture the energy of the dawn of modern man juxtaposed against the long reaches of history.
[Click here for in depth SETDECOR article on Sherlock Holmes!]