Congratulations to all the nominees and recipients for the 67th Primetime Emmy
®

Awards especially to our members, Regina Graves SDSA and Jenny Mueller SDSA!

SETDECOR offers a peek at the Emmy-nominated shows decorated or designed by SDSA members...



Click Here to see a full list of 2015 Emmy Award Production Design nominees.
Click Here to see nominees in all categories.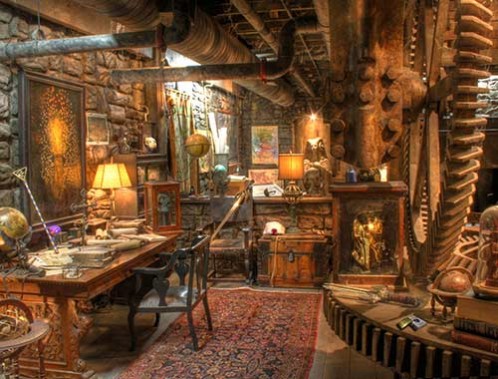 Outstanding Production Design for a Narrative Contemporary or Fantasy Program (One Hour or More)


CONSTANTINE
Set Decorator Natali Pope SDSA
Production Designer Dave Blass
Art Director Hugo Santiago
Art Director Drew Monahan
NBC

Bringing a world deep from the pages of the DC Comics HELLBLAZER to life, the design and decor team help enable the eponymous anti-hero to fight demonic forces all over the planet. The fact that these locales, ranging from Constantine's lair [he's a master of the occult] and NYC to the African continent to Mexico and other countries to intricate sewer systems, mine tunnels and subways, are all actually created in the environs of Atlanta speaks to the depth of the team's creativity and professionalism!

Photo © 2015 NBC. All rights reserved.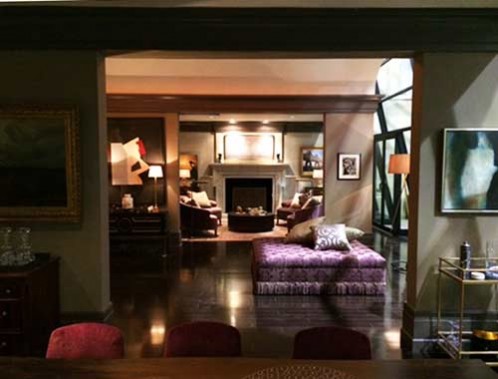 GOTHAM - Pilot
Set Decorator Regina Graves SDSA
Production Designer Doug Kraner
Art Director Laura Ballinger Gardner
FOX

The origin of the origin stories of the Batman universe of characters, this pilot set a fabulous standard of stylized edginess and nouveau television noir. The soaring vaulted ceilings and custom lighting of the city police headquarters create a gothic atmosphere in contemporary times, offering a setting ripe for crooked endeavors…as does the speakeasy style nightclub owned by the Gotham mafia and run by a gangsta-ess. The modern, art-filled apartment of then Police Detective James Gordon's girlfriend offers a perfect counterpoint.

Photo © 2015 FOX. All rights reserved.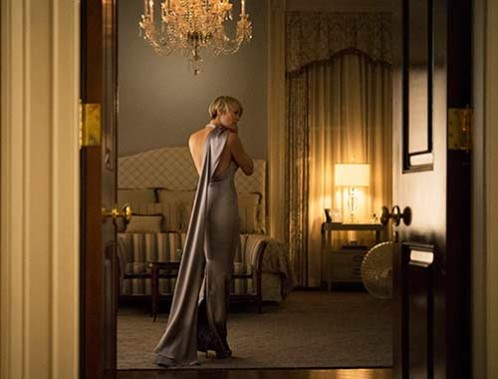 HOUSE OF CARDS
Set Decorator Tiffany Zappulla SDSA
Production Designer Steve Arnold
Art Director Halina Gebarowicz
Netflix

The most recent "season" of the series that defined "binge-watching" brought radical changes, including a visit from the Russian president and a subsequent visit to Russia to secure the release of an LGBT activist, the repercussions of a drone-strike gone bad. We also saw Claire's [Robin Wright] stint as United Nations Ambassador and, after years of deep participation in her husband's political and personal manipulations, her eventual mutiny. No surprise this team garnered another nomination, as we pointed out before, this is a tour de force on many levels!

Robin Wright. Photo © 2015 Netflix. All rights reserved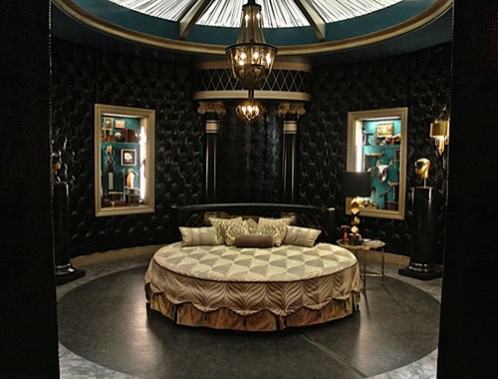 TRUE BLOOD
Set Decorator Ron V. Franco SDSA
Production Designer Suzuki Ingerslev
Art Director Cat Smith
HBO

The final season of the beloved sexy/scary saga opens with a full-scale battle between the Hep-Vamps and the citizens of Bon Temps…and that's just the opening! This team has always taken us far beyond expectations. There is an anticipated deliciousness, a signature mixture of elegance and supreme sophistication juxtaposed against the down country of the deep South and other realms that still reigns throughout the sets…always richly layered realism with a touch of the fantastic!

Photo © 2014 HBO. All Rights Reserved.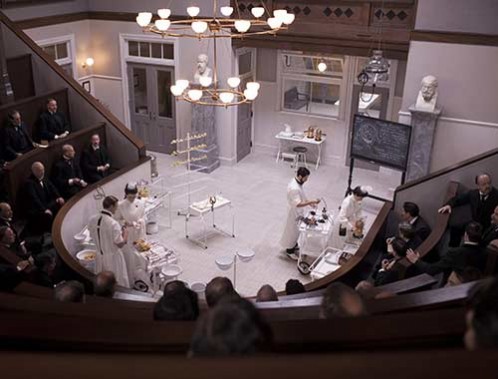 Outstanding Production Design for a Narrative Period Program (One Hour or More)


THE KNICK ***Emmy ***
Set Decorator Regina Graves SDSA
Production Designer Howard Cummings
Art Director Henry Dunn
Cinemax

Gritty realism and great style bring us into the "modern" world of the new 20th century, with medicine on the cusp of great discoveries. Steven Soderbergh and his teams offer a fully immersive experience of the edginess, brittleness and brilliance of an emerging century. The distinctive neighborhoods of New York and daily life among those distinctions…from wealth to poverty, class divisions and cultural divides…give in-depth background to the key set and story base, the Knickerbocker Hospital and the doctor at the forefront of discovery and despair.

Photo© Cinemax/HBO 2014. All rights reserved. Not for reprint or reuse.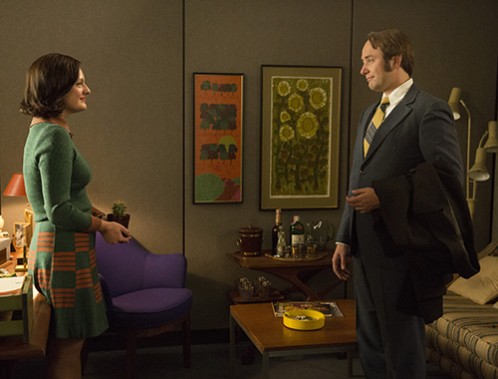 MAD MEN
Set Decorator Claudette Didul SDSA
Production Designer Dan Bishop
Art Director Shanna Starzyk
AMC

The sets of MAD MEN became iconic beacons of mid-century design, fittingly honored with numerous Emmy nominations over the course of the series. It seems odd that this is the final season, the final glimpse into the lives of so many now-iconic characters and their environs. The storyline and sets move into the end of the 1960s and say goodbye just as the new decade begins in 1970. Palettes, textures and people change – hello earth and jewel tones, welcome to crafts and self-expression, and goodbye old friends.

Elisabeth Moss, Vincent Kartheiser. Photo by Michael Yarish © 2014 MC. All rights reserved.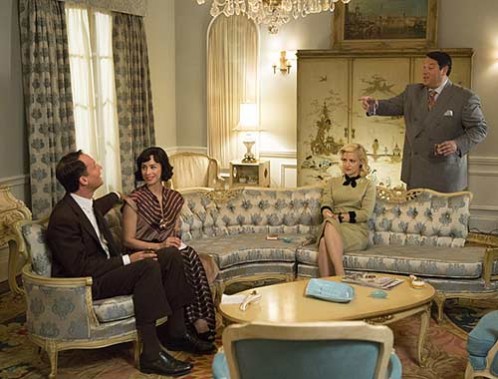 MASTERS OF SEX
Set Decorator Halina Silwolop SDSA
Production Designer Michael Wylie
Art Director Elizabeth H. Gray
Showtime

This season, the bio-tale of the pioneers in the study of human sexuality, William Masters and Virginia Johnson, has become even more complicated! The researchers are continually having to fight for recognition and credibility, and are dealing with extremes in relationships, including theirs. They've again moved into new offices – more great sets! And they've consummated their affair…this set is in creams and ice blues, a serene background for her smoldering sexuality. Taking place between 1958 and 1961, the sets again give deft and stylistic flair to the period and take us deeply into the story…

Johnny Sneed, Sarah Silverman, Annaleigh Ashford, Greg Grunberg.
Photo by Michael Desmond © 2014 Showtime. All rights reserved.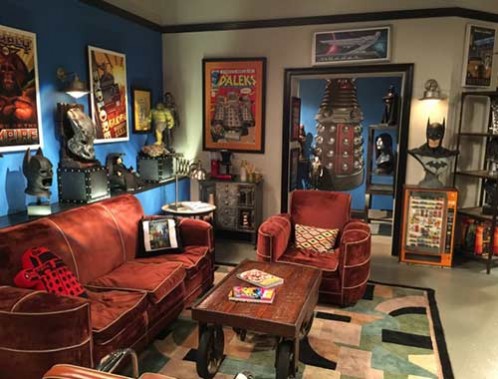 Outstanding Production Design for a Narrative Program (Half-Hour or Less)


THE BIG BANG THEORY
Set Decorator Ann Shea SDSA
Production Designer John S. Shaffner
Art Director Francoise Cherry-Cohen
CBS

Of course the astrophysicists of THE BIG BANG THEORY would have a weekly "Comic Book Store Night"! To keep it fresh, each season we get another out-of-this world cool comic-book store, totally different from the previous incarnations and always fun! In direct contrast, there's a scene in a laboratory "clean room", pristine and high tech equipment-filled. A garage cleanout involves a Tardis and a Ping-Pong game and much more! A deli encounter with a favorite actor, a Victorian-themed Christmas and a painting William Shatner did not do somehow all work brilliantly in this top-rated comedy!

Photo © 2014 CBS Broadcasting, Inc. All Rights Reserved.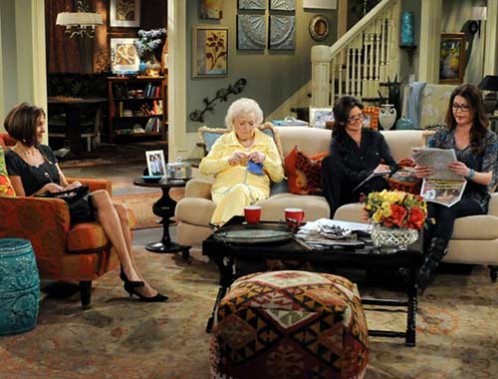 HOT IN CLEVELAND
Set Decorator Maralee Zediker SDSA
Production Designer Michael Andrew Hynes
TV Land

We also said goodbye to Cleveland! This delightful series, starring the inimitable Betty White, transported three entertainment industry veterans from Hollywood to a more welcoming environment. The key set was the home they shared, which evolved through the seasons. It offered a base to the hundreds of other sets that appeared through six seasons, including travels to New York, Los Angeles and for the finale, Las Vegas! Each offered elements of reality and fun and great style…whether little community or big city!

Wendie Malick, Betty White, Valerie Bertinelli, Jane Leeves.
Photo © 2014 TV Land. All rights reserved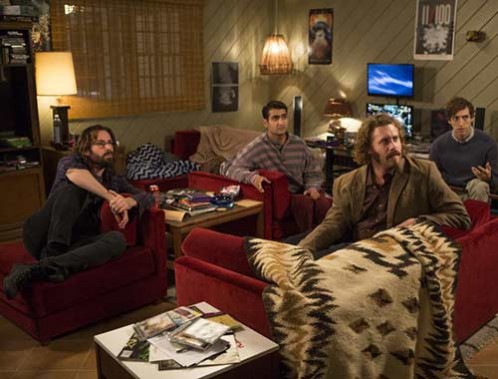 SILICON VALLEY ***Emmy ***
Set Decorator Jenny Mueller SDSA
Production Designer Richard Toyon
Art Director L.J. Houdyshell
HBO

This biting, sarcastic series reveals the fast-paced, intertwined and competitive universe of the Silicon Valley gold rush, focusing on six rather socially maladroit young men who found a startup company. Their roller coaster ride through the trenches of tech takes them to extremes as they try to keep control of their breakout super-compressing algorithm. This season that meant, among other things: a live-stream stunt, competing for a contract with a porno site library, and dealing with multiple legal suits and terms like innovation incubator!

Martin Starr, Kumail Nanjiani, TJ Miller, Thomas Middleditch.
Photo © HBO 2014. All rights reserved. Not for reprint or reuse.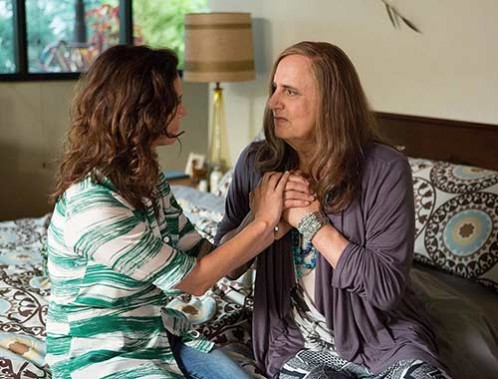 TRANSPARENT
Set Decorator Nya Patrinos SDSA
Production Designer Cat Smith
Art Director Maria Baker
Amazon

Establishing creditability is paramount when introducing an out-of-norm lifestyle, as in this breakout series about a family and their lives when a transgender father comes out. A sensitive, realistic, idealistic and witty exploration of ideas of gender identity through, as creator Jill Soloway describes, "...a wounded father being replaced by a blossoming femininity". The sets for this innovative all-at-once-series set the bar on creative realism, opening the door to the characters & story…

Amy Landecker, Jeffrey Tambor. Photo © 2014 Amazon. All rights reserved.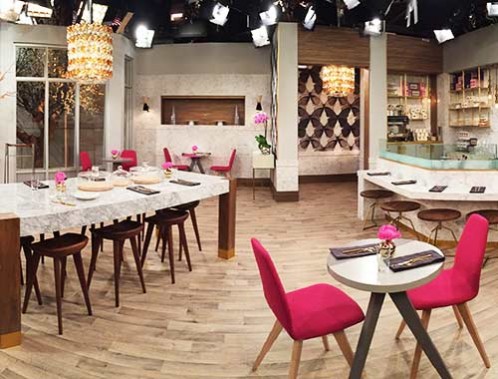 2 BROKE GIRLS
Set Decorator Amy Feldman SDSA
Production Designer Glenda Rovello
CBS

The two girls are becoming entrepreneurs, in spite of their bumbling! When their fab cupcake graphic T-shirt is a hit with an upscale, trendy store during the holidays, they take out a large loan, help their neighbor with extreme Christmas décor… and then deal with finding the right factory. Complications arise, they have to come up with bail – don't ask! And end up having to get jobs at The High, a new upscale restaurant in Manhattan…don't ask! As always, fun, exciting, unique sets!

Photo © 2014 CBS. All rights reserved.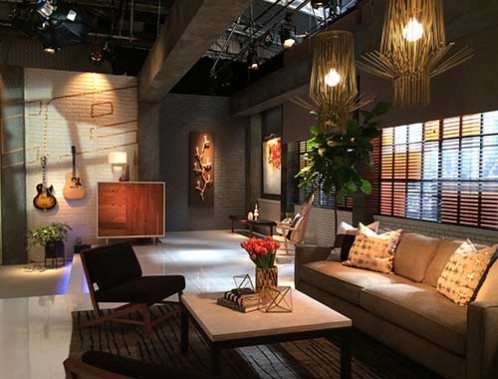 Outstanding Production Design for Variety, Nonfiction, Reality or
Reality-Competition Program


THE VOICE
Production Designer James Connelly SDSA
Production Designer Anton Goss
Art Director Zeya Maurer
Art Director Lydia Smyth
NBC

Each year, for the past many, we've anchored our coverage of Emmy-nominated programs with the outstanding sets of THE VOICE, including this year, for the 67th Emmy Awards! Consistently fresh, fun and original…these stunning sets always offer innovative design and décor. Very now…trend-setting! No wonder they are nominated year after year, they keep the bar high and then leap over it!

Photo ©2015 FX. All Rights Reserved.