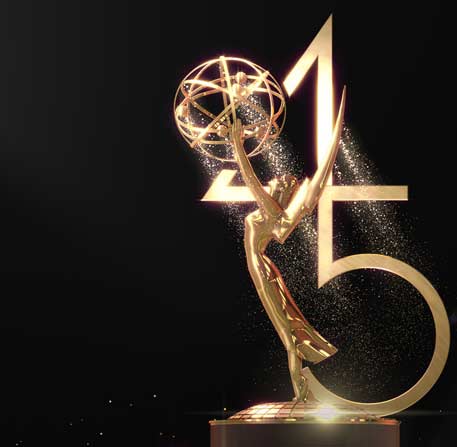 Congratulations to all the nominees
of the 45th Daytime Emmy
®

Awards!
And special congrats to Jennifer Elliott SDSA, Emmy

®

winner!
SET

DECOR offers a peek at the Daytime Emmy-nominated shows
decorated or designed by SDSA members...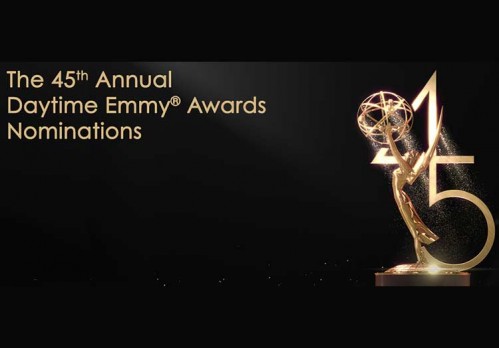 The wide diversity of storylines and sets in today's soap operas has kept them current over decades. Fans come to know and love characters and their environs, grow and change with them, and vicariously travel to exotic settings as well...

Thus the group of talented visual artists who bring the these lives to light.

Plus the witty and creative energies of making a talk show with multiple personalities accessible and fun...

Congratulations to all the Daytime Emmy® nominees!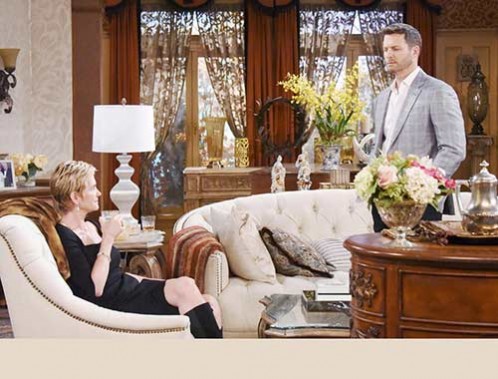 Outstanding Art Direction/Set Decoration/Scenic Design for a Drama Series

DAYS OF OUR LIVES
Set Decorator Danielle Mullen
Production Designer Dan Olexiewicz
Art Director Tom Early SDSA
NBC
Since 1965

A chronicle of the lives, loves, trials and tribulations of the citizens of the fictitious town of Salem. The core families—the Bradys, the Hortons and the DiMeras—have been entertaining fans for over half a century with a mix of classic genre traditions and groundbreaking narratives reflecting modern life. The multi-layered storylines involve elements of romance, adventure, mystery, comedy and drama. -- NBC

Over 50 years and yet it still remains fresh and current, from storylines to sets. There were love interests anew and renewed, and the settings that helped create those moods. The mansion belonging to scion Victor Kiriakis [John Anniston] was redecorated this season, a delicious addition to the storyline and viewer visuals...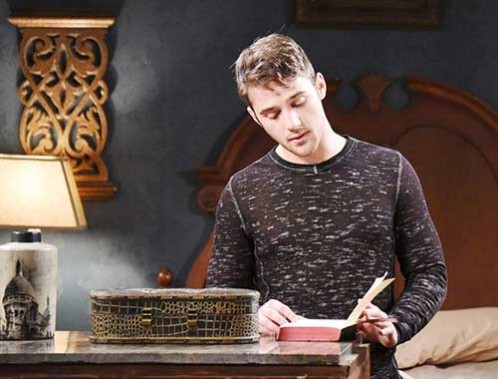 Photos:
Kiriakis Mansion...
Kayla Brady Johnson [Mary Beth Evans] who remarried Steve Johnson this season, relaxes with Brady Black [Eric Martsolf], heir to the Kiriakis fortune...

Martin House Bed and Breakfast...
A place where many people in Salem reside, some more temporary than others, this is JJ Deveraux's [Casey Moss] room.

Note the impact a set as simple as a single small room can have...

Photos ©2017 NBC/Universal. All rights reserved.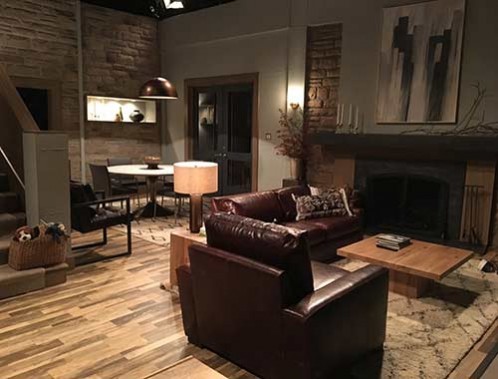 GENERAL HOSPITAL ***EMMY***
Art Director Jennifer Elliott SDSA
Art Director Andrew Evaschen
ABC
Since 1963

The longest running scripted drama and the longest running American soap opera currently in production, lauded for elevating public awareness of health and social issues, the show aired its 14,000th episode on February 23rd, 2018 and celebrated its 55th anniversary on April 1st, 2018.

Families, friends, enemies and lovers experience life-changing events in the large upstate New York city of Port Charles, which has a busy hospital, upscale hotel, cozy diner and dangerous waterfront frequented by the criminal underworld. -- ABC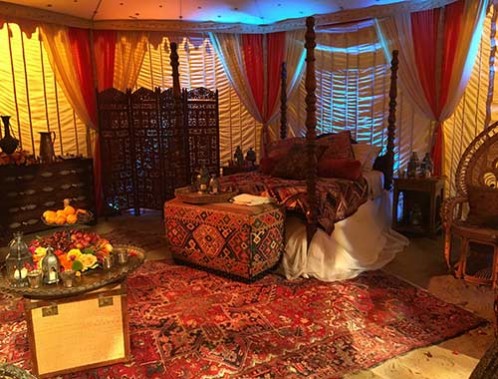 Jennifer Elliott SDSA explains the sets pictured here...

Sam's Living Room...
"This set is from Sam's Penthouse, which we finally got to redecorate this year!"

Moroccan Tent...
"Our characters went to 'Morocco', so we created a romantic tent for the main character, who is seduced by her fiancée, and they have a huge love scene. (Not too surprising for a soap!)"

Photos courtesy of ABC. All rights reserved.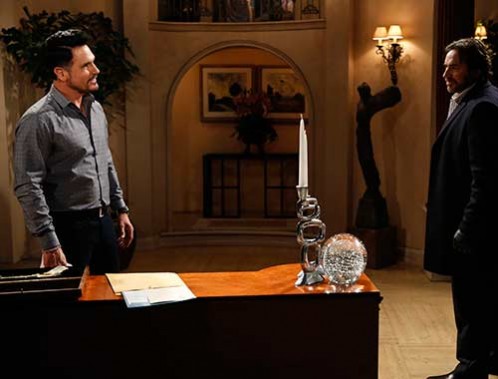 THE BOLD AND THE BEAUTIFUL
Set Decorator Charlotte Garnell SDSA
Set Decorator Richard Domabyl
Production Designer Jack Forrestel
Art Director Fabrice Kenwood
CBS
Since 1987

The saga of high fashion glamour, honor, romance, passion, and most importantly, family...the series focuses on the wealthy and powerful Forrester family, its fashion house, Forrester Creations, and the Spencer family publication firm. --CBS

Los Angeles and its glamorous environs are depicted on this sister series to TY&TR, which conveys the world of fashion with rival houses in competition, a media conglomerate, and being set in LA, steps out to the beach on occasion...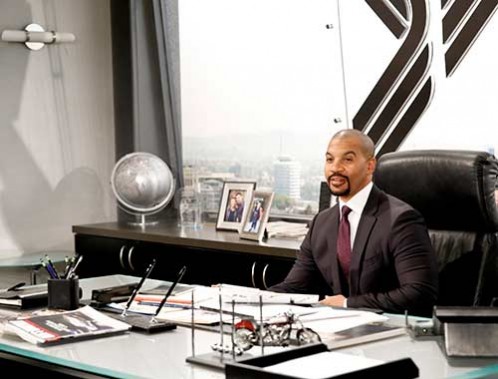 Photos:
The set tells the background story while Bill Spencer Jr. [Ron Diamont] and Ridge Forrester [Thorston Kaye] represent the key families...

As Executive VP of Mergers & Acquisitions, Spencer Publications, Justin Barber [Aaron D. Spears] has an office suite overlooking Los Angeles...

Photos by Cliff Lipson ©2018 CBS Broadcasting. All rights reserved.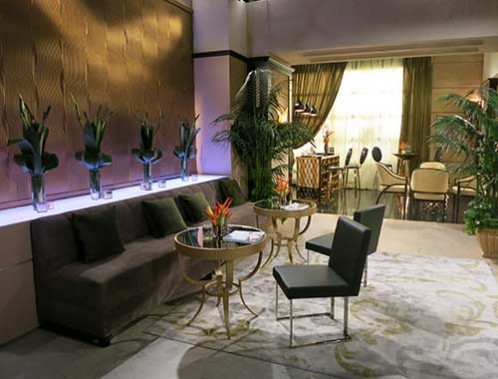 THE YOUNG AND THE RESTLESS
Set Decorator Jennifer Haybach SDSA
Set Decorator Justine Mercado SDSA
Set Decorator Fred Cooper
Production Designer David Hoffmann
Art Director Jennifer Savala
CBS
Since 1973

Now in its 45th season, the number one daytime drama for 28 years revolves around the rivalries, romances, hopes and fears of the residents of the fictional Midwestern metropolis, Genoa City. The lives and loves of a wide variety of characters are centered on the story of the struggle behind the business of the sex-savvy, wealthy Abbott and Newman clans. --CBS

This season included a rekindled love when family icons Victor and Nikki [Erc Braeden, Melody Thomas Scott] renewed their vows, while elsewhere were family ties of a different sort...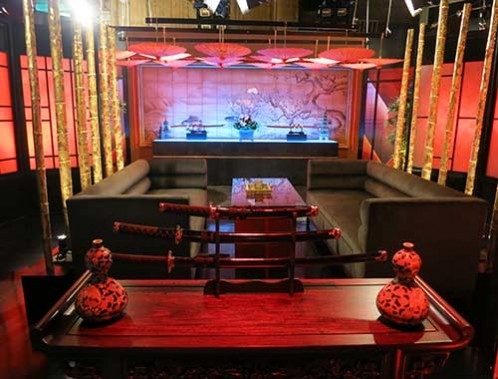 Photos, with comments from CBS publicist Matt Kane...

Miami Hotel...
A swanky hotel lobby was the backdrop for family drama when Jack [Peter Bergman] and Ashley Abbott [Eileen Davidson] found their mother Dina Mergeron [Marla Adams] in Miami...

Tokyo Hotel Bar...
Cane Ashby [Daniel Goddard] traveled to Tokyo, for a business trip...

Photos ©2017 CBS. All rights reserved.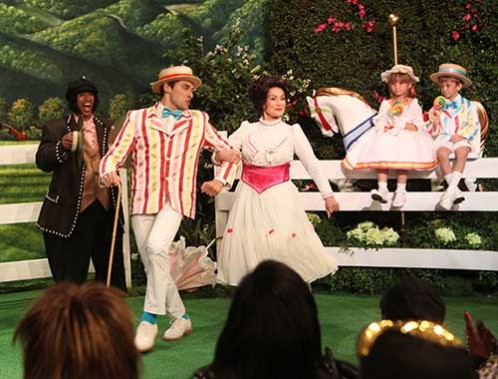 Outstanding Art Direction/Set Decoration/Scenic Design

THE TALK
Set Decorator Stephen Paul Fackrell SDSA
Production Designer Matt Tognacci
Production Designer Jeff Hall
CBS
Since 2010

Rapper/actress Eve joined the talk-formatted and appropriately titled THE TALK this season, a multi-hosted roundtable conceived by co-host Sara Gilbert and brought to fruition with moderator Julie Chen and cohosts Sharon Osbourne, Sheryl Underwood and Aisha Tyler, whom Eve replaced as Tyler moved on to film directing.

The show has expanded through the years to include interactive segments with the audience and games with the hosts in silly, fun competitions...plus what has now become iconic, full-on immersion Halloween segments, in which each of the hosts performs in a lip-sync song and dance number. Prepare for the unexpected...and they do! With carefully choreographed and rehearsed segments and sets that delight the audience.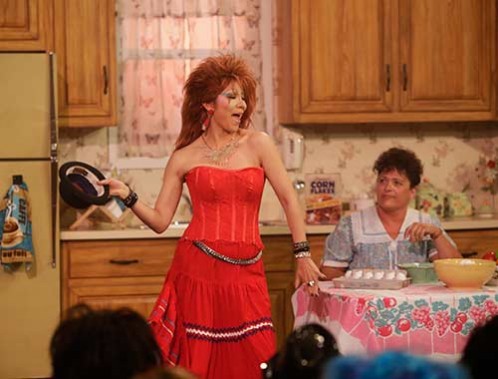 Photos:
Sharon Osbourne as Mary Poppins...
Julie Chen as Cyndi Lauper singing her mega hit "Girls Just Want to Have Fun"...

Photos ©2017 CBS. All rights reserved.