Congratulations to Sandy Reynolds-Wasco SDSA & David Wasco for the 89th Academy Awards Oscar(R)
for Outstanding Production Design!

And special congrats to SDSA members also nominated...
Nancy Haigh, Paul Hotte and Gene Serdena

Amazing work all!

See below for a glimpse of each of their films!

For full list of Oscar® nominees click here.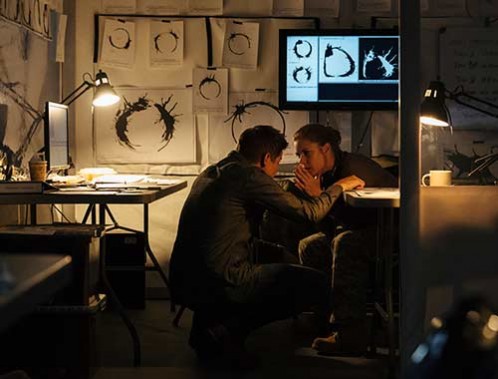 ARRIVAL
Set Decorator Paul Hotte SDSA
Production Designer Patrice Vermette
Paramount Pictures

Communication is the essence of our art, of storytelling—verbally, visually and beyond. So there is an almost visceral connection to the intensive push to communicate with an alien species who has not only entered our atmosphere, but hovers a few not-quite touchable feet above the ground. Twelve of them, in seemingly random, odd locations...

But the story begins and ends with "The Story of Your Life," a mother's remembrance of the future and past of her daughter's life on earth and how it interconnects with the flow of time.

From this quiet reflective state, events suddenly escalate to a frenzied pace as the world reacts to strangers not quite among us, but very much there – and a desperate need to communicate, to find out why they have come. Is it a peaceful mission or the harbinger of war?

Fear dominates many of the reactions around the world, but small, dedicated groups in each touchdown place diligently try to find a key, a way to connect, to converse, before the more radical elements of our society go automatically into war mode.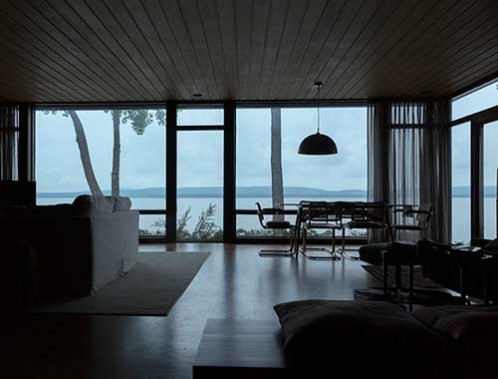 The film is conveyed in such a realistic manner, we step into and are caught up in the story of ARRIVAL, nominated for Best Picture as well as Production Design and 6 other categories of the art and craft of filmmaking.

Best Director Nominee Denis Villeneuve says, "Coming from the documentary world, I feel that there's nothing more impressive than reality. And very often reality is ahead of your imagination." Thus the very realistic environments Production Designer Patrice Vermette, Set Decorator Paul Hotte SDSA and their teams pulled together, and helped us transition seamlessly into the world of the alien spacecraft and the valiant struggle to understand why they are here.

Amongst the stark reality, we find fragments of great beauty: the symbolic logoism language of the aliens, the fragments of Louise's life and of her daughter, the countless interconnections, whether visual or subconscious tugs – the open mindedness and willingness to reach out, to try.

All of these are brought forth here through the interconnection of the myriad aspects of fine filmmaking, as evidenced through the lens taking in the environment, the light and the actor's essence.


Photos: Linguist Louise Banks [Amy Adams] and physicist Ian Donnelly [Jeremy Renner] try to decipher the aliens' logomorphic circular language...
Louise's lakeside home...Photos by Jan Thijs ©2016 Paramount Pictures.

[Check Film Decor for a detailed article re: ARRIVAL!]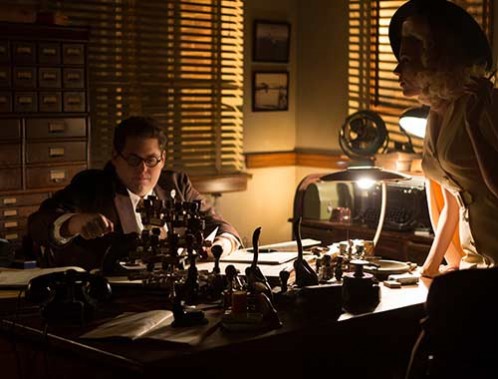 HAIL, CAESAR!
Set Decorator Nancy Haigh SDSA
Production Designer Jess Gonchor
Universal Studios

Reflecting the glitter of the star machine during Hollywood's heyday, with the studio system solidly in place, we spend 24 hours with Eddie Mannix [Josh Brolin], the world- weary, overstressed but brilliant studio fixer, in the year 1951.

Mannix spends his days putting out fires, from sexual peccadilloes and potential newspaper scandals to coaxing religious leaders' approval of the latest Biblical spectacle, Hail, Caesar, with superstar Baird Whitlock [George Clooney] in the title role.

Unfortunately, the man's philandering and carousing is unparalleled, which causes Mannix daily headaches among a kaleidoscope of problems he juggles:
...Aquatic beauty DeAnna Moran [Scarlett Johansson] currently shooting her latest underwater extravaganza informs him of her unexpected pregnancy...
...the studio's singing cowboy Hobie Doyle [Alden Ehrenreich] is being forced into an elegant leading man role in a drawing room drama with the persnickety, sophisticated director Laurence Laurentz [Ralph Fiennes]...
...the tap dancing musical star Burt Gurney's [Channing Tatum] secrets are about to be revealed by gossip columnists...
...Baird is kidnapped and held for ransom by a mysterious group known as The Future – screenwriters who are demanding their due!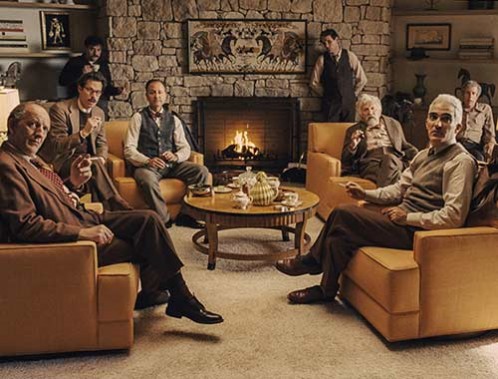 At the same time as they comically send up the more hypocritical aspects of the studio system, the Coen brothers, Joel and Ethan, show great respect and admiration for the professionalism and craftsmanship that characterized Hollywood's Golden Age.

Through the various movies being shot on the Capitol Pictures lot, and then after-hours locations from clubs to homes, we follow the on-screen and off-screen lives of those whom Mannix protects.

All of which is configured by their go-to team, whom the Coens regularly rely upon: Set Decorator Nancy Haigh SDSA, Production Designer Jess Gonchor, Director of Photography Roger Deakins, and their incredibly talented crews.

They eagerly dove into researching the various kinds of films being shot for the movie, as well as the behind-the-scenes look at filmmaking back in the '40s and '50s, and then created the environments of each.

"It blew my mind," Tatum says. "I was able to understand how movies were made back then—from the way they were shot to the way the camera moves seamlessly from one stage to the next. It's like a dream walk through a studio lot in 1951."

Photos:
Reliable Joe Silverman [Jonah Hill] comes through for aquatic star DeAnna Moran [Scarlett Johansson]...
The hideaway for the screenwriter's breakaway group, The Future: a producer's new beach house!
Photos by Alison Rosa ©2015 Universal Studios.

[Check Film Decor next week for a gallery of photos from the film! ]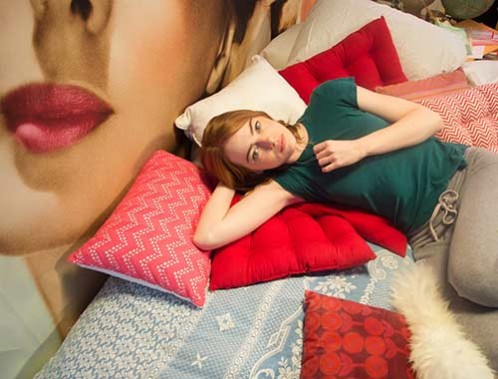 LA LA LAND
Set Decorator Sandy Reynolds-Wasco SDSA
Production Designer David Wasco
Lionsgate

The then-yet-now-ness of LA LA LAND bursts onto the screen from the opening moments when we joyfully leap into the heartbeat of LA, all sunshine, high energy and traffic. From that very large nugget, golden dreams are spun, Hollywood and music entwined, and we experience the highs and lows and places between, underscored and expressed through a magic we once held close and have found again, the Hollywood musical.

Justifiably nominated for Best of just about everything, it certainly earns the nod for Production Design. The team of Production Designer David Wasco and Set Decorator Sandy Reynolds-Wasco SDSA are known for cutting edge and highly stylized design. Here their métier shines.

The Wascos referenced films cinephiles will recognize, and paid homage to the visual artistry of the musical genre, especially in the climatic number Epilogue. "Director Damien Chazelle wanted to go into this extremely heightened fantasy world of LA and Paris on a studio backlot, which we created with painted backdrops so that the look is very, very theatrical." They also cite the influences of such painters as Ed Ruscha and David Hockney, who explored the mythologies of Los Angeles, and the French Fauvist painter, Raoul Dufy, known for his ecstatic washes of color.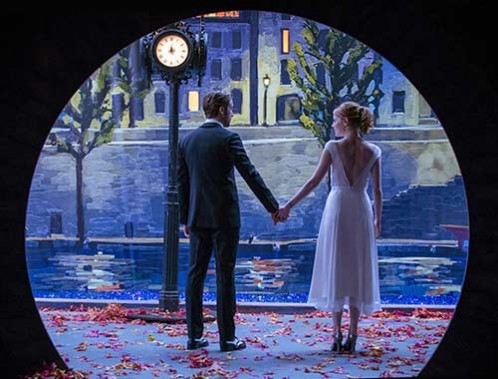 A love song to Los Angeles, its environs and the hope it incessantly offers and often takes away. The city is imbued with touchstones of the past/present, lovingly re-energized, such as the Griffith Park Observatory— the planetarium re-created as an Art Deco fantasia, which jazz musician Sebastian [Ryan Gosling] and actress Mia [Emma Stone] waltz through—and the iconic Lighthouse Café, a jazz club since 1949, gemlike in this tribute.

We experience the enchantment and life of a studio backlot, the small and big moments that happen there, often unnoticed or recorded, except subconsciously. Here the Wascos infuse color and fantasy, as is reflected in the hopefulness and self-expression of Mia's apartment, which she shares with 3 other fledgling actresses, all filled with optimism about the near future.

In contrast, the despondent but tenacious Sebastian's place is colorless and still filled with unpacked boxes, his keyboard and sound equipment the only signs of life in the place—until Mia moves in and color gently seeps in as well.

Chazelle says, "With LA LA LAND, I wanted to do a love story and I also wanted to create a musical like the musicals that entranced me as a kid, but updated into something very modern. I wanted to explore how you use color, sets, costumes and all these very expressionistic elements of Old School movie making to tell a story that takes place in our times."
He did. With a little help from his friends...

Photos: Emma Stone as Mia, Ryan Gosling as Sebastian
Photos by Dale Robinette ©2016 Lionsgate

[Check Film Decor for a gallery of photos from the film!]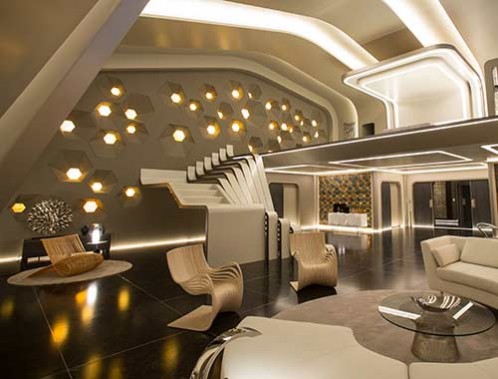 PASSENGERS
Set Decorator Gene Serdena SDSA
Production Designer Guy Hendrix Dyas
Columbia Pictures

One doesn't use the words gorgeous, dazzling, alluring, stunning about a spaceship—perhaps impressive, sleek, dynamic—but all apply to the exquisite look of the Avalon, the most fashion-forward, glamorous ship we've seen, and being fans of sci-fi, we've seen many.

The teaming of Production Designer Guy Hendrix Dyas and Set Decorator Gene Serdena was otherworldly in its perfection. Since childhood, Dyas had dreamed of building a spaceship inside and out, and PASSENGERS made that dream a reality. Serdena has always been on the cutting edge of design and decor. The result was a series of enormous, hugely memorable sets that brought the Avalon to life.

Looking to the future, they created a spaceship with an intricate design that uses the centrifugal force from spinning blades to create gravity, and contains the robots, holograms and other technology that the future has in store, as well as incorporating a "nostalgic design" inspired by Art Deco and classic Hollywood.

"The past is with us, the past inspires us...and I wanted to have the past to be very present in this film about the future," says Tyldum. However, the director did not want to rely on visual effects and green screens.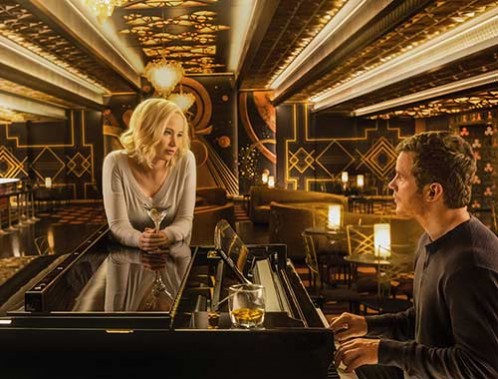 Thus, Dyas, Serdena and their teams created truly innovative, creative sets that mix grandeur and space, design and function, and give an inspired backdrop to the human experience.

Who would expect a huge and glorious Art Deco bar/lounge on a spaceship?
The size ties into the storyline: Starship Avalon is on a 120-year voyage to a distant colony planet, transporting 5,259 sleeping people, when two hibernation pods are opened prematurely and the two people that awaken are stranded on the spaceship, still 90 years from their destination. The ship is designed to comfortably accommodate over 5000 people in expansive, comfortable surroundings when they awaken and begin the transition a year before they arrive, almost a century away.

Everything is large in scale, very high-tech, quite sophisticated, which one might expect. But the degree of contemporary elegance in the luxury class suites and the Art Nouveau-esque infinity-into-space swimming pool are beyond imagination, except, obviously, Hendrix's, Serdena's, and their crews. As is the Zen-like Observation Deck cum amphitheater.

The starship has levels, the lowest one filled with all that is required for habitat after landing. Another is the operational level, complete with space access equipment and portals, the captain's deck, officer & crew quarters and the ship's infirmary. On a higher level the grand concourse runs the length of the ship, filled with shops and services and 5-star-worthy restaurants, plus a gigantic food court to meet everyone's needs. And...where it all begins...the enormous Hibernation Bay in which 5000+ life pods recline, based on a tree structure and again, sublimely elegant.
Design and decor meet Space on every level.

Photos: Aurora Lane and Jim Preston enjoy the Grand Concourse Bar...[Jennifer Lawrence, Chris Pratt]
The Vienna Suite - a space Moderne...
Photos by Jamie Trueblood ©2016 Columbia Pictures

[Check Film Decor for a detailed article re: PASSENGERS!]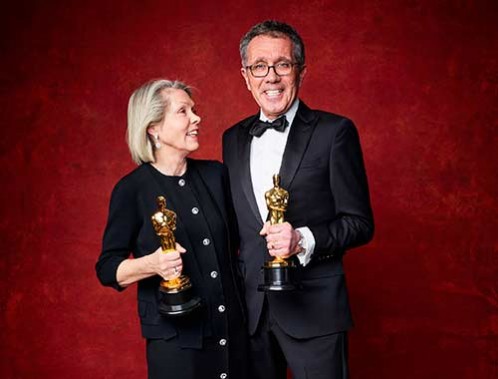 CONGRATULATIONS SANDY & DAVID!!!!!