Congratulations to all the nominees and winners
of the 69th Primetime Emmy
®

Awards!
Special kudos to SDSA members/Emmy recipients
Celia Bobak, Jason Howard and Kimberly Wannop!


SETDECOR offers a peek at the Emmy-nominated shows decorated or designed by SDSA members...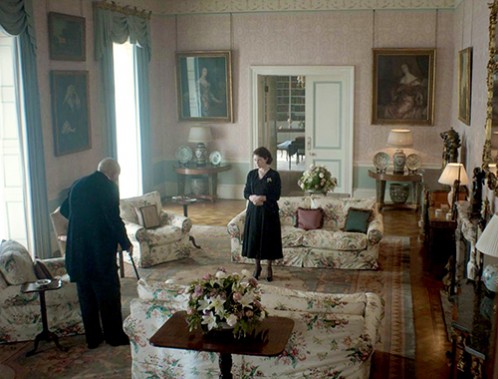 Outstanding Production Design For A Narrative Period Program
(One Hour or More)


THE CROWN
***Emmy!
Set Decorator Celia Bobak SDSA
Production Designer Martin Childs
Art Director Mark Raggett
Netflix

The inside story of two of the most famous addresses in the world -- Buckingham Palace and 10 Downing Street - and the intrigues, love lives and machinations behind the great events that shaped the second half of the 20th century. "The ambition of the project is unlike anything ever made in Britain," says Producer Andrew Eaton. "The world inhabited by these characters is extraordinarily exquisite, and the creative team constantly had to push boundaries to give the series the scale it needed. If you're telling a story about one of the wealthiest, most famous families in the world, you've got to live up to that." Indeed!

Claire Foy as Queen Elizabeth II
John Lithgow as Churchill
Photo by Alex Bailey ©2016 Netflix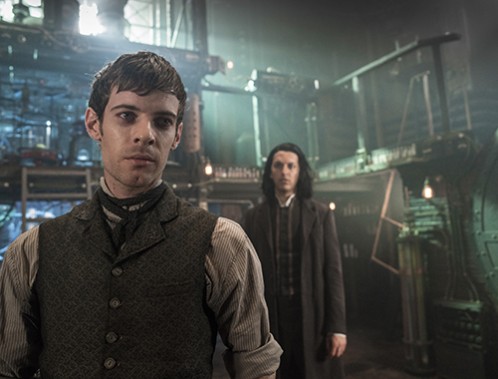 Outstanding Production Design for a Narrative Contemporary or Fantasy Program (One Hour or More)

PENNY DREADFUL
Set Decorator Philip Murphy SDSA
Production Designer Jonathan McKinstry
Art Director Jo Riddell
Showtime

Throughout the final season, this Victorian world of the occult continued to juxtapose exotic, richly imbued sets with the raw and rough, including, at the end, the dark world of slaughterhouses. While an apocalyptic pestilence enshrouds London, Victor decides Lily's fate, Ethan comes face-to-face with the evil that seduces Vanessa, Sir Malcolm and his allies battle the fiend, the Creature faces a baleful demand, Ethan makes a heartrending choice and the series ends in an atmospheric shot, having been filled throughout with equally atmospheric sets.

Harry Treadaway as Dr. Victor Frankenstein
Shazad Latif as Dr. Jekyll
Photo by Jonathan Hession ©2016 Showtime. All rights reserved.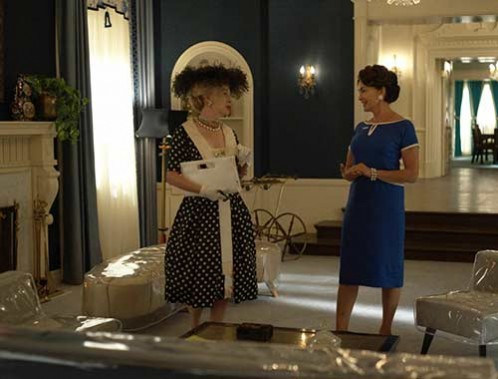 FEUD: BETTE AND JOAN
Set Decorator Florencia Martin SDSA
Production Designer Judy Becker
Art Director Jamie McCall
FX

The new anthology series from Ryan Murphy tells the story of the legendary rivalry between Joan Crawford (Jessica Lange) and Bette Davis (Susan Sarandon) during their collaboration on the Academy Award®-nominated thriller WHAT EVER HAPPENED TO BABY JANE?...and well after the cameras stopped rolling. The series explores how the two women endured ageism, sexism, and misogyny while struggling to hang on to success and fame in the twilight of their careers. The sets take us onto their film sets, into their homes, Jack Warner's office, well-known restaurants and other iconic settings of that era and are as delicious as the storyline!

Judy Davis as Hedda Hopper
Jessica Lange as Joan Crawford
Photo ©2017 FX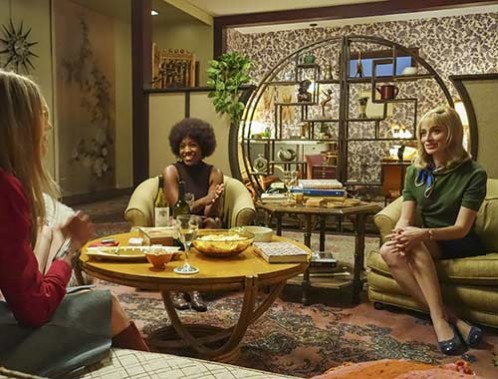 MASTERS OF SEX
Set Decorator Halina Siwolop SDSA
Production Designer Elizabeth H. Gray
Art Director Samantha Englender
Showtime

The season begins with the aftermath of break-ups: Virginia has left the Masters and Johnson partnership, and she and Bill each seek to move on with another partner. Bill's wife Libby confronts him about his lengthy affair and becomes involved with someone else. Many other key couples have ongoing relationship challenges. As we mentioned last season, the storyline becomes as complicated as the people involved, but compellingly so, and offers opportunity for more amazing period sets that take us to the place and time without being obvious about it. We seem to step directly into lives of these characters.

Caitlin Fitzgerald as Libby Masters
Photo by Warren Feldman © 2016 Showtime. All rights reserved.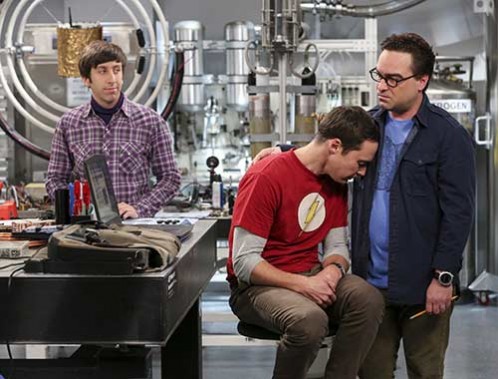 Outstanding Production Design for a Narrative Period Program (Half-Hour or Less)


THE BIG BANG THEORY
Set Decorator Ann Shea SDSA
Production Designer John S. Shaffner
Art Director Francoise Cherry-Cohen
CBS

How do they do it? Year after year, this top-rated comedy keeps it fresh, from storylines to sets! Every season brings more unique settings, and now engagements, marriage, pregnancy all have places in the particle physics equation of the series – somehow quarks and wormholes and the challenges of everyday life are translated into fun episodic encounters. Pictured here, tensions rise when the guys struggle to complete their government project on time and Sheldon [Jim Parsons] tries an energy drink to stay awake...

Simon Helberg, Johnny Galecki
Photo © 2016 WBEI. All Rights Reserved.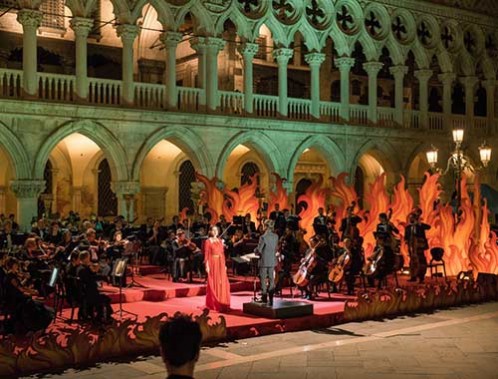 MOZART IN THE JUNGLE
Set Decorator Letizia Santucci SDSA
Production Designer Tommaso Ortino
Art Director Susanna Codognato
Amazon

Since contentious contract negotiations have caused a lockout for the orchestra in New York, young conductor Rodrigo [Gael Garcia Bernal] works on his opera in Venice, and conducts a legendary diva Alessandra [Monica Bellucci] in the comeback concert of a lifetime on the banks of a Venetian canal. The duet with icon Placido Domingo is the only thing more spectacular than the sets and setting!

Photo ©Amazon 2016. All rights reserved.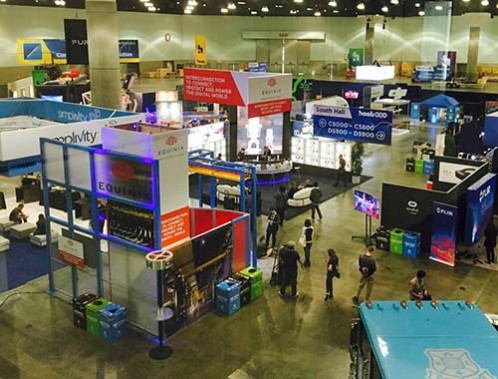 SILICON VALLEY
Set Decorator Jennifer Mueller SDSA
Production Designer Richard Toyon
Art Director Jaclyn Hauser
HBO

The guys may have their company back, but are in the discovery process that running a company takes more than innovation, and they are still finding difficulty in realizing there are no algorithms for relationships! We finally get a glimpse of the interiors of Gavin Belson's mansion, and the world got its first HooliCon, described as one part Apple keynote and one part self-help conference, and billed as the largest technology event ever. Set Decorator Jenny Mueller SDSA chose this photo, "It isn't very cinematic per se, but we did put together a huge tech convention! And I love showing the collaboration from all of the departments."

Photo © HBO 2016. All rights reserved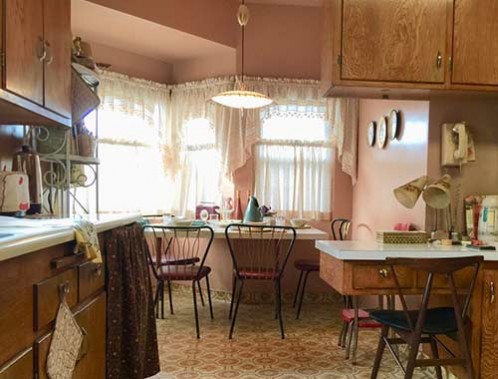 TRANSPARENT
Set Decorator Dea Jensen SDSA
Production Designer Cat Smith
Art Director Macie Vener
Amazon

Even into its third season, TRANSPARENT has remained a standout series. After introducing the disparate elements of a dysfunctional but loving family as they deal with the father's coming out as transgender in the first season, in the second, the sets took on more depth, as did the characters. In the third, other aspects of the family's history were explored, including both parents' childhoods, revealing keys to how their lives unfolded and giving strong roots to their current explorations of self. We even see the shattering of Maura/Mort's transcendent childhood happiness as she dances in the illusional safety of her grandfather's atomic bomb bunker in 1958...

Photo: Boyle Heights kitchen 1958 ©2017 Amazon. All rights reserved.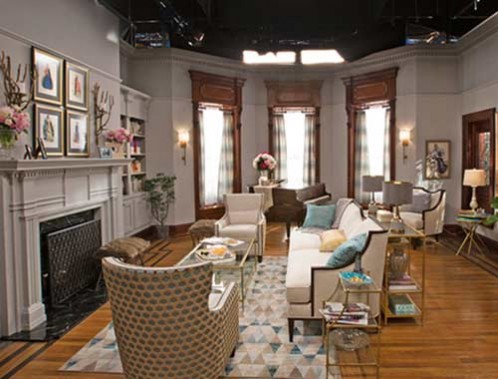 VEEP
***Emmy!
Set Decorator Kimberly Wannop SDSA
Production Designer Jim Gloster
Art Director Andrew Leitch
HBO

Last season we noted that when this series first aired, we thought of it as a wonderfully over-the-top sarcastic, acerbic rendition of politics. Who knew that it would keep being proven true! What suspends our disbelief, besides the current headlines, are the sets that ground and elevate at the same time. This season opens one year after losing the presidency, as Selina attempts to secure her legacy by creating her own presidential library. Considering that her presidency was based on a fluke and short-lived, this would at any other time seem odd...but at least the change of residence, offices and her staffs' variety of new jobs have dynamic, fresh and fabulous new sets!

Photo © 2016 HBO. All rights reserved.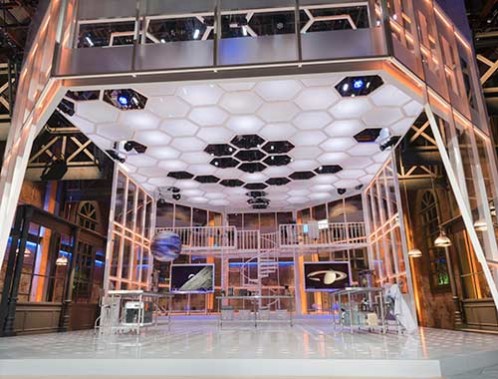 Outstanding Production Design For A Variety, Nonfiction, Reality
or Reality-Competition Series


BILL NYE SAVES THE WORLD
Production Designer James Pearse Connelly SDSA
Set Decorator Stephanie Hines
Art Director Lydia Smyth
Netflix

Scientist Bill Nye explores various problems and misconceptions from a scientific point of view. "The Science Guy" brings experts and famous guests to his "lab" for a talk show exploring scientific issues that touch our lives, with the series' focus placed on the relationship of science with politics, pop culture and society. In the first episode, he calls out climate change deniers, breaks down the science of global warming and explains how we can make the planet a cooler place to live. The sets are as contemporary, smart and fun as the host!

Photo © Netflix 2016. All rights reserved.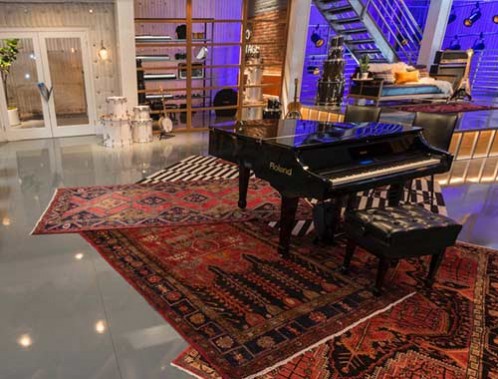 THE VOICE
Production Designer James Pearse Connelly SDSA
Production Designer Anton Goss
Set Decorator Stephanie Trigg Hines
Art Director Zeya Maurer
Art Director Brittany MacWhorter
NBC

Not only do JPC and his team get nominated every year for their creative, stylized sets for this reality competition series that includes high concept designed signature rooms for each of the judges in which they work with their chosen mentorees...but this year the team is competing against themselves for an Emmy, having been once again deservedly nominated for THE VOICE but also for the knowledge-is-fun science show noted above.
Either way, the sets are winners!

Photo © NBC 2016. All rights reserved.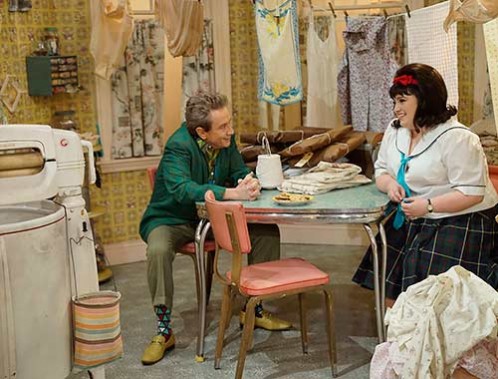 Outstanding Production Design For A Variety, Nonfiction, Event
or Award Special


HAIRSPRAY: LIVE!
***Emmy!
Set Decorator Jason Howard SDSA
Production Designer Derek McLane
Art Director Joe Celli
NBC

Like Ginger Rogers dancing with Fred Astaire, doing the same moves, only backwards and in heels, this creative team put on a live television production – a one-time-only, exact timed, fully realized musical, with sets that had to safely withstand dance scenes and scene-chewing performances! Based on the Tony Award-winning Broadway hit, "Hairspray Live!" takes place in 1962 Baltimore, yet gives an updated adaptation of the storyline, which means iconic looks but completely new interpretations for the sets, which were a tremendous success! Whew!

Photo © NBC 2016. All rights reserved.