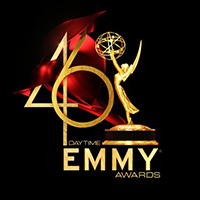 Congratulations to all the nominees
of the 46th Daytime Emmy
®

Awards!
Super Congrats to SDSA International winners
Jennifer Haybach, Justine Mercado & Stephen Paul Fackrell

SET

DECOR offers a peek at the Daytime Emmy-nominated shows
decorated or designed by SDSA International members...
Daytime Emmys give special recognition to shows that are filmed live or recorded in front of a live audience, adding an extra elemental challenge to the already dense layers of quick decision-making and collaboration – the design/decor dance of daytime.

The wide diversity of storylines and sets in today's soap operas has kept them current over decades. Fans come to know and love characters and their environs, grow and change with them, and vicariously travel to exotic settings with them as well...thus the group of talented visual artists who bring these lives to light. And those who bring kids' perspectives to visual storytelling, helping them relate to the discovery of self and science. Plus the witty and creative energies of making a talk show with multiple personalities accessible and fun...

Congratulations to all the Daytime Emmy® nominees!



Outstanding Art Direction/Set Decoration/Scenic Design for a Drama Series

DAYS OF OUR LIVES
Set Decorator Danielle Mullen
Production Designer Dan Olexiewicz
Art Director Tom Early SDSA International
NBC
Since 1965

A chronicle of the lives, loves, trials and tribulations of the citizens of the fictitious town of Salem. The core families—the Bradys, the Hortons and the DiMeras—have been entertaining fans for over half a century with a mix of classic genre traditions and groundbreaking narratives reflecting modern life. The multi-layered storylines involve elements of romance, adventure, mystery, comedy and drama. -- NBC

53 years and yet it still remains fresh and current, from storylines to sets. Babies brought joy, there were love interests anew and renewed...Marlena & John got married! Marvelous settings that helped create those moods....
Photos:
DiMera Mansion...
Abigail [Kate Mansi] drops a bombshell on Stefan [Tyler Christopher]...
Loft...
Ciara [Victoria Konefal] makes a discovery...
Photos ©Jpistudios/NBC Universal. All rights reserved.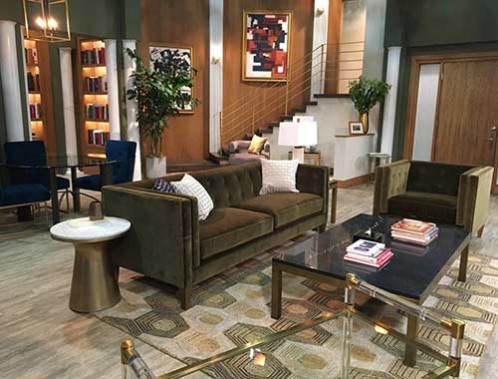 GENERAL HOSPITAL
Art Director Jennifer Elliott SDSA International
Art Director Andrew Evaschen
ABC
Since 1963

The longest running scripted drama and the longest running American soap opera currently in production, lauded for elevating public awareness of health and social issues.
Families, friends, enemies and lovers experience life-changing events in the large upstate New York city of Port Charles, which has a busy hospital, upscale hotel, cozy diner and dangerous waterfront frequented by the criminal underworld. -- ABC


Jennifer Elliott SDSA explains the sets pictured here...
Laura's apartment...
"We were so happy to give our iconic character Laura Spencer an updated version of a chic city apartment! In years past, we have only seen her residing in a family home, so this felt more modern and fitting..."
Classroom...
"A classroom set for a cute new character named Willow. In my 17 years on this show, we have never had a teacher as a main character, so this set was different and fun for us!"
Photos courtesy of ABC. All rights reserved.
THE YOUNG AND THE RESTLESS ***Emmy***
Set Decorator Jennifer Haybach SDSA International
Set Decorator Justine Mercado SDSA International
Set Decorator Fred Cooper
Set Decorator Raquel Tarbet
Production Designer David Hoffmann
Art Director Jennifer Savala
CBS
Since 1973

Now in its 46th season, the number one daytime drama for more than 25 years revolves around the rivalries, romances, hopes and fears of the residents of the fictional Midwestern metropolis, Genoa City. The lives and loves of a wide variety of characters are centered on the story of the struggle behind the business of the sex-savvy, wealthy Abbott and Newman clans. --CBS

This season Rey Rosales joined his younger brother and sister, bringing to the forefront a storyline about a working-class extended family in the midst of the wealthy elite, while Abby opened her new restaurant Society...

Photos:
Society...
No surprise that Abby's new restaurant exudes style!
Rey's apartment...
Arturo [Jason Canela] and his brother Rey work things out after an estrangement...
Photos ©Howard Wise/jpistudios/CBS. All rights reserved.

Outstanding Art Direction/Set Decoration/Scenic Design

PRINCE OF PEORIA
Set Decorator Kelly Berry SDSA International
Production Designer Josee Lemonnier
Art Director Lia Burton
Netflix

A prankster prince who wants to experience life as an ordinary teen leaves his wealthy kingdom to live incognito with a single mom and her studious son, next door to the bowling alley she owns. The gregarious Emil, known in the US only as an exchange student, strikes up an unlikely friendship with Teddy, a fastidious overachiever.. --Netflix

The key set for this multi-camera series is the complex Spare Time Bowl, complete with a functioning bowling alley, games room and café/lounge area. There's also the incredibly detailed bedroom with Teddy's painstaking robotics experiments now having to share space with the energetic, klutzy new guy...also an indoor/outdoor school entrance...& myriad other swing sets, all played out in front of a live audience!

Photos:
Spare Time Bowl ......
Bowling alley & café owned by Teddy's widowed mother, Regina...
This set is so complex, it also includes fully functioning bowling alleys and a seating area beyond, to the right of the foosball section, out of this photo frame!
Photos by Lia Burton ©Netflix.




THE TALK ***Emmy***
Set Decorator Stephen Paul Fackrell SDSA International
Production Designer Matt Tognacci
Production Designer Jeff Hall
CBS
Since 2010

The talk-formatted and appropriately titled THE TALK, features a daily roundtable with Sara Gilbert, Sharon Osbourne, Sheryl Underwood, Eve and Carrie Ann Inaba as cohosts discussing current events, issues and trending topics of the day. But there's more!

The show has expanded through the years to include interactive segments with the audience and games with the hosts in silly, fun competitions...plus what has now become iconic, full-on immersion Halloween segments, in which each of the hosts performs in a lip-sync song and dance number. Prepare for the unexpected...and they do! With carefully choreographed and rehearsed segments and sets that delight the audience.

The 1-hour daily episodes are broadcast and recorded LIVE, with set changes for guests and giveaways keeping the show consistently fresh and au courante!

Photos:
Special furnishings are brought in for this segment, reflective of the guest...here, Actor Keanu Reeves.
From left, Sheryl Underwood, Carrie Ann Inaba, Keanu Reeves, Sharon Osbourne, Eve, Sara Gilbert.
Photo by Sonja Flemming/CBS ©CBS Broadcasting, Inc. All Rights Reserved.

Cohost Sharon Osbourne as Dolly Parton performing the hit Nine to Five in the annual Rocktober Lip Sync War...
Photo by Monty Brinton/CBS ©2018 CBS Broadcasting, Inc. All Rights Reserved.