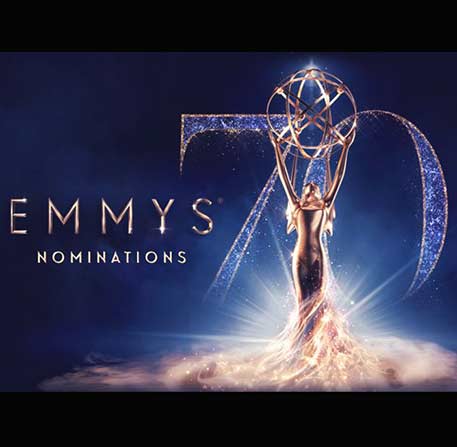 Congratulations to all the nominees and recipients
of the 70th Emmy
®

Awards!

And special congrats to Caroline Gee and Ryan Watson, SDSA International members & Emmy recipients!
SET
DECOR offers a peek at the Emmy-nominated shows decorated or designed by SDSA International members...






SDSA International members Emmy nominees...



OUTSTANDING PRODUCTION DESIGN FOR A NARRATIVE CONTEMPORARY PROGRAM (ONE HOUR OR MORE) - 2018


AMERICAN HORROR STORY: CULT
FX Networks
Jeff Mossa, Production Designer
Rachel Robb Kondrath, Art Director
Claire Kaufman SDSA International, Set Decorator

There's a distinctive stylized edginess to the set decoration, as previous Emmy-winner Jason Howard SDSA International describes, "Anyone walking into the set can get that something is amiss. It's stunningly executed. There is no doubt about that. What they have created is a world that feels a little bit oppressive and off balance emotionally. In less skilled hands, it wouldn't be so beautiful to look at."
[See article in Television Decor]

Photo by Greg Wilkinson ©2017 FX

THE HANDMAID'S TALE
***Emmy!
"June"
Mark White, Production Designer
Elisabeth Williams, Production Designer
Martha Sparrow, Art Director
Caroline Gee SDSA International, Set Decorator

The dystopian drama based on Margaret Atwood's bestselling novel leaped into its second season with the extreme imagery of the Handmaids being led to what was to be their mass hanging, which turned out to be just one of many scare and control tactics. Escapes, captures and a range of environs emphasized the range of emotions. We're exhausted again, but mesmerized and can't stop looking...and there's another season to come! Congratulations to the team for their Emmy win!

Elisabeth Moss as June/Offred
Ann Dowd as Aunt Lydia
Photo by George Kraychyk © 2018 Hulu
TWIN PEAKS
Showtime
Ruth De Jong, Production Designer
Cara Brower, Art Director
Florencia Martin SDSA International, Set Decorator

Another unique series with a distinctive stylized edginess to the set decoration.
The creative team met the challenge of visually interpreting Writer/Director/Producer/Editor David Lynch's inimitable storytelling sensibility in this sequel to the wildly popular series of the early 1990s, which developed a cult status. Fittingly, the new series has garnered acclaim from critics and fans alike. TWIN PEAKS: THE RETURN, is set 25 years later, as Special Agent Dale Cooper [Kyle MacLachlan] makes an unconventional odyssey back to the small town where it all began...

Laura Dern as Diane Evans
Photo ©2017 Showtime. All rights reserved.

OUTSTANDING PRODUCTION DESIGN FOR A NARRATIVE PERIOD OR FANTASY PROGRAM (ONE HOUR OR MORE) – 2018


THE ALIENIST
"The Boy On The Bridge"
TNT
Mara LePere-Schloop, Production Designer
Bill Crutcher, Art Director
Karl Probert, Art Director
Alice Baker SDSA International, Set Decorator
Philip Murphy SDSA International, Set Decorator

"In the 19th century, persons suffering from mental illness were thought to be alienated from their own true natures. Experts who studied them were therefore know as alienists..."
Set in 1896, this psychological thriller centers on the hunt for a serial killer responsible for the gruesome murders of boy prostitutes that have gripped New York City. Police commissioner Teddy Roosevelt calls upon criminal psychologist Dr. Laszlo Kreizler [Daniel Brühl] and newspaper illustrator John Moore [Luke Evans] to conduct the investigation in secret. Joining them is Sara Howard [Dakota Fanning], headstrong secretary to the police commissioner and New York's first female detective.
Daniel Brühl as Dr. Laszlo Kreizler, Luke Evans as John Moore.Photo by Kata Vermes ©2017 TNT


THE MARVELOUS MRS. MAISEL
"Ya Shivu v Bolshom Dome Na Kholme"
Prime Video
Bill Groom, Production Designer
Neil Prince, Art Director
Ellen Christiansen SDSA International, Set Decorator

Everything about THE MARVELOUS MRS MAISEL is indeed marvelous! The story, the acting and especially the sets! In the candy-colored, post war idealism of the late 1950s, Mrs M's idyllic life encounters a few twists – her perfect husband has an affair, she moves her family into her parents' Manhattan apartment, gets a job at an prestigious store, and discovers a hidden talent for standup comedy. As she works her way through these unchartered waters, we visit the garment industry, the Gaslight comedy club, diners, cafes, record shops and bootleg recorders, and note the juxtaposition between her street smart friend's studio walkup and her domiciles.

Photo ©2017 Prime. All rights reserved.

OUTSTANDING PRODUCTION DESIGN FOR A NARRATIVE PROGRAM (HALF-HOUR OR LESS) - 2018


BARRY
"Loud, Fast And Keep Going"
HBO
Tyler B. Robinson, Production Designer
Eric Schoonover, Art Director
Amber Haley SDSA International, Set Decorator

There's a quietly acerbic bent to this series, as one might expect with the premise "A hit man from the Midwest moves to Los Angeles and gets caught up in the city's theatre arts scene." Like the central character, the sets never call attention to themselves, but there's always something a little off—amazingly real, but with a hint or more of quirkiness. While the critics can't decide whether it's a comedic drama or dramatic comedy, they agree it's fresh, ironic and unique. The sets give a credibility that allows both a darkness and a hint of sweetness to shine through.

Bill Hader as Barry
Paula Newsome as Detective Janice Moss
John Pirruccello as Detective Loach
Image ©2018 HBO. All rights reserved.

GLOW
***Emmy!
"The Dusty Spur"
Netflix
Todd Fjelsted, Production Designer
Harry Otto, Art Director
Ryan Watson SDSA International, Set Decorator

Big hair. Bad Attitudes, Killer moves. In the '80s, female wrestlers ruled the ring. GLOW is the story of the fledging group, the Gorgeous Ladies of Wrestling. Following the Women's' Rights movement of the '70s, the women wrestle with perception and tension with whether the league was exploiting or empowering them. The story and sets follow a struggling actress who attends a blind audition and ends up joining the team. We see the behind-the-scenes of the women's lives and the pomp and play of the ring. The nominated episode shows the team in a seedy hotel in Los Angeles prepping for the big event.

Alison Brie as Ruth Wilder, aka Zoya the Destroya
Chris Lowell as Sebastian "Bash" Howard
Photo by Erica Parise ©2017 Netflix. All rights reserved.
SILICON VALLEY
"Tech Evangelist, Artificial Emotional Intelligence"
HBO
Richard Toyon, Production Designer
Jaclyn Hauser, Art Director
Brandi Kalish SDSA International, Set Decorator

A new season and new storyline allowed for completely new sets that convey the world of high tech entrepreneurs and the immediacy of ebb and flow in that universe. The new tech company Pied Piper finally comes alive, and we root for the company and its creators to make it through sudden growth spurts and identity crises. The new home for this SV enterprise is wonderfully true, not only in detail, but also in spirit. We also get glimpses of how a super exec lives, a gaming company and its founder's digs, a techno-nerd camping trip, and a huge factory in China.

Photo ©2018 HBO. All rights reserved.
WILL & GRACE
"A Gay Olde Christmas"
NBC
Glenda Rovello, Production Designer
Conny Marinos, Art Director
Peter Gurski SDSA International, Set Decorator

They're back! And haven't lost any panache in the interim, as the sets once again make us want to rewind and look again, and then go find some of the pieces for ourselves. There was always a sense of style and, er, grace...and the creative team here, many of whom worked on the original, were determined to keep the bar high, which they obviously accomplished!

Photo ©2017 NBC Universal. All rights reserved.

OUTSTANDING PRODUCTION DESIGN FOR A VARIETY, REALITY OR REALITY-COMPETITION SERIES - 2018


BILL NYE SAVES THE WORLD
"Extinction: Why All Our Friends Are Dying"
Netflix
James Pearse Connelly SDSA International Associate, Production Designer
James Nelson, Art Director
John Calderon, Art Director
Heather Cantrell, Set Decorator

Scientist Bill Nye, "The Science Guy", brings experts and famous guests to his "lab" for a talk show exploring scientific issues that touch our lives. Exploring various problems and misconceptions from a scientific point of view, the series' focus is placed on the relationship of science with politics, pop culture and society. The sets are as contemporary, smart and fun as the host! In the 5th episode of Season 2, Extinction: Why All Our Friends Are Dying, Drew Carey and OK Go help Nye explain extinction, and a panel reveals how scientists could one day bring extinct species back to life.

Photo ©2017 Neflix. All rights reserved.


DANCING WITH THE STARS
"Night At The Movies, Halloween, Season Finale"
ABC
James Yarnell, Production Designer
Steve Morden, Art Director
John Sparano SDSA International, Set Decorator

The extra challenge of live broadcast of this ever-popular dance competition includes 3-minute set changes, incorporating the strictures of live dance performances in the design and set decoration, and accomplishing fully realized sets within 5-7 days. For the 25th season, the sets had to have an increased spectacular factor! The first episode was themed "A Night at the Movies", which gave way to presentation of different genres. The always-anticipated "Halloween" episode included, Little Red Riding Hood's house, a demonic coffee shop, and a set filled with crystal chandeliers and wrought iron torchieres, while a winter wonderland completed the "Finale" episode.

Frankie Muniz, Witney Carson, dancers
Photo by Adam Rose ©2017 ABC. All rights reserved.

THE VOICE
"The Blind Auditions Season Premiere"
NBC
Anton Goss, Production Designer
James Pearse Connelly SDSA International Associate, Production Designer
Lydia Smyth, Art Director
Zeya Maurer, Art Director
Stephanie Hines, Set Decorator

There's a reason why JPC and his team get nominated every year for their creative, stylized sets for this reality competition series that includes high concept designed signature rooms for each of the judges in which they work with their chosen mentorees...the sets are fun! With such intense work towards an even more intense competition, the sets offer an uplifting respite.
JPC is actually competing against himself for an Emmy, as he's also nominated for the knowledge-is-fun science show noted above.
Either way, the sets are winners!

Photo ©2017 NBC Universal. All rights reserved.