BIG BANG THEORY
Set Decorator Ann Shea SDSA
Production Designer John Shaffner
CBS



Set Decorator Ann Shea SDSA continuously proves that a universe of possibilities exists as she collaborates with Production Designer John Shaffner on three hit series: TWO AND A HALF MEN, MIKE & MOLLY, and THE BIG BANG THEORY – each with its own unique look! Their work was recognized once again with Emmy nominations this year.
[Click here for more on the 2011 Primetime Emmy Awards.]
THE BIG BANG THEORY initially exploded onto the screen with the apartment of two brilliant but socially inept physicists, Leonard and Sheldon. Filled with a combination of vintage-futuristic furnishings, the apartment became the series' iconic set.

Season Four brought sets belonging to two of their fellow CalTech scientists, Howard's Bedroom and Koothrappali's Living Room.

Penny, the girl-next-door—literally, she lives across the hall—is their polar opposite, as reflected in the bright cheerful palette and feminine décor of her apartment.

Over the course of the series, Shaffner and Shea have created innumerable sets, including a variety of laboratories and restaurants, and even a comic book store. Shea gives us a glimpse of some of the current sets, and generously shares her resources.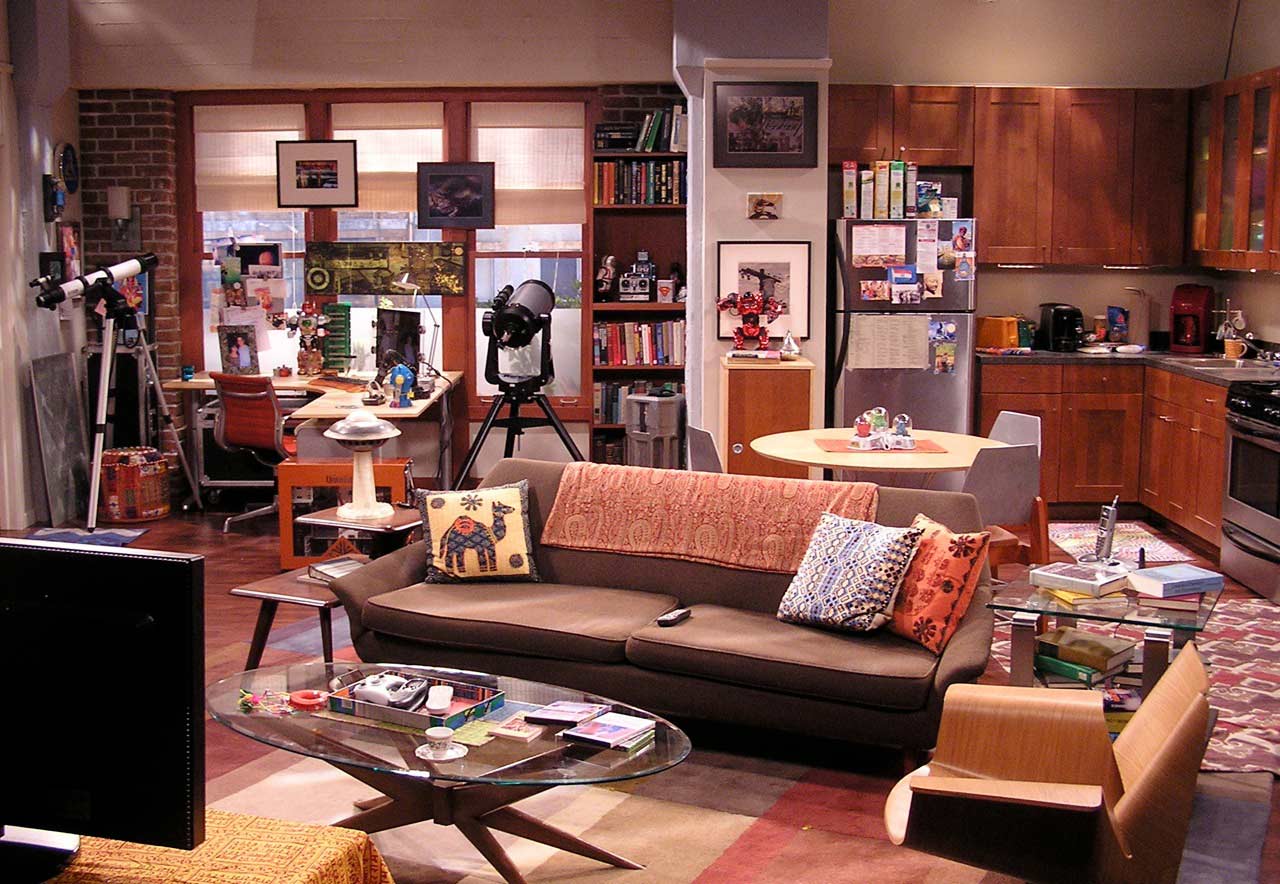 Koothrappali's Living Room
"Kooth is a very eclectic character," Shea notes. "Although he's a scientist, he unintentionally has this funky style. As an astrophysicist, he's interested in sci-fi and, of course, outer space, He also comes from a wealthy Indian family. We try to reflect that he is proud to be Indian and retains his heritage but also embraces the western world.  He has things around that he has brought from home and also has new expensive telescopes that he can afford because of his wealthy background."
· Sofa: Silica Three Furniture
· Arm chair: Warner Bros.
· Side table: Warner Bros.
· Coffee table: Omega Cinema Props
· Dining table & chairs: Warner Bros.
· Desk & desk chair: Warner Bros.
· Art: Pinacoteca, Jupiter Images, Art Pic
· Rugs/carpets: Crate & Barrel for large, Urban Outfitters for smalls
· Robots: RC Vintage
· Kitchen appliances: Lowes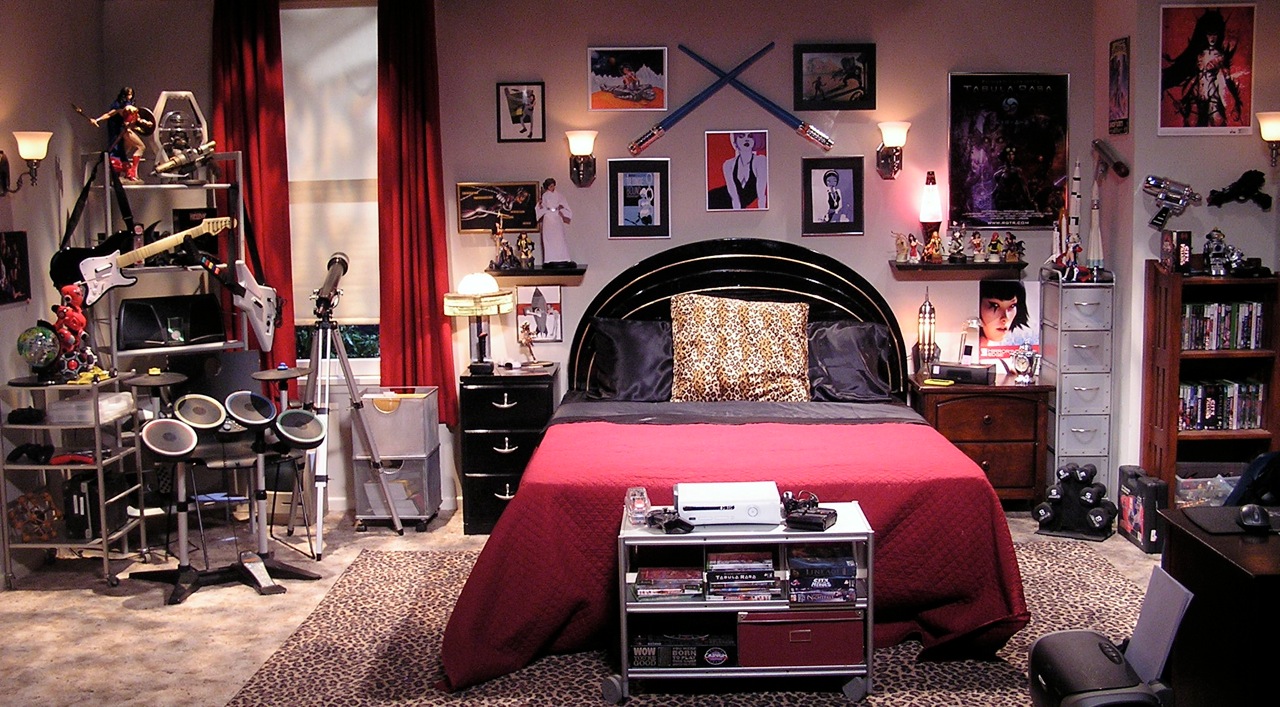 "Howard is another geek physicist and fancies himself a sexy ladies man.," says Shea. "And although he lives with his mother, he has created a sexy room to entertain the ladies which pretty much only happened in his mind until this season when he met his fiancée, Bernadette.
Bed:

Omega Cinema Props

Bed linens:

Omega Cinema Props

Carpet/rug:

Omega Cinema Props

Bed tables:

Warner Bros.

,

Omega Cinema Props

Drawers & storage: Pinacoteca,

Warner Bros.

Bookcases:

Warner Bros.

Lamps:

RC Vintage

, Modern Props

Sconces: Lowes

Figures & collectibles: Sideshow Collectibles, DC Comics, RC Vintage, Modern Props

Swords: Hollywood Toy

Artwork: Brandon Ragnar

Guitars: Guitar Hero

Drum set: Guitar Hero Drums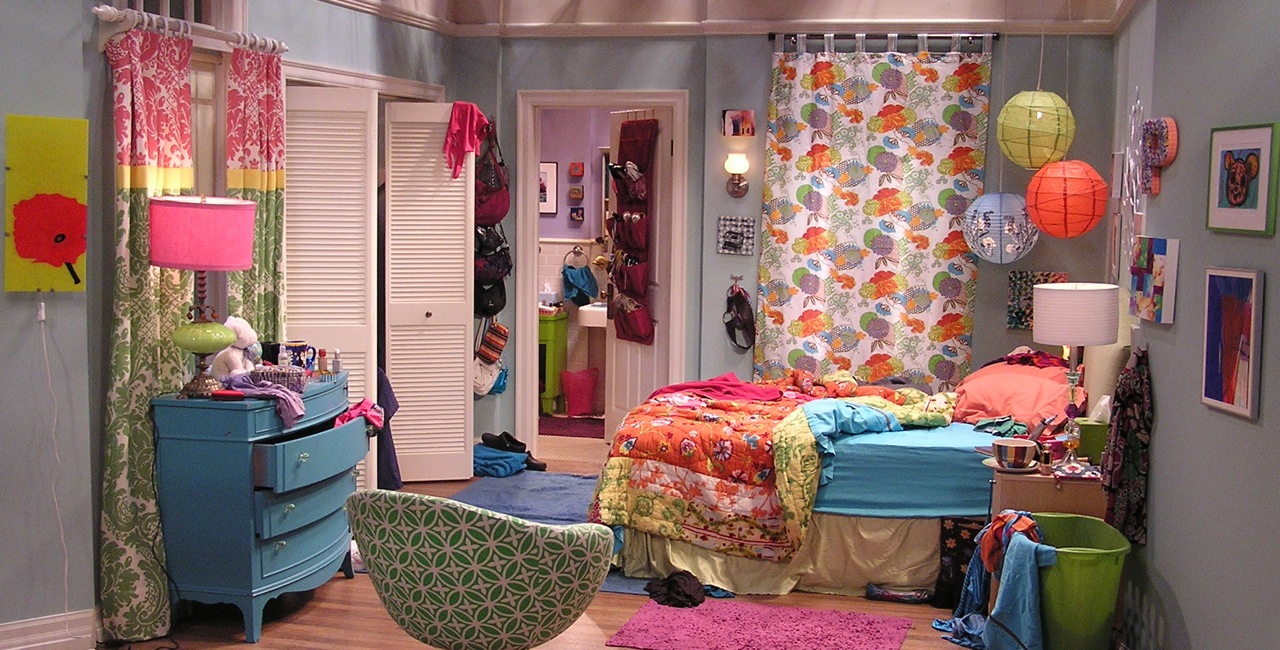 Penny's Bedroom
"Penny is a sweet, pretty Midwestern girl who is the guys' neighbor and has become the guys' buddy. She is completely the opposite of them and has no idea what they are talking about most of the time," Shea points out. "And she's very messy!"
Bed: Custom designed by Shea

Bed linens: Anthropologie; Bed, Bath & Beyond

Chair: Urban Outfitters

Rugs: Urban Outfitters

Dresser:

Warner Bros.

Curtains: Pier One

Bed table:  IKEA

Lamps: Lamps Plus

Lanterns: World Market

Sconces: Brown & Gold Lighting

Artwork: Art Pic - Katie Hinton (artist)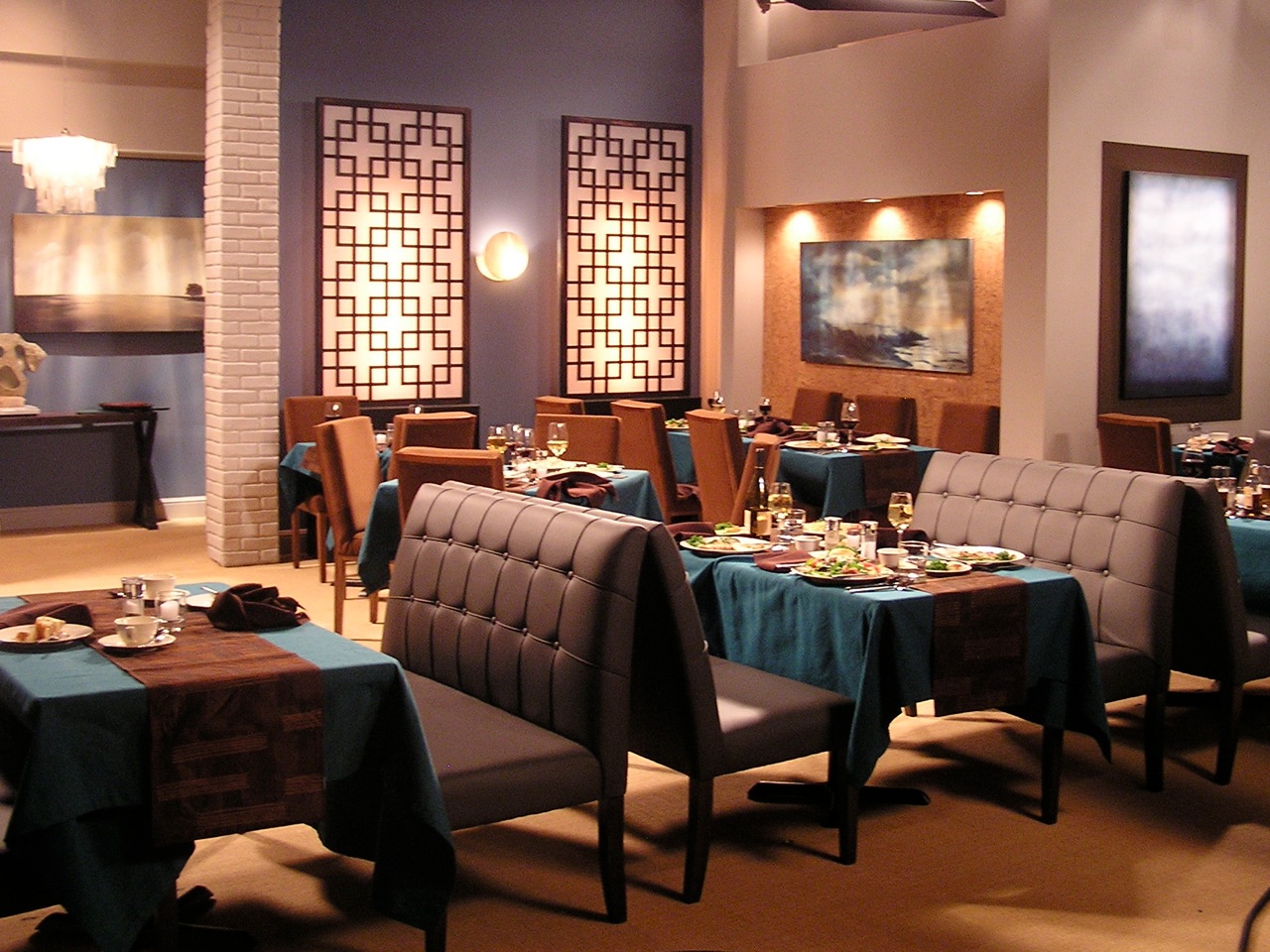 Date restaurant – one of many for this series
Booths:  Lennie Marvin

Chairs:

Omega

CP2

Linens: Crate & Barrel

Artwork: Art Pic

Panels: Modern Props

Credenza:

Warner Bros.

Chandelier: Universal

Lighting: Modern Props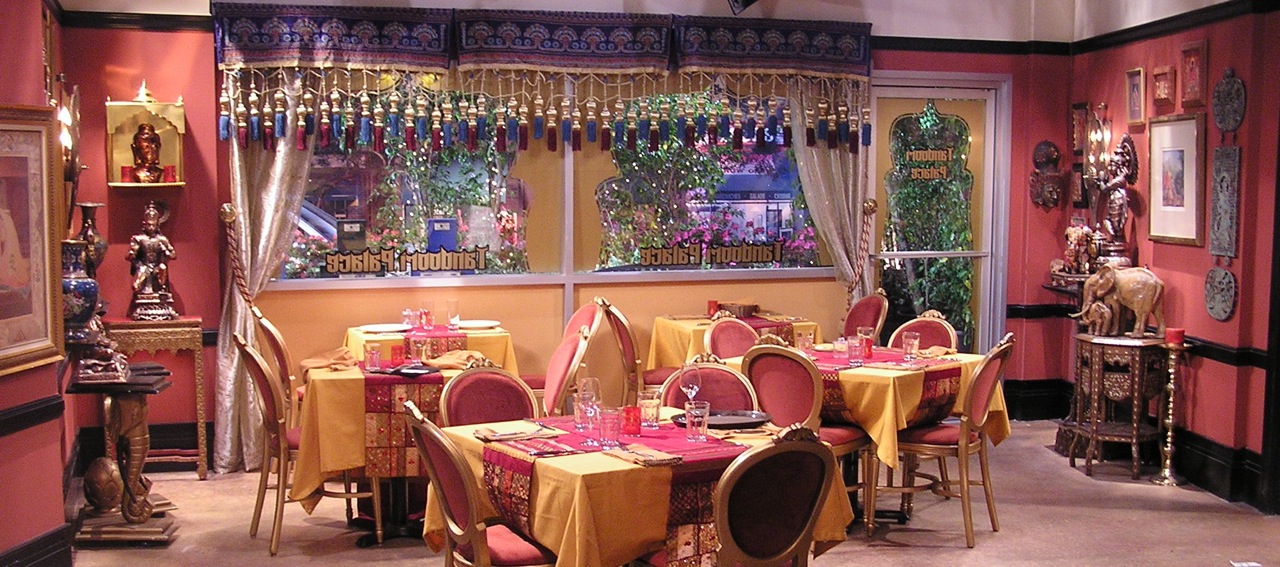 Tandoori Palace Indian restaurant
Seating:

Omega

CP2

Linens: Crate & Barrel

Runners: Pier 1

Valance: Warner Bros. Drapery Dept.

Statuary: Warner Bros. Hand Props, Universal Hand Props

Side tables:

Omega Cinema Props

Artwork: Hollywood Studio Gallery

Panels: Warner Bros.

Credenza:

Omega Cinema Props

Sconces: Universal

Candlestick: Universal

Vases: Universal, Warner Bros.
JPL telescope remote viewing room
Shea recalls, "This Keck telescope remote viewing room at Jet Propulsion Laboratory wasn't supposed to look too decorated, but rather as if it had a hodgepodge of furnishings pulled from all over the building."
Sofa: Universal

Chairs: Universal, Warner Bros.

Desk chairs: Warner Bros.

Desks: Warner Bros.

Coffee table: Warner Bros.

Computers: Jargon Entertainment

Monitors: Jargon Entertainment

Copier/printer: Warner Bros.

Lamps: Warner Bros.

Sconces: Universal

Posters/artwork: NASA

Refrigerator/microwave: Lowes

Globes: Edmund's Scientific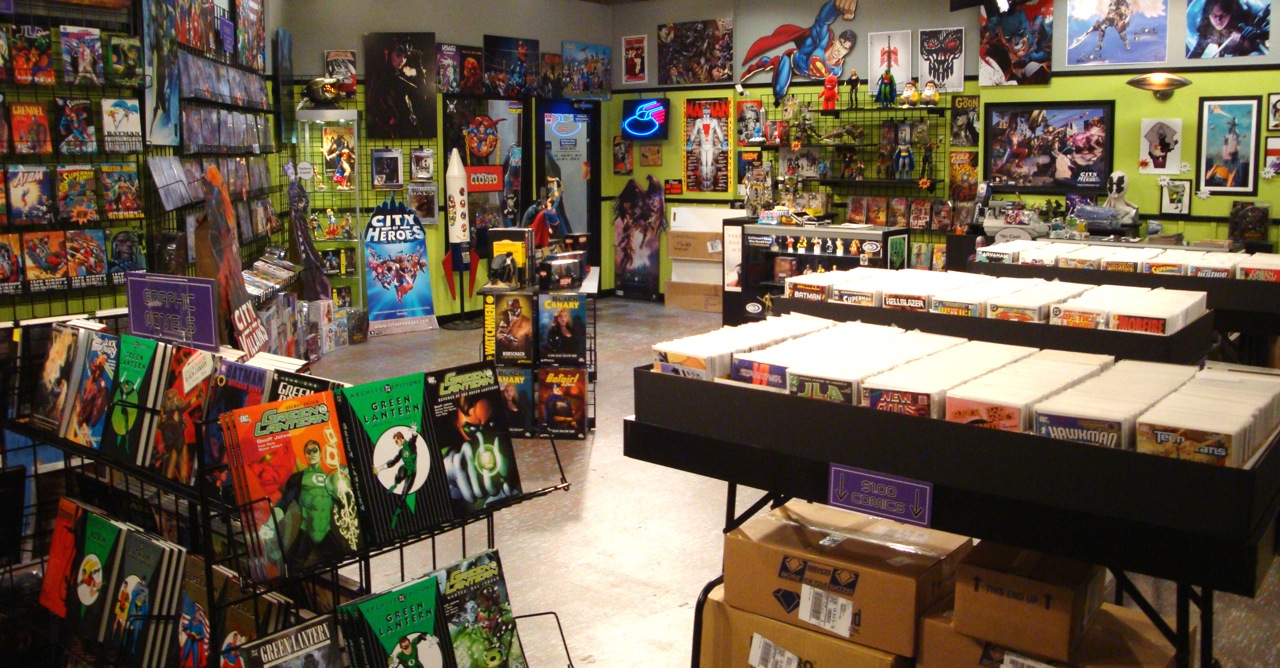 Comic Book Store
Shea reveals, "Our characters are huge comic book fans. This set was in one episode and the writers and producers liked it so much they wrote future episodes set in this set. The books and comics are all DC Comics."
New DC Comics: Provided by DC Comics

Old DC Comics: House of Secrets  

Posters: Acme Archives

Figurines: Sideshow Collectibles

Artwork: Eric Joyner