Set Decorator Brandi Kalish SDSA
Production Designer Thomas Hallbauer
MTV
TEEN WOLF
Season 5
Set Decorator Brandi Kalish SDSA
Production Designer Thomas Hallbauer
MTV
Scott McCall [Tyler Posey] was always on the outside looking in, but a single wolf bite changed everything. He developed super-human abilities, including an athletic prowess that lead him to become the star of his lacrosse team but also pulled him into the middle of a war between werewolves and werewolf hunters! Through four seasons of this hugely popular series set in Beacon Hills, where the supernatural is strong and friends can turn to foe in a heartbeat, he built friendships, took on enemies and became the head of his pack. In Season 5, on the eve of their senior year, Scott and his friends find themselves facing the possibility of a future without one another. Little do they know that outside forces are already plotting to break the pack apart long before they ever see graduation day. New villains use a combination of science and the supernatural for a malevolent and mysterious purpose that will eventually pit Scott and his friends against their greatest enemy yet…Oh my!
Set Decorator Brandi Kalish SDSA, along with Production Designer Thomas Hallbauer, Art Director Jasmine Garnet, Leadperson John Kirk and their great crews, keep this one-hour episodic visually fresh, creative and morbidly fun!
Kalish takes a moment from their wickedly fast-paced schedule to share some of her set secrets for the new Season 5…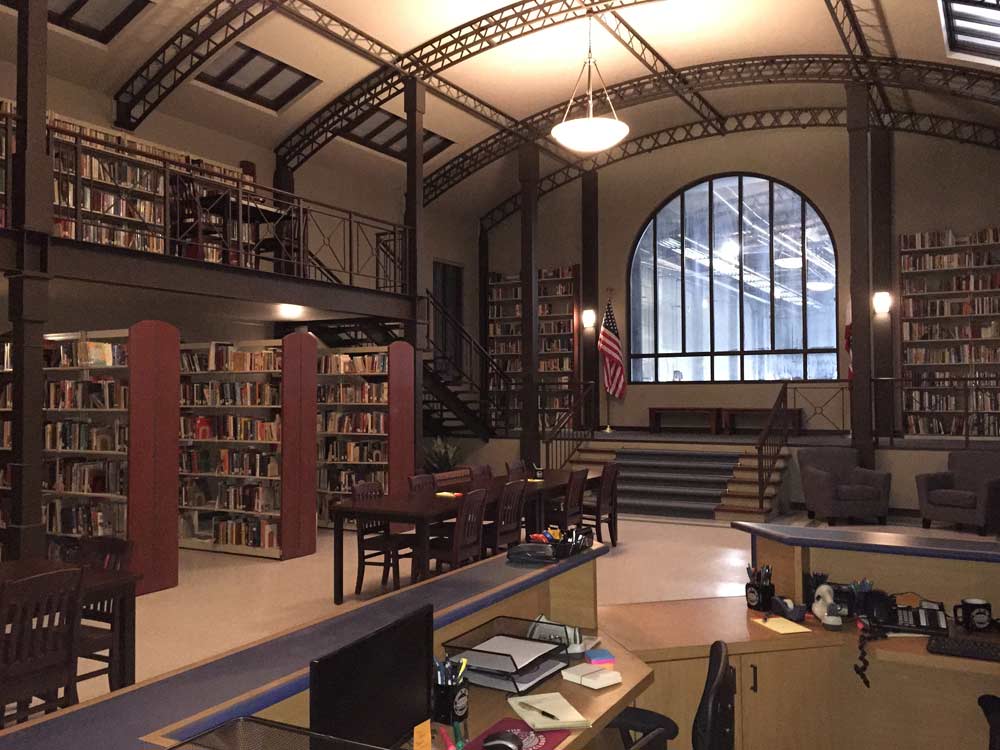 © 2015 MTV. All rights reserved
Library, Beacon Hills High School…
"The
Library
is the heart of the school—so much happens here with our characters," says Kalish. "The walls fly to shoot behind for special scenes like "
Senior Scribe
" where
Beacon Hills
high school students follow the tradition of signing their initials under the yearbooks from the past."
"Most of our sets have hard ceilings that have to be properly dressed. When picking out the chandeliers for this set, we narrowed it down to the top three, then had cardboard versions made and hung them for shape and scale."
"The
Library
is two-stories high, with a huge floor plan," she points out. "Advanced Liquidators helped us a lot by doing a fast turn around on our custom library tables and benches. Jim from Books for Libraries Inc. helped us track down our entire inventory of books which came from a library in New Jersey that was being demo-ed."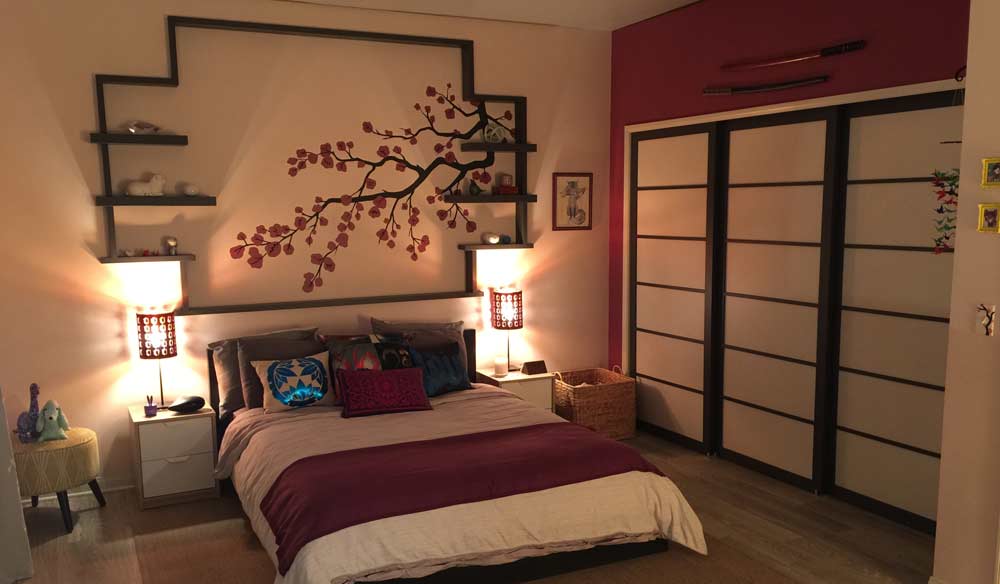 © 2015 MTV. All rights reserved
Kira's bedroom…
Kira Ukimura
, a
Thunder Kitsune
, has found that having a sword in her hand gives her balance and agility. Note the swords above the shoji doors.
Scott's
enhanced werewolf vision reveals the glowing outline of a fox surrounding
Kira's
entire body, thus the framed sketch. "The cherry blossom triptych is hand painted by a very talented crewmember," reveals Kalish. "We also folded all the origami cranes ourselves for the multi-colored mobile on the right. Her main colors were variations of plums with a modern beige and earth tones."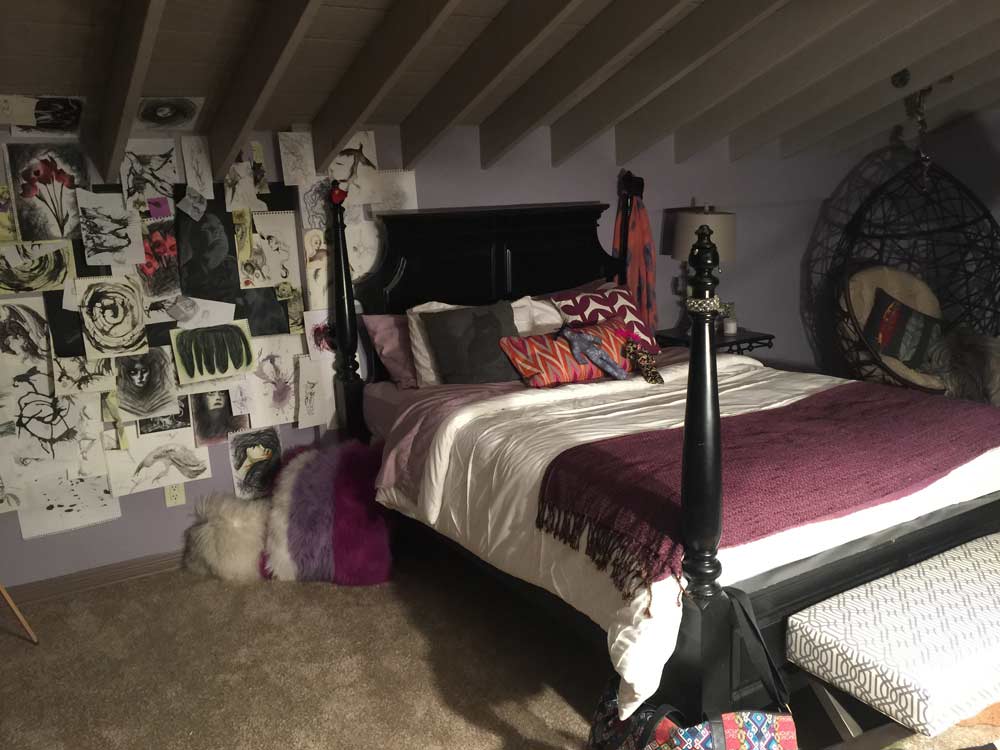 © 2015 MTV. All rights reserved
Tracy's bedroom…
Scott's
pack tried to help
Tracy Stewart
face her demons in real life, but unfortunately were too late…she is a Chimera altered by the
Dread Doctors
.
"Dark purples, grays and black comprise the color palette of this set," Kalish imparts. "The wing above her dresser is from Natural Curiosities, it is really what started the vibe of the set for me."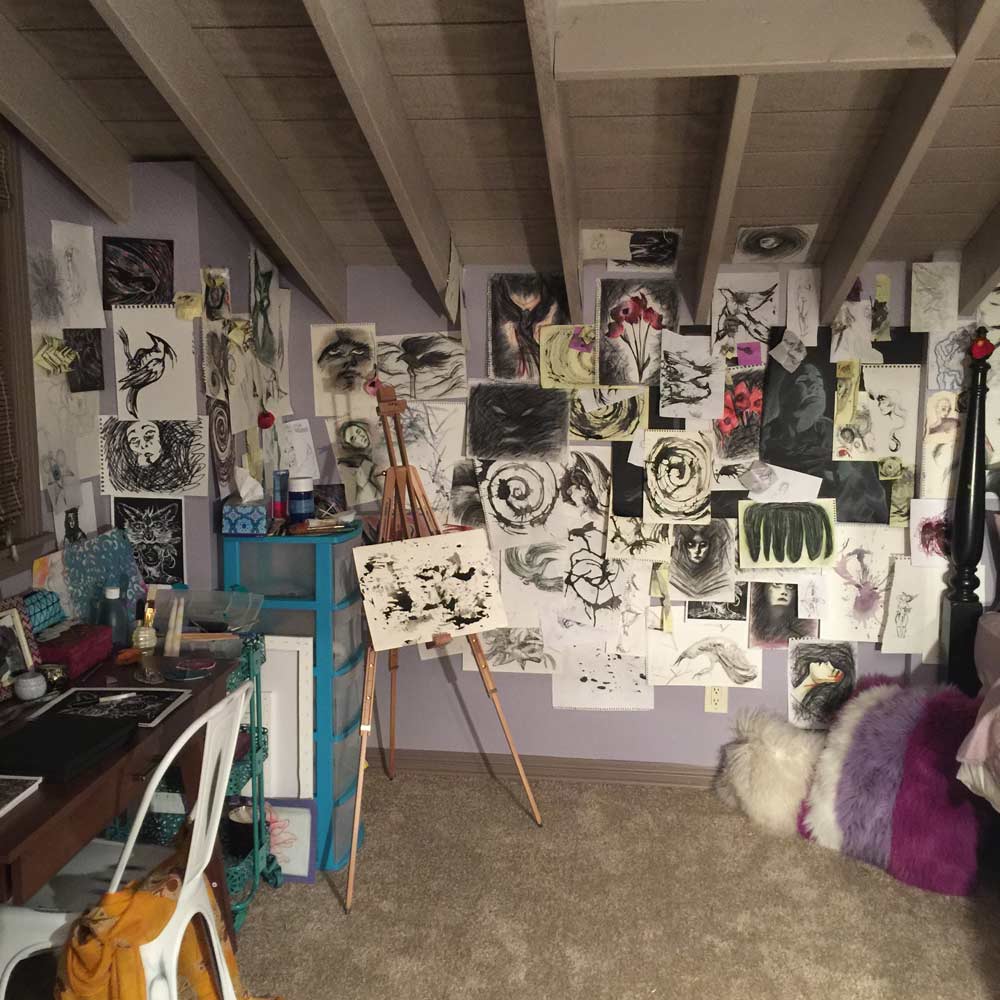 © 2015 MTV. All rights reserved
Tracy's bedroom, detail…
"All of the painted/drawn artwork in
Tracy's
bedroom is custom made," shares Kalish. "We made 'cootie catchers' out of our handpainted artwork, cut out geometric eyes and birds." Deep revelation of a troubled spirit…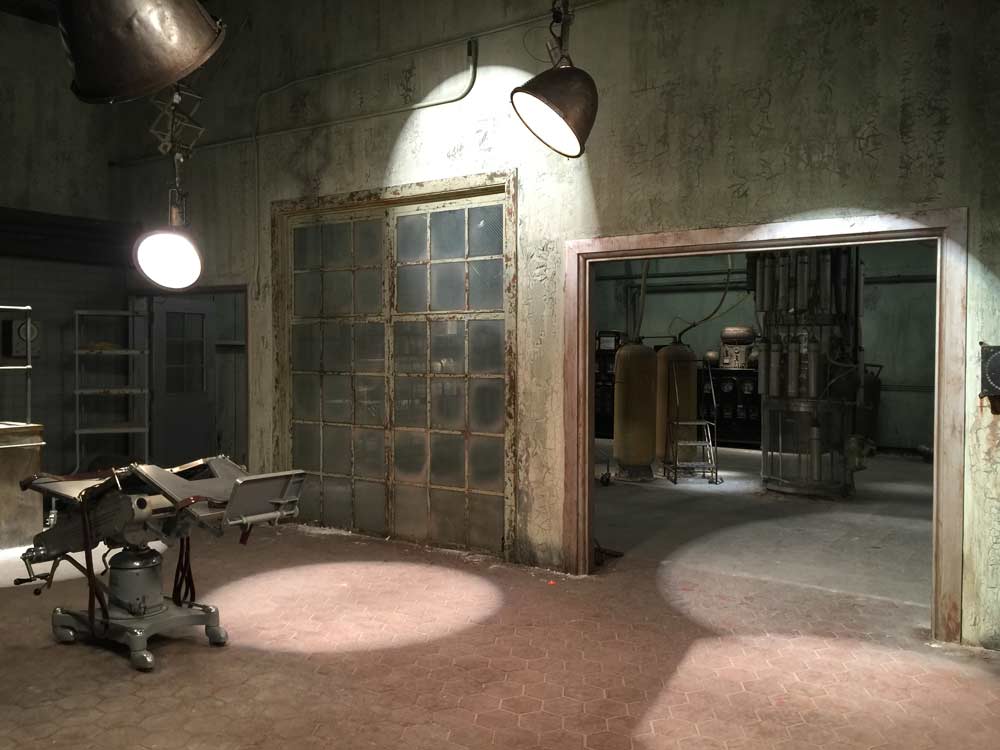 © 2015 MTV. All rights reserved
Dread Doctors Operating Theater…
Couldn't be more perfect for the Halloween season, but horribly ghoulish for the citizens of
Beacon Hills
! "The 8 large scissor lights hanging from the ceiling are vintage pantograph lights from History for Hire," Kalish notes. "We have an acrylic cylinder tank that we customized by adding old hoses to it by Modern Props, the top is outfitted with rocket pieces and scrap metal from Apex. All of the tanks in this set were dug out individually at a metal scrap yard. Our
human
in the tank is from Dapper Cadaver. All of the scar tissue/burns were designed by our wonderful special effects makeup team who fabricated the look…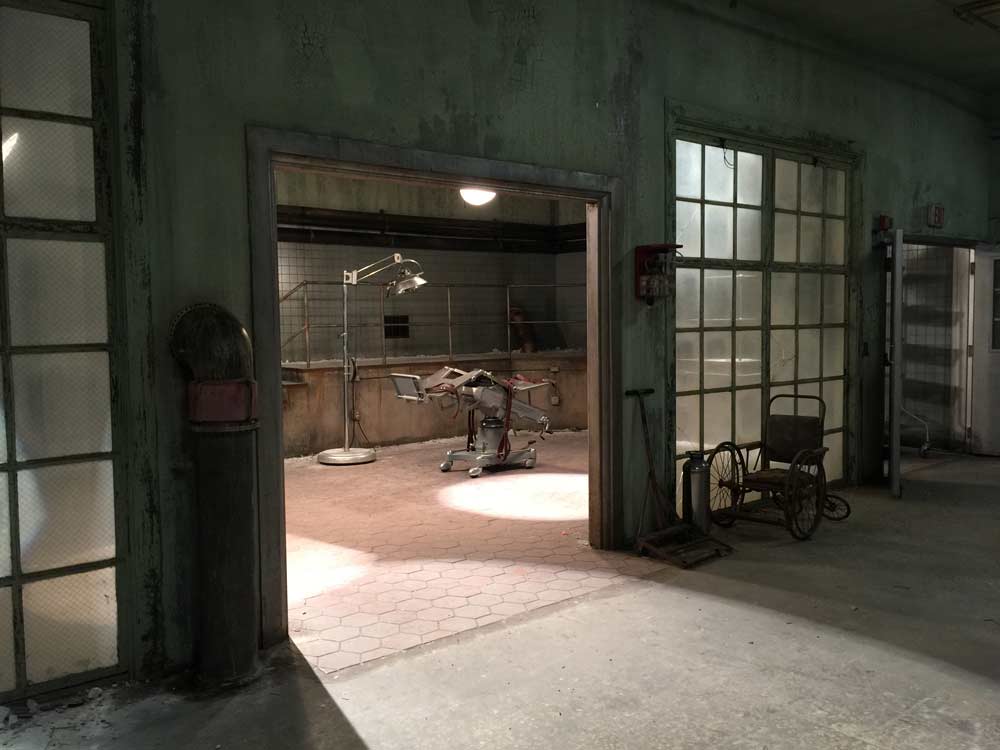 © 2015 MTV. All rights reserved
Dread Doctors Operating Theater, corridor…
As often happens in a series shoot, this set was altered to become something else…in this case…the
Russian Lab
…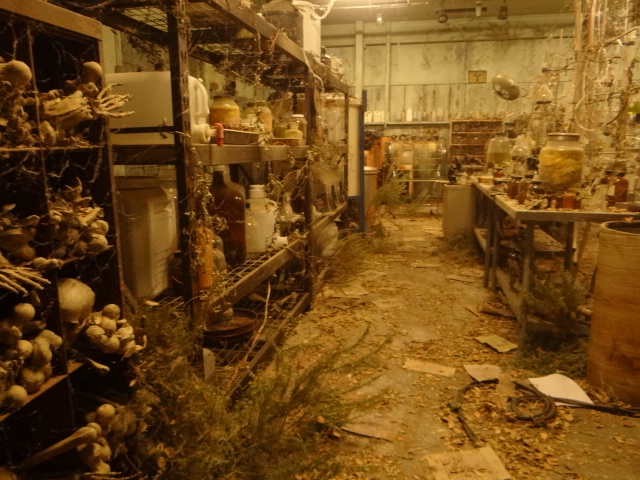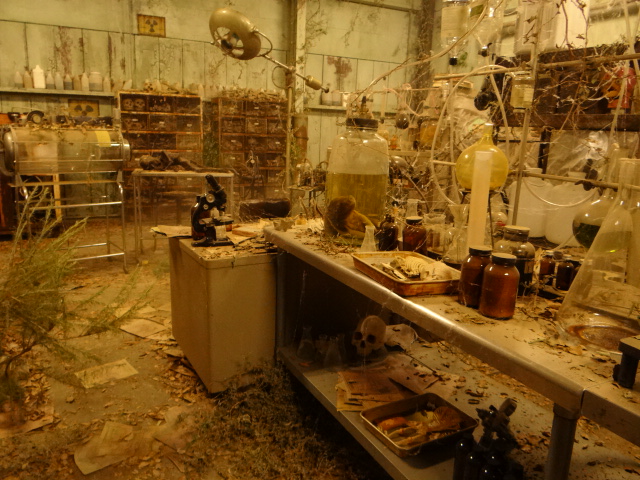 © 2015 MTV. All rights reserved
Russian Lab…
"We brought in different levels of foreground pieces that were dead and or offered something murky to shoot through," explains Kalish. "Lots of old jars and prescription bottles on rusty aged shelves. There is even a fetal pig and fetal monkey in jars. Dapper Cadaver was a great source for the vintage equipment and of course lots and lots of bones. The papers on the floor are photocopies on aged newsprint that were copied with a real vintage prescription from 1908."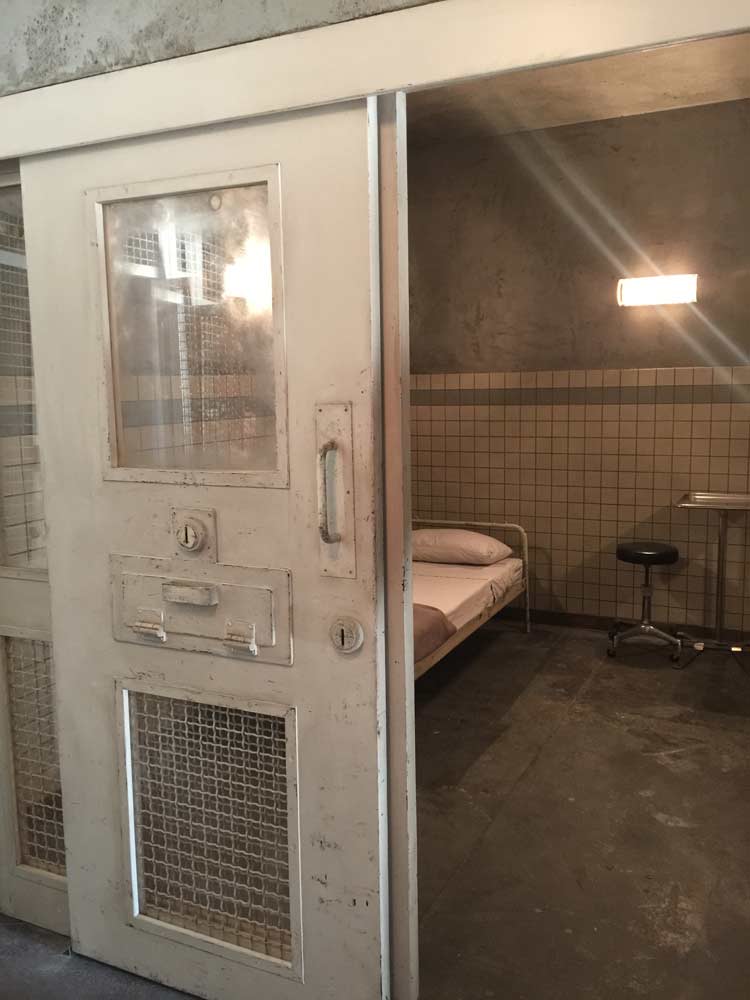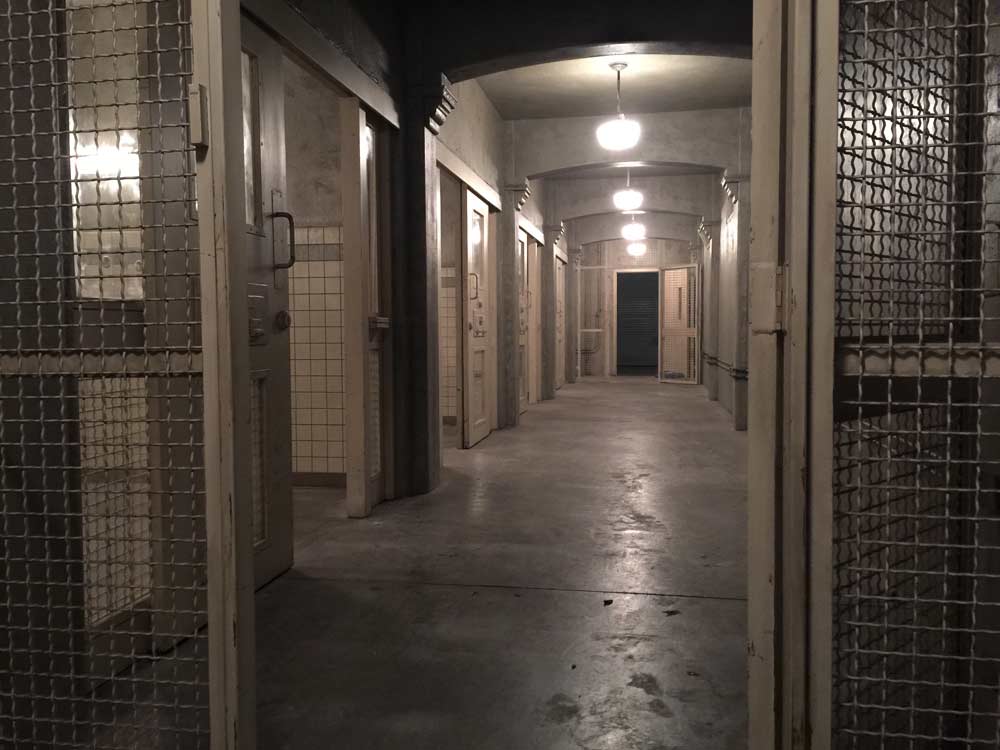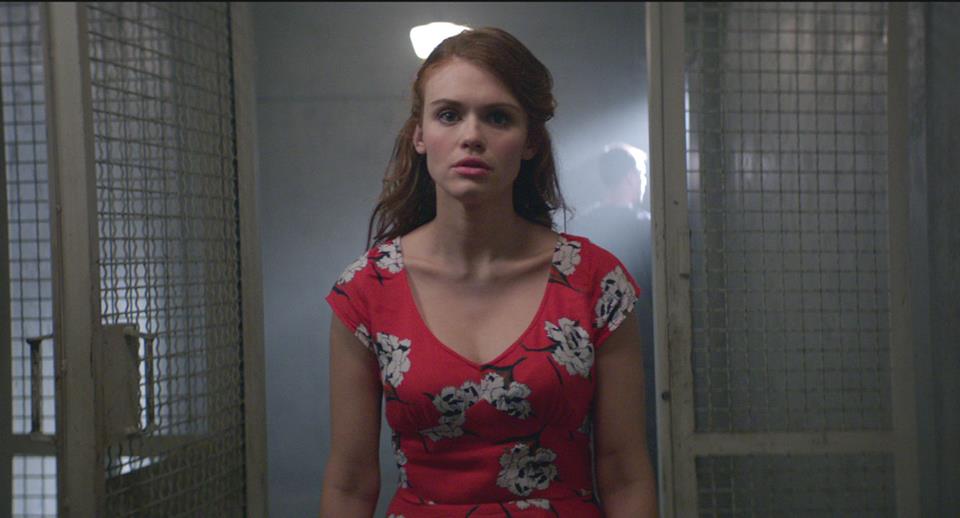 Holland Roden as
Lydia Martin.
© 2015 MTV. All rights reserved.
Eichen House, Psych ward…
"We designed the beds for
Eichen House
and then had Fox's metal shop build them for us," Kalish discloses. "For the
Eichen
shower room Thomas, our production designer, asked for gross bars of soap. We bought murky white chunks from a place called Lush, carved them up and took them to our amazing paint department—so they smell really good but also fit the look of the set! The sconces were purchased from Lamps Plus and then gutted/altered, painted and aged by my set dressers, and our lighting and paint departments. All the conduit, piping, electrical boxes and switches are planned out, custom designed and then made by my awesome set dressers."

*Photos on left from TEEN WOLF Facebook...