THINK LIKE A MAN
Set Decorator Beth Wooke SDSA
Production Designer Chris Cornwell
Sony Screen Gems
THINK LIKE A MAN
Set Decorator Beth Wooke SDSA
Production Designer Chris Cornwell
Sony Screen Gems
SDSA business members HD Buttercup and Schumacher & Co. are featured as part of a distinctive apartment makeover by Gabrielle Union's character, Kristen, in the box office hit THINK LIKE A MAN!
Set Decorator Beth Wooke SDSA takes us through the "befores" and, more importantly, the "afters"!
Then she generously shares her additional resources for other character defining sets – you'll discover more great pieces and more great SDSA business members!
Jeremy & Kristen's Loft Apartment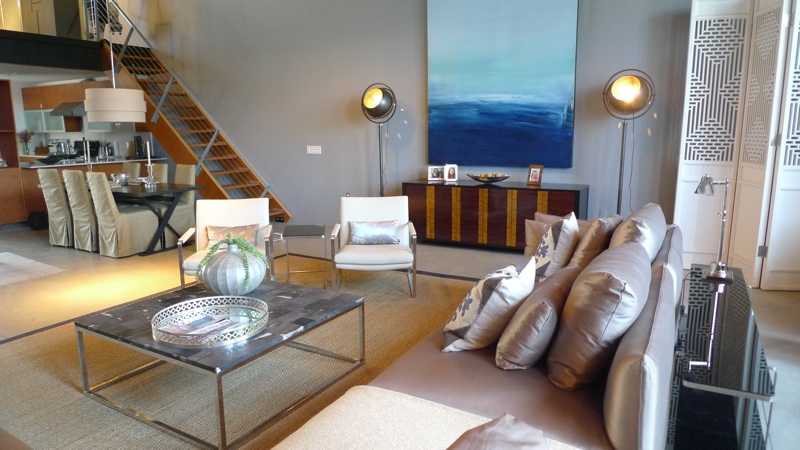 After living for several years with Jeremy, The Non-Committer [Jerry Ferrara], and the collection of things from his past, Kristen [Gabrielle Union] decides to update and upscale their place…
Above, "After" Kristen hires an interior designer and they head to HD Buttercup (scripted)
Sofa sectional: HD Buttercup
Pillows: Lillian August @ HD Buttercup
Coffee table, dining table, hanging barrel light, slip-covered chairs: HD Buttercup
Console and folding screen: Lillian August @ HD Buttercup
Rug: Sisal rug purchased and custom bound in navy canvas at Linoleum City.
Oil Paintings and large framed photography: Art Pic
Plants and silk succulents: Rolling Greens
Drapery fabrics - navy sheer, wool and velvet: F & S Fabric and Diamond Foam
Drapery manufacturer: Omega Cinema Props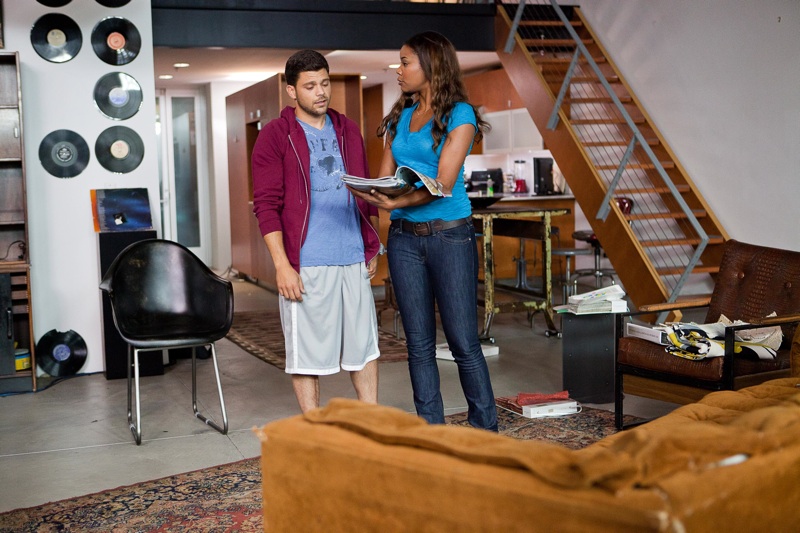 Inset, "Before": The old space included a battered sofa and chairs more befitting a dorm-room. Jeremy [Jerry Ferrara], Kristen [Gabrielle Union]. ©2012 Sony Screen Gems. All rights reserved.
Production Designer Chris Cornwell points out, "This was one of the more difficult sets in the movie due to its transition from an eclectic collection-cluttered space (Phase 1) to a sleek, sophisticated loft (Phase 3). Adding to the challenge, the entire set had to be turned around within two days…which led us to make the decision that some of the more interesting pieces must stay."
"Beth and I felt that the characters in the film wouldn't have been able to afford every single piece replaced, anyway," he notes. "We determined that even in its cluttered phase, Kristen would have never dated Jeremy nor lived there to begin with if it were too horrible, so it had to be interesting even before the change-over to the sleeker phase. Most of the male filming crew validated us in this decision as they all said that they would love to live in Phase 1!"
Wooke reveals, "We had many discussions about what Jeremy, a graphic designer, would collect and save. We started with mountains of (cleared) comic books, toys and books but then edited and organizied it as if there was a sort of intention to his collections. My Leadman Troy Myers was a huge help, particularly in the condensed time we had for Phase 1...only one afternoon to get this aspect of the set location dressed in time!"
"We were also burdened with an incredibly restricted budget," adds Cornwall. "If it weren't for Beth's SDSA Business Member relationship with HD Buttercup as well as Schumacher &Co., the movie would have had a frumpier feel, full of tired old set dressing that we have seen a million times. HD Buttercup introduced a fresh new vibe into the movie….We were very fortunate that Chad Norris (at HD) helped us out in a such a big way!
Sophisticated living space…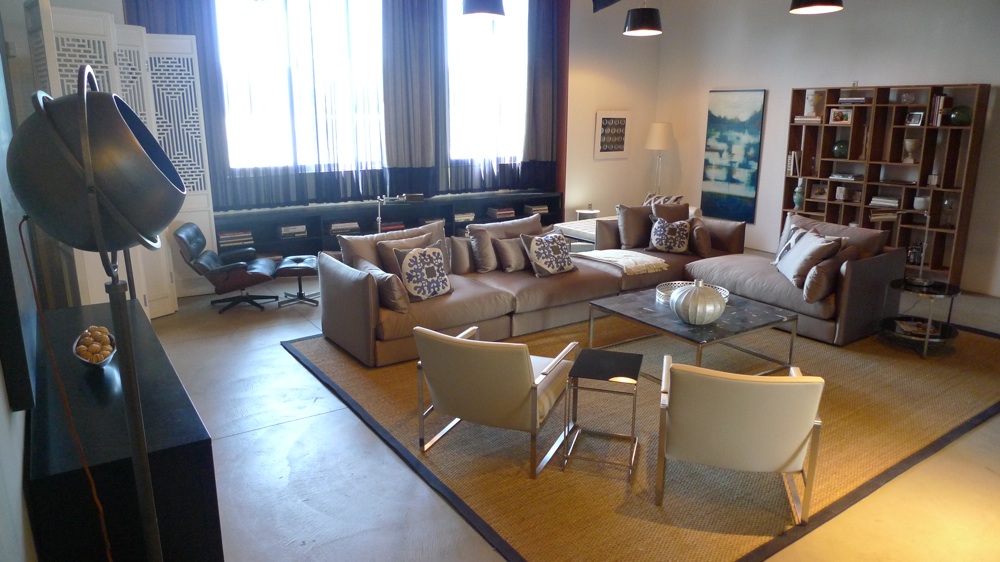 Artful and art-filled, but simple and clean, clear lines…harmony
…as opposed to outdated party room [inset, below]…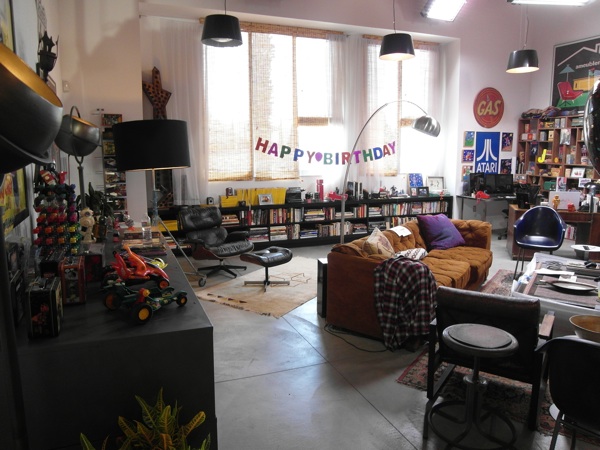 Some of the better pieces…the photographer's standing lights, Eames chair & ottoman, and bookcases survived the redo!
Inset, "Before:
Comic books: Dark Horse Comics- Product Placement
Toy collections: Lennie Marvin's Prop Heaven and Dark Horse
Vintage gas signage: Lennie Marvin's Prop Heaven
Vintage arrow sign with chasing lights: Air Design
Books, magazines and vinyl records (Cleared Columbia Labels) - Sony Studios
80's battered sofa: NBC Universal Studios Property (We had to tear it up more for effect, but repaired nicely upon return!)
Eames lounge chair and ottoman: Sony Property
Custom matchstick Roman shades: Omega Cinema Props Drapery Department
Trunk coffee table and vintage moulded chairs: Timothy Oulton @ HD Buttercup
Leather club chair: Sony Studios
Poster purchase: "Atari": Cleared by Sony Studios Legal Department.
Persian and Morrocan rugs: Universal Studios Property Department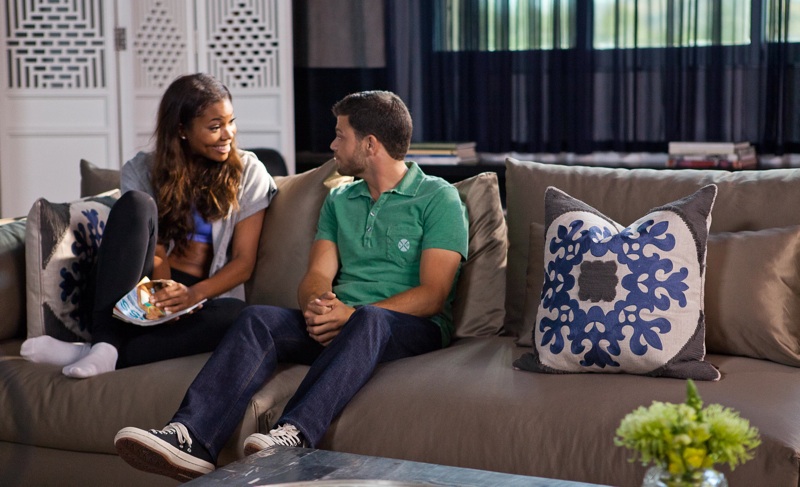 Now the apartment represents a more adult perspective, and reflects both of them.
Kristen [Gabrielle Union], Jeremy [Jerry Ferrara] ©2012 Sony Screen Gems. All rights reserved.
Lauren's Penthouse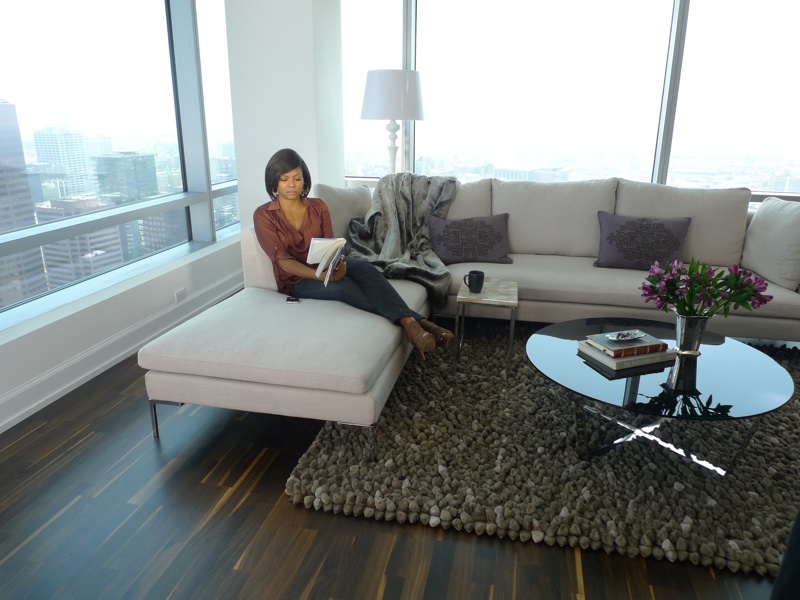 Lauren [Taraji P. Henson]. © 2012 Sony Screen Gems. All Rights Reserved.
Lauren, The Woman Who Is Her Own Man [Taraji P. Henson] is a successful businesswoman who wants a male counterpart. She finds him, except he's aspiring chef, Dominic, The Dreamer [Michael Ealy], not the tycoon she had envisioned. Her apartment exudes power and confidence…and a sensual undertone…
Above:
Sofa and coffee tables: HD Buttercup
Rug: Sony Studios
Faux fur throw: Timithy Oulton @ HD Buttercup
Floor lamp: Lillian August @ HD Buttercup
Silver vase, books and smalls: Ob-Jects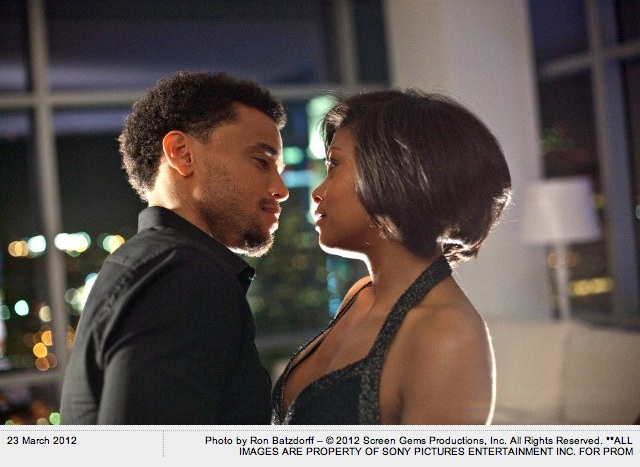 Inset: Dominic [Michael Ealy], Lauren [Taraji P. Henson] Photo by Ron Batzdorff. © 2012 Sony Screen Gems. All Rights Reserved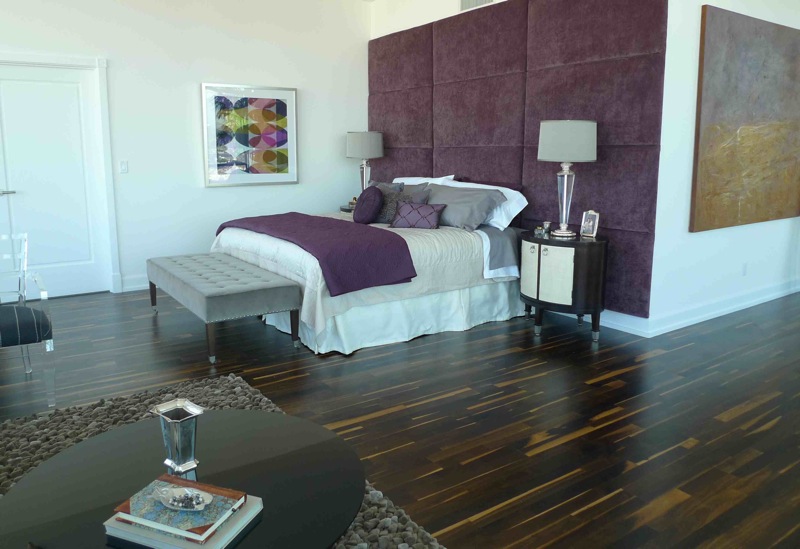 The distinctive velvet wall was a result of creative problem-solving. Wooke explains, " The Ritz Residences in downtown Los Angeles gave us this amazing penthouse location as part of a product placement arrangement with production. We were not allowed to paint the walls, but it ultimately gave us a unique opportunity to soften the room with color by using fabric.Chris chose this lovely shade of aubergine velvet as it made the actors skin tones look luminous and warm."
Fabric: F & S Fabrics
Upholstered wall/headboard: Manufactured by Universal Studios Drapery Department
Bed linens: Calvin Klein Home and DKNY
Bedside tables: Lillian August @ HD Buttercup
Lamps: Universal Studios lighting department
Framed art: Blueprint
Large oil on canvas: Art by Ruth Gonzales for Art Tribe
Gray velvet bench: Schumacher & Co
Lucite chair: Andrew Martin @ HD Buttercup
Rug [see Living Room above]
Mya's Place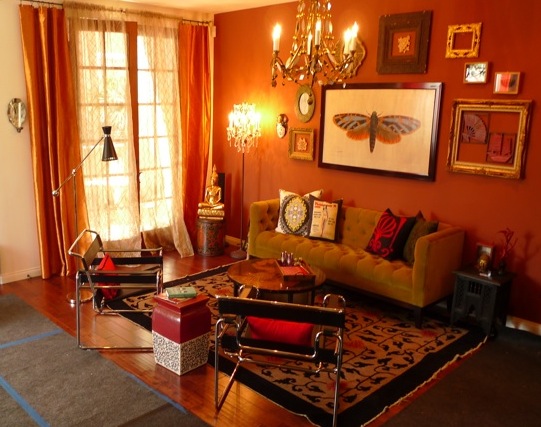 Exotic, butterfly Mya [Meagan Good] has had it with one-night stands! She declares that Alex [Chris Brown] is the last, and becomes The 90-Day-Rule Girl, withholding sex in order to find true love. That's just before she meets Zeke, The Player [Romany Malco].
Living Room:
Tufted velvet sofa: HD Buttercup
Pillows: Andrew Martin and HD Buttercup
Black Dragon vintage round coffee table: Style de Vie @ HD Buttercup
Side tables: Tibetan wood and Oriental ceramic stool: HD Buttercup
Chandelier: Lillian August @ HD Buttercup
Standing candelabra: Timothy Oulton @ HD Buttercup
Standing swing-arm lamp: Jonathan Adler @ HD Buttercup
Buddha sculpture: Sony Property
Rug: Universal Studios Property
[Editor's note: Layout board for filming can be seen in the left foreground corner…proof that this is a set!]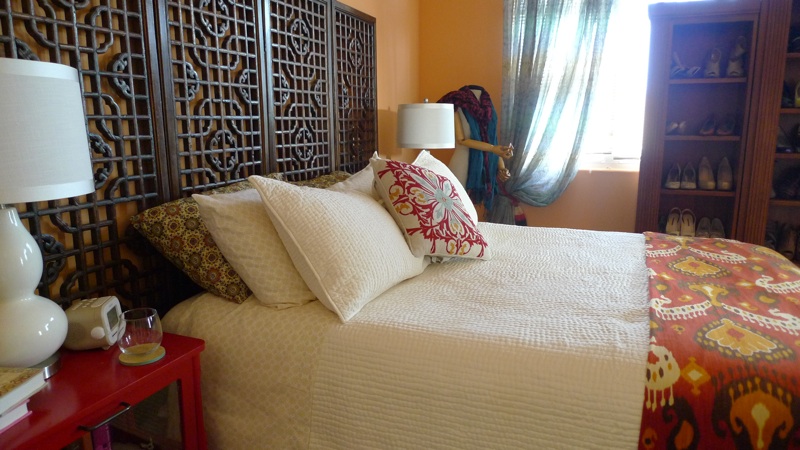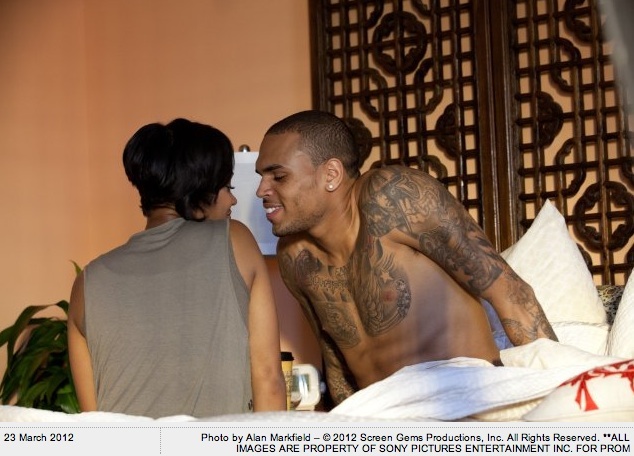 Uh-oh! Check out her fab place…does this look like the home of someone who practices abstinence?!!
Bed Room:
Antique headboard: Style de Vie @ HD Buttercup
Bed throw: 2 yard fabric sample that Schumacher loaned me, it fit just right!
Lamps: Sony Property and Lamps Plus purchased shades
Draperies: Sony Property Drapery Dept.
Mannequin, bookcases (shoes included!) and side tables all from the location owner!
Inset: Mya [Meagan Good], her last one-night stand Alex [Chris Brown]. Photo by Ron Bierdorff. © 2012 Sony Screen Gems. All Rights Reserved
Candace's Home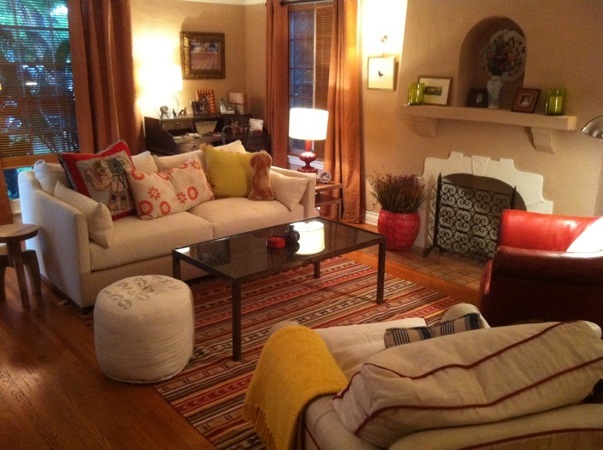 Sweet, single-mom Candace [Regina Hall] has a warm and welcoming home, which is a perfect fit for Michael [Terrence J] the classic Mama's Boy…no wonder he gets along with her son!
Sofa and pillows: Cisco Home @ HD Buttercup
Polished steel secretary desk and chair: Blueprint
Linen red-piped easy chair: Sony Property
Red leather chair: Omega Cinema Props
Iron-gate coffee table: Omega Cinema Props
Milk stool side tables: HD Buttercup
Lamp and floor lamp (not shown): Nest Studio Rentals
Sconces: Sony Property
Rug: Universal Studios Property
Artwork: Pinacoteca
Fireplace screen: Sony Property
Custom wood blinds: Omega Cinema Props
Drapery: Bed Bath and Beyond
Paper mache pink flower pot, green votives & numeric ottoman: HD Buttercup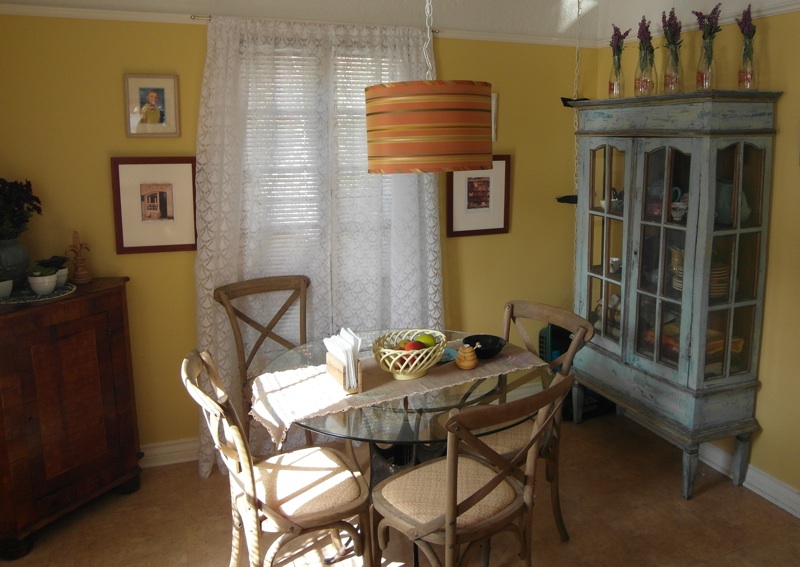 Earthy, eclectic vintage…
Dining table: Sony Property
Chairs: Bali cross chairs HD Buttercup
Hanging lamp: Sony Property
Blue painted china cabinet/vitrine: Sony Property
Sideboard: Sony Property
Artwork: Pinacoteca
Drapery: Ikea
Basket-weave bowl, tea pots and small ceramics: Pinacoteca 2
Milk bottles and dried flowers: Timothy Oulton @ HD Buttercup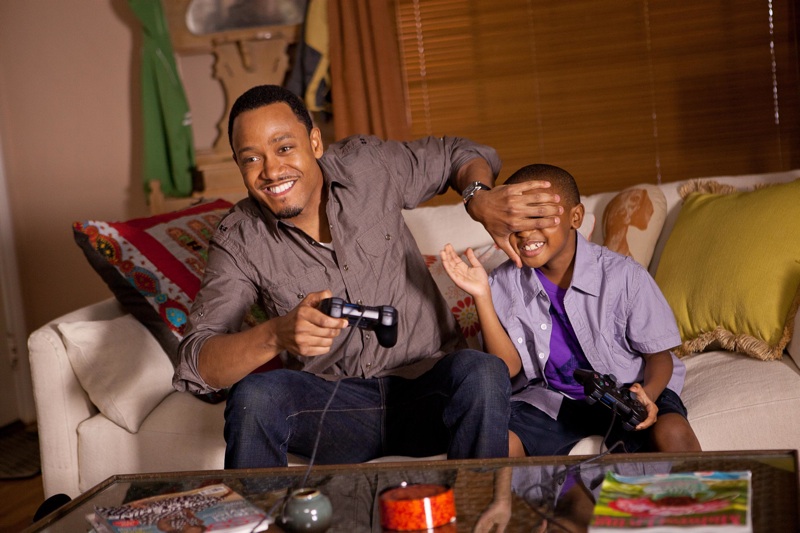 Inset: Michael [Terrence J]. © 2012 Sony Screen Gems. All Rights Reserved.
Rooftop romance…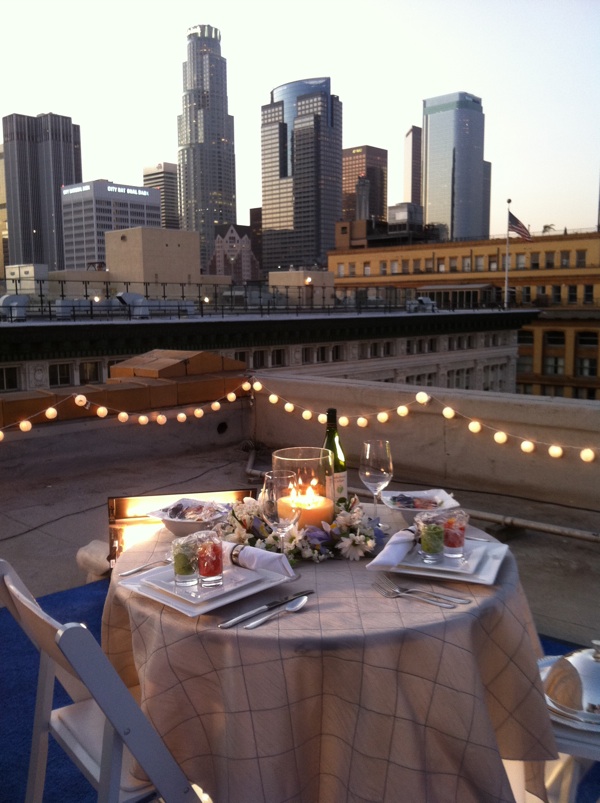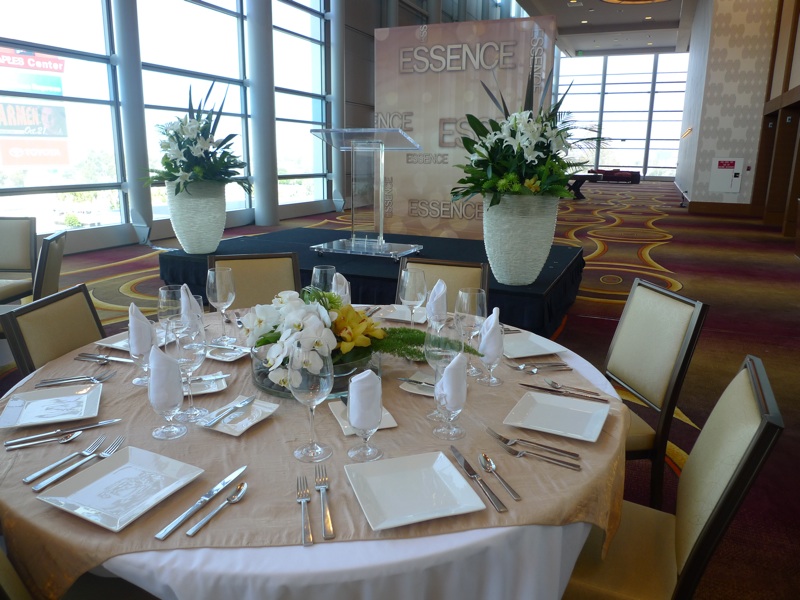 From tiny apartment dining spaces to home dining rooms, from restaurants and conference dining to rooftop romance, Wooke and her team decorated for all sorts of dining (and dating) experiences. She points out, "This movie was shot all in Los Angeles, Santa Monica and Culver City, which is becoming rarer these days in the film industry! Great weather and views of the city everywhere was a bonus!"
Table linens, chairs and blue carpeting - rooftop: LA Party Rents
Table linens, conference: Town and Country Event Rentals
Dishware and silverware: Town and Country Event Rentals
Tablescapes rooftop: LA Flower Mart and some green floral wire! Wanted it homemade.
Enormous arrangements flanking conference podium and tables: Sandy Rose Florals
Large Acrylic Vases: Lennie Marvin's Prop Heaven
Acrylic podium: Modern Props