Victory Props offers a variety of Midcentury, Modern and Contemporary furniture, linens and smalls (C) Victory Props/Kent Limson

A view of The Collection at Warner Bros. Property (C) WB/Ken Haber

Victory Props offers a variety of Midcentury, Modern and Contemporary furniture, linens and smalls (C) Victory Props/Kent Limson
VOICES FROM THE SDSA COMMUNITY: Business Members Warner Bros and Victory Props share their insights on COVID-19
By Tara Kocourek SDSA Associate Member
-
April 22nd, 2020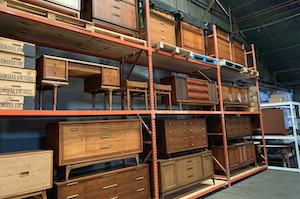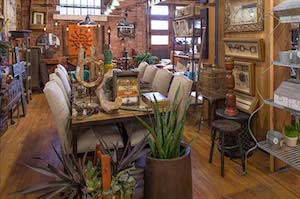 As we begin to visualize getting back to business as usual, we realize now more than ever just how much relationships matter: personal, professional, and as a larger community. The SDSA has more than 190 Business Members, all of whom have been impacted by government-mandated closures due to the COVID-19 outbreak.

SETDECOR reached out to a few of them to see how they're weathering the current situation. Our Business Members range from small to large, from up and coming to established. We felt it was important to understand how the closures are specifically impacting these businesses.

Below, we hear from Warner Bros. Property and Victory Props. We thank them for their candor about how they and their employees are coping during these unprecedented times.
We also invite our other Business Members to share their stories with us! This article will be updated in the coming weeks and months of 2020.

Robert Greenfield, Warner Bros Property (click for link):

Prior to my current position as Director of the Property and Drapery Departments at Warner Bros., I was a Set Decorator and a proud member of the SDSA. I've always worked in the Art Department, first on the Swing Gang, then as a Lead for many years and eventually as a Set Decorator, mostly in film. I was transitioning into television production when I interviewed and ultimately took the position at Warner Bros. Property and Drapery, ten years ago this June. I feel very fortunate to be at Warner Bros. with its rich film and television history. It's a very fun place to come to work every day.

I find great value in being a part of the Set Decorating community as a whole and the creativity that comes with working in this field. Hopefully our efforts and energy make Warner Bros. a helpful resource to an incredibly talented group of Set Decorators. There is an art to everything we do, and I take so much pride and pleasure in seeing our team improve the Property and Drapery inventory and the shopping experience. Much of our staff comes from the production world and understands the complexities and difficulties faced by our customers. They are eager to help, as they have experienced what it's like to be on the other side. Everyone, both WB crew and our clients, truly has each other's best interests at heart. It's a rare and enviable place to find oneself – surrounded with creativity and kindness.

We are working in a new world. Personally, I have been through a writers' strike or two, and runaway production had a big effect on so many people's careers, but nothing like the current COVID-19 crisis. This is unprecedented: complete stoppage of filming due to a global pandemic is a new – and hopefully - a singular experience. To see such a vibrant, busy studio lot shut down makes you really appreciate the gravity of the situation. I look forward to seeing the return to operation at full capacity again soon.

Warner Bros. and our parent company, WarnerMedia, have been incredible throughout the COVID-19 crisis. I could not ask for more support. They have taken a truly human approach, from adeptly recognizing the significance of this threat to prioritizing the well-being of their employees. They are ensuring that appropriate financial safeguards are in place, to best protect our departments and productions. They never hesitated to do the right thing and that gave everyone some peace of mind during a very troubling situation. The first thoughts were always on maintaining safety for our people while also providing crucial guidance as our departments and productions shut down.

The whole staff did a great job putting the prop house to bed in the week prior to the shutdown. We are in good shape for our customers when everyone returns to the Studio lot again. First and foremost, we want to make sure everyone feels safe coming back to work at our departments! A bit of cleaning and re-stocking will bring us back up to speed very quickly.

Some members of our team are able to work from home, but by and large, everyone is ready to get back to the Studio and return to doing what they do when the restrictions are lifted. There is clearly nervousness around so many unknowns, but our team members have found ways to be creative and productive while at home. More time with family is always welcome, especially among those with young children or aging parents. Like everyone else, sometimes we get bored and tired of cleaning the house…again, but there are also many days in which we surprise ourselves with fresh ideas or a newfound discovery that balance the concern about the future and our health.

I've been in contact with a number of our fellow prop houses. We all check in with each other about how and what everyone is doing, as well as sharing thoughts and processes that hopefully benefit our community at large, once we're all on the other side of this crisis. It's a truly wonderful group of businesses that serve the Set Decorating community –we are all in this together. It's comforting to see everyone's concern for one another.

It is my hope that as a global community, we will learn the importance of testing, planning and preparedness after navigating this current situation, so that any future needs for closures are handled as quickly and compassionately as possible.

We are very hopeful that productions will come back strong, once cleared to do so. The demand for content is so high right now because of the new streaming services. With the pent-up demand currently emerging, our hope is that things will ramp up and remain busy through the rest of the year.

Christina Weston, Victory Props (click for link):

Victory Props was born as a solution to the problem that all Set Decorators encounter in the film industry - every job seems to have more complex budgeting and shorter timelines than the projects before it. Our jobs are getting shorter prep time than ever before, and traffic is only getting worse in LA for shopping and pickups. Pam Chien and I are both Commercial Art Directors, and our third partner Kent Limson is a CPA/MBA. In our industry, Pam and I realized there wasn't a prop house that could quickly turn around orders after-hours, or show current availability, pricing and current condition photos on its website. And there definitely was no prop house that could handle orders directly through its website when a salesperson was unavailable. Kent saw an opportunity to create a business model that supported the fast-paced film industry, using methods he employed for other clients in the medical sales, industrial production and retail industries.

We created Victory Props to assist Set Decorators with last-minute requests from their Directors, Art Directors, and Production Designers – we know they can be a difficult bunch. This is a role that needed to be filled: a rental house for midnight shopping the night before when everything is closed, the confidence that the order will be pulled on time, accurately and ready for pickup first thing the next morning. With a variety of furniture from Midcentury, Modern to Contemporary, and linens, lighting and smalls, it's easy to place a quick order. And if Set Decorators don't see what they need on the website, a simple text, email or phone call will result in them having photos of our ever-expanding inventory at their fingertips.

Before COVID-19 shut down all of LA's prop houses, Victory Props was focused on expanding its warehouse inventory online, in order to increase the options for Set Decorators to seamlessly shop with less need to reach out to a salesperson (although we're always available to help). We had been looking into expanding into the retail space next door to our warehouse, and had hoped to hire our first full-time employees.

Victory Props is a new business at nearly a year and a half in operation - although Pam and I both weathered the Writer's Strike and Great Depression from 2007-2011, this current experience is completely unprecedented. Nothing could have prepared a business for this kind of shutdown.

If we aren't able to get about four orders a week immediately once the quarantine is lifted, we will close permanently as a business. There is no way to recover from this very, very expensive experience other than to be flooded with orders once everyone is back to work! The best way to support Victory Props right now is to browse our inventory online and consider buying something! Some items we will sell for the cost of a single week rental - other more expensive or designer furniture would be more, but many are still brand new, still waiting for their first rental. This would help us cover our rent, which at tens of thousands of dollars a month, is the most concerning expense to cover during quarantine.

Once the doors are open again, the BEST thing that SDSA and Decorators can do for Victory Props is to shop with us, put in orders, and post their finds on social media, tagging us in the photos so their friends and colleagues know we've weathered the storm and are still open for business! It's going to be a strange time for Set Decorators as they get back to work, only to learn some of their favorite Prop Houses have shuttered permanently after this experience. We'd like everyone to know we're open for business and excited to start pulling orders again.

Thanks to Warner Bros and Victory Props for these revealing and informative testimonials.
Photo credits: Victory Props offers a variety of Midcentury, Modern and Contemporary furniture, linens and smalls (C) Victory Props/Kent Limson
Photo Credit above: A view of The Collection at Warner Bros. Property (C) WB/Ken Haber