‹ Back to Press/NewsHome
View Emmy Party Photos...and Thank You! to Universal Studios Art Departments for hosting
SDSA International
-
Tuesday, October 2nd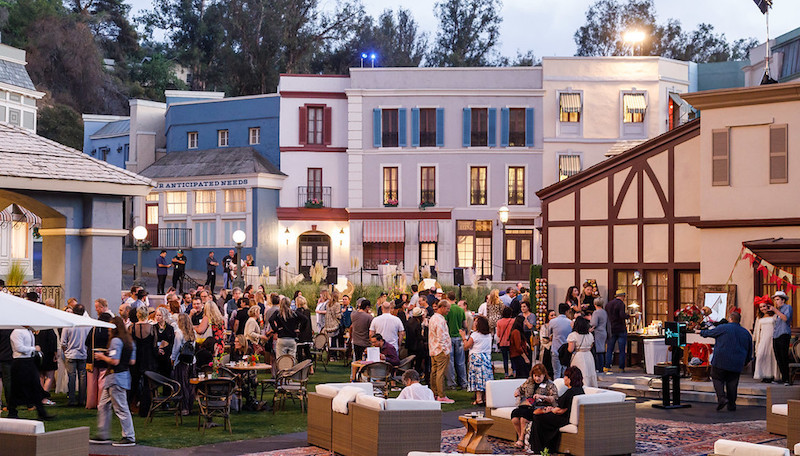 An Emmy win sized Thank You to Universal Studios Art Departments, Beverly Hadley, Krista Bolling and everyone at Universal for hosting a splendid pre Emmy evening on September 6th.

The annual Emmy Party was labeled by our hosts as the Emmy Mixer with SDSA International & ADG Members along with Emmy Nominees with their crews gathering together in a high energy BoHo Chic atmosphere.

European Street on the backlot went from sunny afternoon to breezy evening with windows draped and lit for added ambience. The Universal Studios Special Events team and Wolfgang Puck Catering provided delicious nibbles and an enticing and clever doughnut display to feed guests throughout the evening of good friends, cocktails, nominee speeches, photo booth fun.
Thank you also to the SDSA International Business Members
who contributed to the event;
Aah-Inspiring Balloons
,
Advanced Liquidators Office Furniture
,
AMCO American Screen & Window Coverings,
Eclipse -
Wolrdwide
,

Front Row Media
,
Faux Library Studio Props
,
Hollywood International Placements
,
International
Promotions
,
OMEGA|Cinema Props
,
Placed 4 Success Product Placement
,
Sandy Rose Floral
,
U-Frame-It Gallery
Universal Studios
and
Warner Bros. Studio Facilities

Some Prizes and Specialty Bar Pours Provided By:
Blue Diamond Almonds • Case Knives • Dominion Games
Martinelli Sparkling Ciders • Moobuzz Wines • Malfy Gin
Ole Smoky Moonshine & Whiskey • Pau Maui Vodka • Rumchata
Saints and Sinners Hair Products • Seventh Generation • Sierra Nevada Ales
Tito's Handmade Vodka • Uncle Val's Botanical Gin • Zippo