Application For SDSA Business Membership
---
Does your Business seek to sell or rent products to the Entertainment Design world, or to get products placed in a Film or Television production?

SDSA Business membership provides the opportunity to promote your business, and offers you the ideal marketplace to network with Set Decorators in the Motion Picture, Television, Streaming, Commercial and Music Video industries.


Business Membership Types:
• Individuals or Companies whose businesses interact with Set Decorators
• Studios, Facility Rental companies, and Locations who rent to production companies
• Professionals who rent, sell or provide services to Set Decorators and Designers
• Educational institutions that offer classes in Set Decoration and/or Production Design
• Non-profit and not-for-profit organizations


Business Membership Requirements
The Business caters entirely or in part to the Set Decoration Industry


Business Member Privileges
• Welcome at SDSA Member events for networking, information exchange, and celebration of our art form
• Invitation to the annual Awards, at a discounted Member rate
• Featured on SDSA Website and in our Membership directory: can upload business offerings, photos, and links to Business website
• Opportunities to market to your target audience—the Set Decoration community—at discounted member rates
• Entitled to one free E-Blast per year with Membership
• Receives mailings and e-blasts, including THE BUZZ, SETDECOR article announcements, and exclusive news you can use to stay informed and connected
• Up to five (5) Board seats are reserved for Business Members. These Board members can vote in SDSA elections, but otherwise, Business Members do not vote
• Eligible to participate on SDSA Committees, including: Awards, Business Members, Community Outreach, Education & Day With the Set Decorator, Membership, Website & Social Media, Events, and Development


Annual Dues
Determined per category of Business membership. Varies according to the size of the Business, ranging from individual artists to intermediate sized businesses with a dozen or so employees, to large film studios.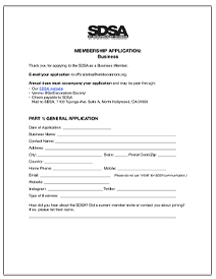 Click to Download a Business Members Application ›
---
A 501 C (6) Not for Profit Corporation
To support these ventures, the SDSA relies on membership dues, corporate sponsors, generous contributions from our Business Members, advertising on our website, social media, and eblast outlets, activity fees, and grants for small business development and educational support.

SEPARATION OF SDSA FROM IATSE
The SDSA is separate and apart from any labor union and the organization does not represent Set Decorators in negotiations regarding wages or working conditions, leaving this important function to our local unions, including IATSE Local 44 in Los Angeles, Local 52 in New York, and Local 479 in Atlanta.