The SDSA Summer Street Festival showcasing business members who support our Industry happened on June 26th, 2010 at the Universal Studios recently reopened New York Street!
SDSA SUMMER STREET FESTIVAL
"The industry takes care of it's own"
Listen to Mel Cooper discuss her career as well as the Summer Street Festival here on Blog Talk Radio!
The Set Decorators Society of America and its Business members celebrated the beginning of another event-filled film and television season with The Set Decorators Summer Street Festival 2010. The event was held June 26 on Universal Studios newly rebuilt New York Street, and all donations and proceeds will benefit the Motion Picture & Television Fund.
The Motion Picture & Television Fund is a charitable organization that has been a safety net to those in the entertainment industry for almost 90 years. Every year the Motion Picture & Television Fund provides millions of dollars in charitable assistance to those in the industry that fall on hard times, need help paying their bills, cannot afford health insurance or are experiencing some sort of crisis. In addition, the Motion Picture & Television Fund provides a wide variety of healthcare, senior care, childcare and social services to more than 60,000 entertainment industry professionals every year.
The well attended event was an exciting blend of Business Member trade show, cocktail party, family fun day and live band concert with numerous food truck vendors supplying great food. Here's a rundown on the who, what, where,
· Business members booths displaying services and new products for the Entertainment Industry including as of June 9th:
Wilton Cordrey, EC Props, Eclipse-Worldwide, FormDecor, History for Hire, Skinny Dog Design, CPR/Cinema Paper Rental & Graphics, Legally Hung Art, Apropos Interiors, Herman Miller inc, Party Pals, Aah Inspiring Balloons, Art for Film, AAA Flag and Banner, Tri Scenic, 1-800 Autopsy, RC Vintage, Prop Services West, Warner Bros, F Schumacher & Co, Hollywood Studio Gallery, Hollywood Cinema Arts, Tousi Rugs, Angel Appliances, Nest Studio Rental, Hollywood International Placements, Nomad Style, Girari Sustainable Event Furnishings, The Hand Prop Room, Nancy Steinman Furniture, Artists Rights Society, Bischoff's Taxidermy & Animal EFX, Dr Christmas Rents, Creative Handbook, The Mannequin Gallery, I Communications, Astek Wallcovering, Air Designs, Pulp Art Surfaces, Rose Brand, Art Pic, Global Effects Inc, Green Set Inc, LCW Props, Farrow and Ball, Classic Party Rents, Taschen Books, Sloan LED, L.A. Party Rents, Hollywood Piano Company, Lawrence of La Brea, Alpha Medical, Dangling Carrot Creative, Stepehn Schubert Studios, A-1 Medical Integration, U Frame It Gallery, Dina Art, L.A. Mart, Art Pic, Insurance West Corp, Repro Graphic Supply, Sony Pictures Studios, Spark Alliance, Eco Safety Products/Marshall Carbee ...and demonstrations by ABU Group and Psychic Advisor Priscilla

· Live music and dancing
· Dinner and drinks
· Games, raffles and door prizes
· Entertainment galore
· Children's activities
· Educational Seminars
Bake Sale- A fund raising bake sale, based on the old church social but with a twist. This year we will offer fine baked sweets and delectable savories to take home or eat right there…perhaps with a cocktail from our Margarita and Martini bar. Whether it is from a favorite recipe or a favorite bakery the real fun is the packaging. Cakes, cookies, pastries and other sweets served up on some great platters, plates and compotes. Or sausage puffs, mini shepherds pie or curried shrimp on points. Vessels range from exquisite antique, cool mid century vintage, ultra sleek modern and shabby country. Money raised from the bake sale helps make the day to day running of the SDSA office possible.
Food Trucks- Following the current trend our lunchtime choices will be from a list of gourmet mobile food trucks…we are still sampling the tasty treats but rest assured we will have the best and tastiest the southland has to give.
Silent Auction – With a twist, will offer up interesting art, hi-end crafts and fabulous attic discoveries for you to purchase. Now here's the twist-all items will be sold in a silent auction …you can bid and take your chances or pay the pre-set "Grab and Go" price. This will certainly appeal to all of us type A personalities! Please drop off items at the SDSA office or bring them with you the morning of the event.
Green Room – More a green section of companies to show what can be done on stage and in home to make a more 'green' friendly environment. Linoleum City and Green Wave Energy Corp bring you this eco friendly area with green info and demonstrations all day long.
Kids Activity Area-We know the long and crazy hours people in the industry work all week and how the weekend is special time spent with family. The SDSA Summer Street Festival is a family friendly event with an area of stimulating activity for kids of all ages including electronic games, bounce houses and rock climbing.
Thanks to all who joined us for this fun-filled event to support the Motion Picture & Television Fund. With exposure to more than 18,000 film and television industry employees and their families, we have been able to reach out to a loyal and supporting audience including IASTE Locals, producers, location managers, event planners and product placement companies.
One hundred percent of voluntary contributions at the door will go to support the programs and services of the Motion Picture & Television Fund. Working in the entertainment industry is more than a career – it's a way of life, so let's "take care of our own."
For more information please email
sdsa@setdecorators.org
Tickets courtesy of
Cinema Paper Rentals and Graphics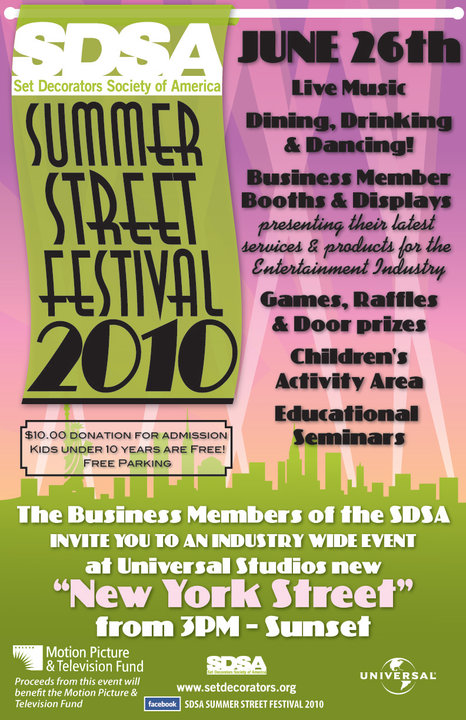 The latest version of the New York Street sets opened in December 2009, following the huge fire in June 2008.
The New York Street area has been used in countless productions over the years. It's been rebuilt after fires in 1957, 1990 and 2008, and frequently changes appearance as required by the production work at the time. The street is curved at both ends to give the illusion of a longer street on camera.
The entire New York Street / Metropolitan area has just reopened after it was destroyed by fire June 1 2008. The new structures comply with a new building code specifically for back lot structures, meaning they'll have sprinklers and other fire-protection measures built in.

New York Street On Screen
:
Dirty Harry (1971) [as San Francisco], The Sting (1973) [as Chicago], Kojak (TV) (1973 - 1978), Earthquake (1974) [as Los Angeles], The Blues Brothers (1980) [as Chicago], Topaz, Torn Curtain (1966), Ironside [as San Francisco], Simon and Simon [as San Diego], City Heat [Kansas City], Airwolf (1983), Streets of Fire (1984), Murder She Wrote, Ally McBeal, The X-Files, Harry and the Hendersons [as Seattle], Legal Eagles (1986)
{Sets rebuilt after 1990 Fire}
Newsies (1992) [first production on new sets, shot during the end of the construction period], Austin Powers:, International Man of Mystery (1997), Austin Powers: The Spy Who Shagged Me (1999), Batman and Robin, America's Sweethearts (2001), Christmas with the Kranks (2004), Bruce Almighty (2003), Down with Love (2003) [Buildings inserted into digital model of New York], Spiderman 2 (2004) [Theater where MJ performed in The Importance of Being Earnest], The Prestige (2006), Monk (2006), Déjà Vu (2007), National Treasure:, Book of Secrets (2007) [opening sequence set in 1865], Transformers (2007), Starship Dave (2008), Superhero Movie (2008), House (2008) [coach crash episode], Changeling (2008) [Dirty Harry bank has steps added to the front of it], Advert: Ford Kuga (2008) [Whole of New York Street wrapped in paper], 24 (TV) Season 7 Episode 10 (2008) [car stunt sequence]
Soon to be filming on the Metropolitan area sets:
Untitled Monopoly project (Hasbro co-production with Universal Pictures, directed by Ridley Scott)
Iron Man 3