Jim Erickson: Lifetime Achievement Award 2013
May 19th, 2013
Jim Erickson SDSA was born in the tiny farming town of Badger, Minnesota (Mallard Capital of North America), member of a hard working family of farmers and grocers. However, Jim had aspirations and dreams the gentle boundaries of his rural community did not contain. As soon as he was eighteen, with a new suit and a suitcase, he departed Badger and set out into the world.
A student of the Arts at the Minnesota State University Moorhead, Jim studied music and art but soon gravitated to dramatics, finding a comfortable fit in the theater department. It was here he began to learn about stagecraft – three seasons of summer stock and exposure to all aspects of theatrical production and he was forever hooked.
The summer of 1971 found Jim performing at the Woodstock Playhouse, which was a preamble to several seasons at the Longwarf Theater in New Haven, Connecticut. It was here that Jim saw a flyer backstage for The Banff School of Fine Arts in Alberta, Canada; by 1973 he had been accepted on full scholarship. It was to be an eye-opener for young Jim, who fell in love with Canada and began making early work connections while studying at Banff. By 1974 Jim officially immigrated to Canada, and soon made his way to Vancouver.
Jim was soon working for CBC TV in Vancouver, in the position of in-house Prop Master, basically propping and decorating all of their productions. This experience led to a branching out into television movies of the week, which were starting to come more frequently to Vancouver. By the late 1970's feature films began to move in, and like many of his peers, Jim left CBC TV to do contract work (freelance) on film productions. It was a small but growing community and everyone quickly fell into groups that enjoyed working together. Jim had found his newfound passion – Set Decoration for feature films.
In the early 1980's Jim caught his big break when Set Decorator Michael Seirton (REDS, GHANDI) came to Vancouver on the Nicholas Roeg's gold-mining film EUREKA (1983). Once again Seirton hired Jim as his Buyer, and the two collaborated again - this time in Russia - on Michael Apted's thriller GORKY PARK (1983) . On this project Jim was introduced to veteran Production Designer Paul Sylbert. The pair would go on to work together in Vancouver, with Jim Set Decorating THE JOURNEY OF NATTY GANN (1985) and then traveling with Paul to Morocco for Elaine May's infamous comedy ISHTAR (1987). A varied and prolific career was well on its way.
Jim first teamed with Production Designer Geoffrey Kirkland and Director Alan Parker on MISSISSIPPI BURNING (1985). It remains one of his favorite projects, as does Parker's COME SEE THE PARADISE (1990). Soon after Jim was involved in several projects with Production Designer Wolf Kroeger, including Neil Jordon's WE'RE NO ANGELS (1989), and his first collaboration with Director Michael Mann, THE LAST OF THE MOHICANS (1992). Jim went straight from the Revolutionary war to the Middle East for the opportunity to team with legendary production designer Richard Sylbert in Egypt and Morocco on RUBY CAIRO aka DECEPTION (1993).
The 1990's continued with a string of international productions, including the Louisa May Alcott favorite LITTLE WOMEN (1994) with Production Designer Jan Roelfs, and the pair of Roland Emmerich blockbusters STARGATE (1994) and INDEPENDENCE DAY (1995). He travels to India and Argentina for the international production SEVEN YEARS IN TIBET (1997). The end of the decade brought the opportunity to work with Production Designer Jeanine Oppewall on Scott Hick's adaptation of SNOW FALLING ON CEDARS (1999).
Jim paired with Production Designer Stuart Craig on Robert Redford's THE LEGEND OF BAGGER VANCE (2000). Then once again the call came from Director Michael Mann, asking Jim to Set Decorate his boxing biopic ALI (2001) with production designer John Myhre, and on MIAMI VICE (2006) with Production Designer Victor Kempster. Jim was also afforded the opportunity to rejoin with colleague and friend Jan Roelfs; they traveled to London to film Oliver Stone's epic adventure ALEXANDER (2007).
In 2005 Jim had the rare opportunity with Production Designer Jack Fisk to join Terrence Malick on his much-anticipated return to Directing, THE NEW WORLD (2005). Just two years later Jim and Jack went on to earn an Academy Award nomination for Paul Thomas Anderson's violent oil drama THERE WILL BE BLOOD (2007).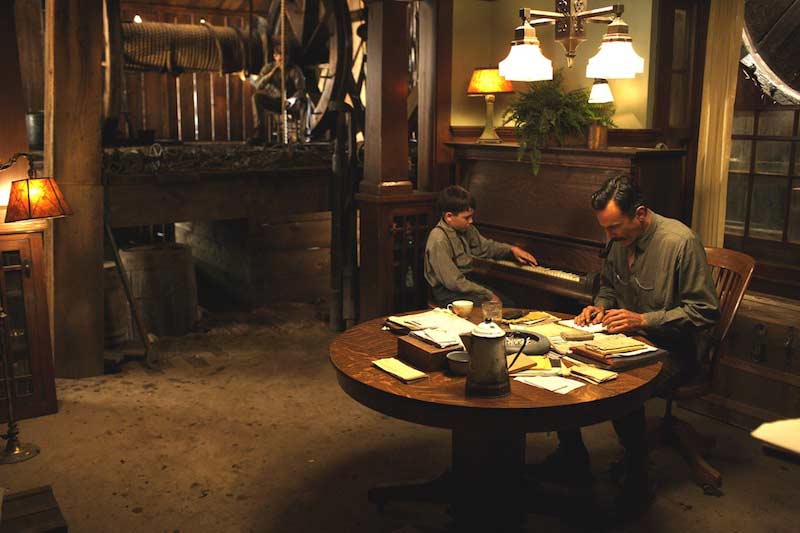 They would re-team again for WATER FOR ELEPHANTS (2011).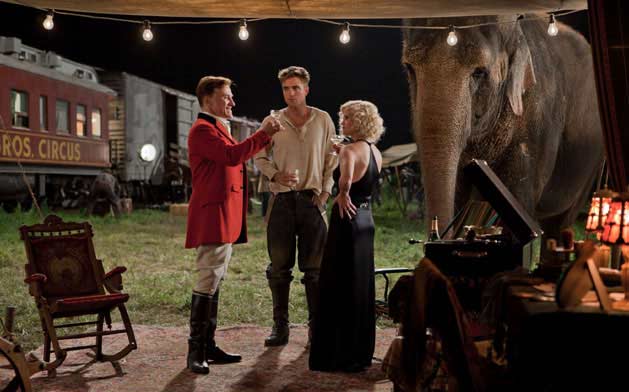 Jim also collaborated with CGI visionary Zack Snyder and Production Designer Alex McDowell on the graphic novels WATCHMEN (2009) and once again with Snyder and Production Designer Rick Carter on SUCKER PUNCH (2011).
Rick Carter and Jim Erickson were awarded the Academy Award for Production Design for their impeccable work on Steven Spielberg's masterpiece LINCOLN (2013).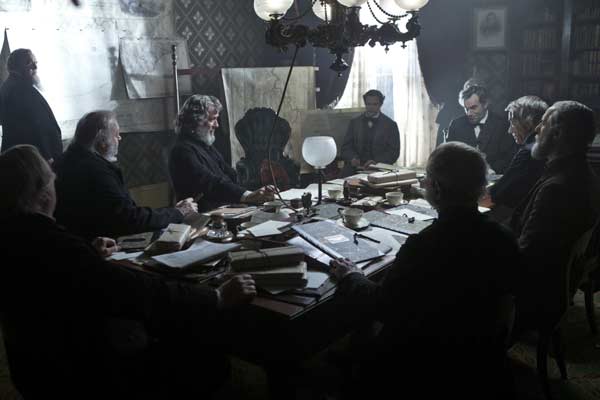 (For more on the making of the feature film LINCOLN, click here to be redirected to article).
It was a bittersweet time for Jim as that production drew to a close. He feels, simply, "I realized after LINCOLN that there was really nothing left I want to do (thematically)." With a small grin he adds "…except, of course, if I was asked to do a black and white period Western about farming, life on the plains. Something like that, and I might consider it."