‹ Back to Press/NewsHome
Winner Corri Levelle BEST COSTUME!
Dapper Cadaver Hosted Halloween GMM
SDSA
-
Thursday, October 12th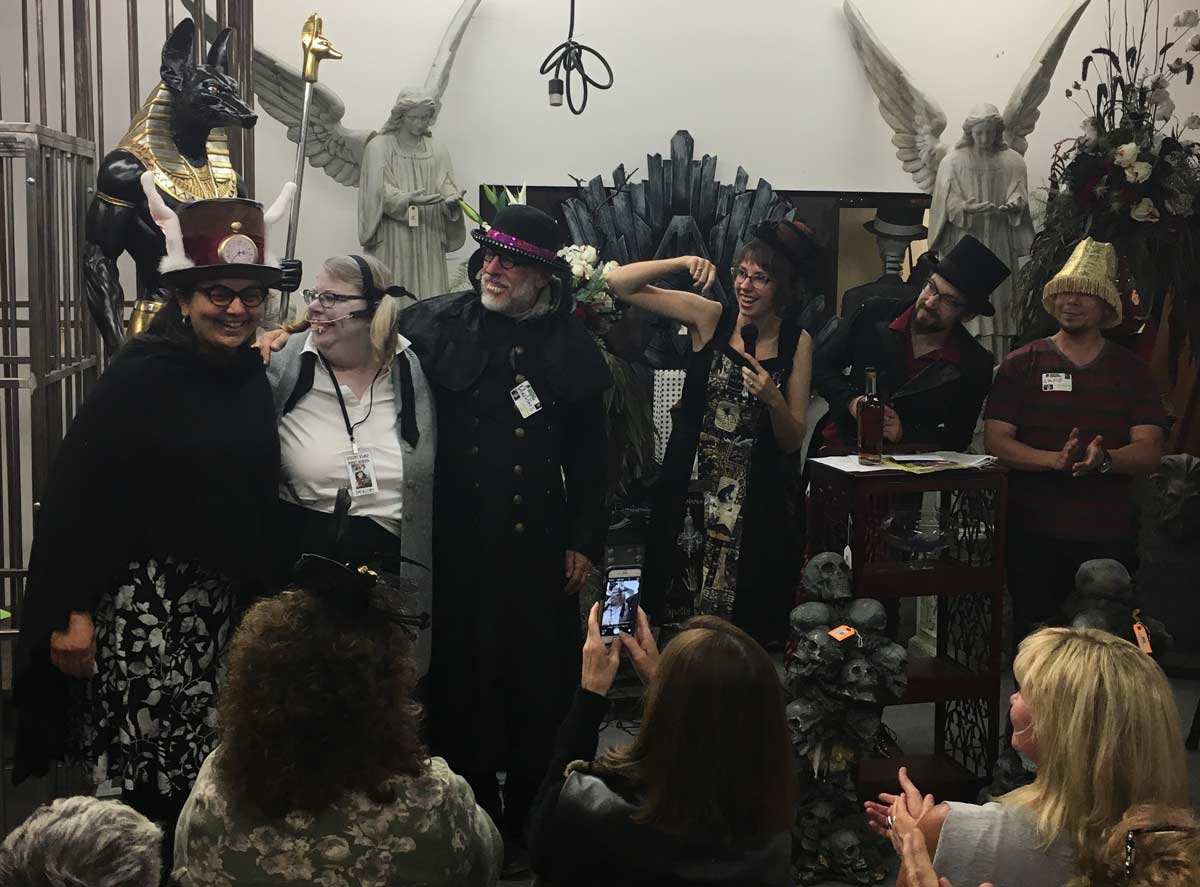 On October 12th 2017, Dapper Cadaver, the horror and haunted prop specialists, opened their doors for what has become the annual October General Membership Meeting/slash costume party with the membership of the Set Decorators Society of America International.

For the last three years, BJ and Eileen Winslow, the nicest and coolest ghouls one could ever meet, have hosted the SDSA October GMM at their San Fernando Road warehouse, replete with professional-grade death, science & Halloween Props. The prop house, founded on 2006 has been the focus much coverage in news and lifestyle television spots in addition to editorial print including Atlas Obscura.

Costumed wurdalaks included top-hatted Victorians, ukulele playing Hawaiians, vampire hunters and vampire academy students...also Rosie the Riveter, Wednesday Addams, the White Rabbit in black dress, the fellow hiding under a lamp shade and a smattering of masks, wigs and makeup effects, but the Grand Prize went to Corri Levelle of Sandy Rose Floral, Inc for her Nght school student from Ct Vlad's Home of the Impalers, with pigtails, taped eyeglasses and headgear fang braces, a very committed costume.

Levelle's Sandy Rose Floral Inc provided amazing floral displays with funereal atmosphere and slasher spay while Aah Inspiring Balloons provided the columns and décor and LA Party Rents provided tables and chairs.

Going from voodoo to vampires, the theme this year's thirsty bloodsuckers dined on Polka and Ottos's Deli of Eastern European nibbles and cocktails spiked with Titio's Handmade Vodka provided by Placed4Success Product Placement.
SDSA Business Members also provided door prized for lucky attendees, thank you to the following Business Members

Placed4Success Product Placement – Be Tini Low Calorie Cocktail Beverages, and Tito's Handmade Vodka for the bar
International Promotions – Seventh Generations house hold cleaning supply basket
AMCO/American Screen and Window Coverings - A set of fine wines
Bassman Blain – elegant accessories from the showroom floor
Hollywood International Placements – Runchata drink with a pair of Costa Boda cocktail glasses

The meeting portion covered many topics including acknowledgement of recent Emmy Award Winners...the kick-off of SDSA social media under one umbrella: Official SDSA...East Coast Chapter Events...and WestEdge Design Fair.

Folks did stay late into the night, which is what happens at the Dapper Cadaver event, but rest assured, everyone leaves before sunup!