THE MOST RECOGNIZED TROPHY IN THE WORLD,
THE OSCAR STATUETTE
HAS STOOD ON THE MANTELS OF
THE GREATEST FILMMAKERS IN HISTORY SINCE 1929...
...and now one will reside on the mantel of
Set Decorator Jay Hart SDSA International
Academy Award winner
with Production Designer Hannah Beachler,
for their outstanding work on BLACK PANTHER!

Congratulations to Jay, Hannah and all of the nominees for the
91st Academy Awards Oscar(R)!

Special kudos to SDSA International member
Set Decorator Gordon Sim SDSA International
along with Production Designer John Myhre,
for their nomination for
MARY POPPINS RETURNS

See below for a glimpse of their films!

For full list of Oscar® nominees click here.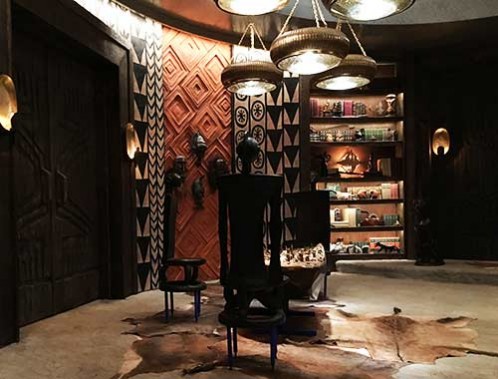 BLACK PANTHER
Set Decorator Jay Hart SDSA International
Production Designer Hannah Beachler
Marvel Studios

The Marvel superhero film BLACK PANTHER takes us into high action intricate set scenes in Asia and London featuring a museum, a secret massive casino and intense street chase...however, it is the revelation of the home world of the Black Panther, T'Challa, King of Wakanda, that fuels this film experience.

This advanced nation hidden in the veld and mountains of the African continent, with its futuristic technologies set among the capital city of coexisting naturalistic tribal communities, was created on site, not just in fabulous animation, brought to life with deep commitment and terrific collaboration.

As fantastical as the world of Wakanda is, the entire production team made certain that the spiritual, the mystical and the technological influences in the country's culture were still anchored in the real world and that the outside world was definitively portrayed.

Director Ryan Coogler's vision was clear, "...I wanted Wakanda to be current, to be of this world, tactile and real, so much so that people want to go there after the film is done..."

To ensure both fantastical and real, Coogler relied on his longtime collaboration with Production Designer Hannah Beachler, who brought on estimable Set Decorator Jay Hart SDSA International. Their teams, working in sync with Director of Photography Rachel Morrison ASC, Costume Designer Ruth E. Carter and their crews, along with visual and special effects departments, elevated the Marvel superhero universe and literally millions of moviegoers' experience.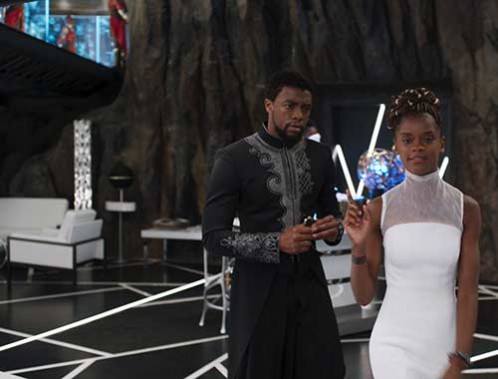 "The challenge with BLACK PANTHER was to be vigilant about introducing a new chapter to the Marvel Universe," says Hart. "I was very focused on how we would present these characters as we were laying the groundwork for films following ours.
Wakanda
, as a character in the film, was front and center on all of our minds."
"We did a deep dive on the
History of Wakanda
...Hannah created a timeline showing how
Wakandan
society evolved and surpassed the rest of the world. Our directive was to be absolutely true to African Culture. We researched various African tribes and identified those that we felt had visuals that worked with our perception of the
Wakandans
. We designed our own fabrics and furniture and lighting and built it all in our own Set Decorating Shop. I was continually grateful and awestruck at the capabilities and creative input I got from my entire team."
Photos:
T'Challa/Black Panther's
personal quarters...
Wakanda Design Group…
Tech wizard
Princess Shuri
[Letitia Wright],
T'Challa's
[Chadwick Boseman] younger sister, is the top scientist in
Wakanda
and the innovator behind his
Black Panther
updated suits and technology.
Images ©2017 Disney/Marvel. All rights reserved.
*Check Film Decor for a detailed article re: BLACK PANTHER!
~~~~~~~~~~~~~~~~~~~~~~~~~~~~~~~~~~~~~~~~~~~~~~~~~~~~~~~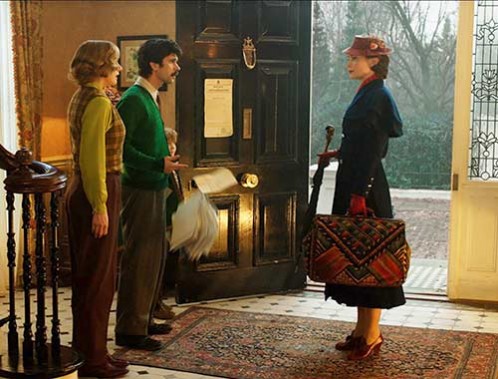 MARY POPPINS RETURNS
Set Decorator Gordon Sim SDSA International
Production Designer John Myhre
Walt Disney Films

For sets befitting the return of the practically-perfect-in-every-way Mary Poppins, Director Rob Marshall turned to his CHICAGO Oscar-winning team, Production Designer John Myhre and Set Decorator Gordon Sim SDSA International. Along with teams of talented and skilled artisans, they created a love-letter to London, bringing the now iconic Cherry Tree Lane forward 25 years into 1934.

Though now a little careworn, the house has become truly a home, "a house for living," as Myhre describes...but one which the family may lose because of the world's economic Depression and the personal, now-grown Michael's loss of his beloved wife, mother of his three children. His sister Jane has inherited her mother's enthusiasm for good causes, and, while busy herself promoting workers' rights, tries to help Michael and his family every chance she gets, though an evil bank president purposely misleads them.

Fortunately, the winds begin to change and the enigmatic governess whose unique magical skills can turn any ordinary task into a fantastic adventure enters the lives of the Banks family once again, having not aged a single day. Teaming up with an old friend, Jack, a charming and eternally optimistic street lamplighter, they take the Banks children on a series of whimsical adventures.

From a hidden section of a vast park, which one evening comes alive with the acrobatic dancing of lamplighters and chimney sweeps amongst gas streetlamps, a huge fountain and a glass conservatory...to the crisp and cold bank with its plush upstairs offices...to a fix-it shop which every Wednesday turns completely upside down [!]...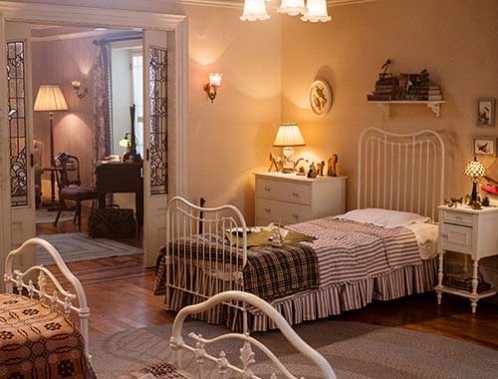 ...to a final Spring fair in their London neighborhood park, the myriad sets have a deliciousness of detail and character. The shop literally was turned upside down, a treasure lode of beautiful items "brought in for repair"...actual antiques were re-created for weight and strength [there's dancing involved!] and hung from the ceiling...a major endeavor taking months to complete.

There are also interactive settings for animated/live action sequences, from a magical cast iron tub to a carriage to a dance hall to Big Ben!

The sweetest of scenes, though, takes place in the beautifully realized nursery, which instantly transports us to that era and the world of goodnight storybook reading with a cozy fireplace, exquisite simple toys of the period and the nestling quilts on three small iron beds.

The entire film offers a touchstone for our times.

Photos:
Indeed, Mary Poppins [Emily Blunt] returns!
Emily Mortimer, Ben Whishaw. Screen image courtesy Disney ©2018 Disney Enterprises Inc. All rights reserved.
The nursery...
Photo by Jay Maidment ©2018 Disney Enterprises Inc. All rights reserved.

*Check Film Decor for a detailed article re: MARY POPPINS RETURNS!
~~~~~~~~~~~~~~~~~~~~~~~~~~~~~~~~~~~~~~~~~~~~~~~~~~~~~~~
~~~~~~~~~~~~~~~~~~~~~~~~~~~~~~~~~~~~~~~~~~~~~~~~~~~~~~~
Also congratulations to the SDSA International members whose work contributed to the following films nominated for Best Picture...

BLACKkKLANSMAN – Set Decorator Cathy Marshall SDSA International
BLACK PANTHER – Set Decorator Jay Hart SDSA International
BOHEMIAN RHAPSODY – Set Decorator Anna Lynch-Robinson SDSA International
A STAR IS BORN – Set Decorator Ryan Watson SDSA International
VICE – Set Decorator Jan Pascale SDSA International