Cheryal Kearney SDSA Earl Cooperman Lifetime Achievement Award 2017
June 10th, 2017
SDSA Lifetime Achievement Award 2017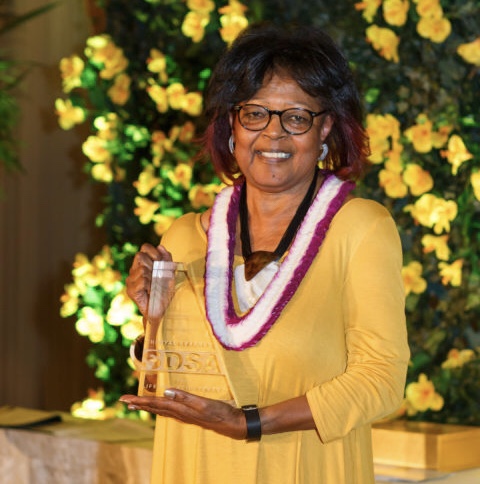 The Earl Cooperman Lifetime Achievement Award is made possible by an annual bequest from EC Prop Rentals in remembrance of
their founder and our great friend.
SDSA is proud to present this year's award to:
CHERYAL KEARNEY SDSA
In the early 1970's, a young graduate of Woodbury College, just starting out in the world of Interior Design, somehow felt that there should be more. Cheryal Kearney returned to the school and inquired about what else she might do with her knowledge.
She was told about a training class that was to start within a few days for film workers. Many IATSE Locals were participating, including Local 44. Having done her homework, Cheryal informed them that she wanted to be a Set Decorator, but that category was not in their training program. She persisted and they agreed that she might be able to learn something from some experienced Set Decorators. She was assigned at various times to Marvin March (An SDSA Founding Member), Al Spencer and Jim Payne, who showed her the ropes in film and in television at four different studios.
After spending some time alongside these gentlemen, she found herself at CBS Studio Center, where Warren Welch told her about a small upcoming job that was to shoot in San Francisco that he thought would be just right for her. Domenic Bruno was set up as her Leadman on SMILE JENNY, YOU'RE DEAD, and she was on her way.
Work was intermittent at the beginning of her career. She did a few small projects, sometimes with months-long intervals in between, until she met Art Director Walter Scott Herndon, who hired her on the spot for the television series HARRY-O. They did at least 8 projects together after that series ended. Herndon and Peter Wooley are the Production Designers whom Cheryal views as her mentors. She collaborated with both of them numerous times.
Kearney set the tone on some classic television projects, including the pilots for the original WONDER WOMAN, THE BIONIC WOMAN, MOONLIGHTING, ALLY MC BEAL and BOSTON LEGAL.
Switching back and forth between film and television was not uncommon for her, as evidenced by Kearney's work on such iconic films as THE BAD NEWS BEARS, POLTERGEIST, THE ADDAMS FAMILY and COMING TO AMERICA.
Anyone who stood in a long line at Disneyland in the late 1980s and early '90s for the CAPTAIN EO ride saw some of Cheryal's handiwork as they took their seats. She worked on the 17-minute Michael Jackson short film which Francis Ford Coppola directed, as well as the film used in the ride itself.
Cheryal prides herself that throughout her long and busy career, she never used a Buyer. Even though when she arrived at a prophouse, she had a plan for what kind of set she was creating, she always felt that she wanted to be open to inspiration and relished the idea that finding one special piece could throw her plan out the window and spark ideas in a different direction. That kind of inspiration carries through her career, which is apparent when one views the variety of shows that she helped to create.
When asked which of her many projects were her favorites, Kearney named COMING TO AMERICA; POLTERGEIST, which Steven Spielberg ended up directing; THE ADDAMS FAMILY, for its simplicity; and CAPTAIN EO. "But I liked them all. It was great. It was like going to fantasyland," Cheryal says of working in this business. "Every day was something different."
There was certainly no lack of adventure either. While working in Haiti on GAUGIN, THE SAVAGE, for which she won an EMMY® award, Cheryal found a way to make the best of the limited resources on the island by enlisting an indispensible cab driver who seemed to know everyone and was able to guide her to many of the items she needed for the sets.
Kearney has worked with industry icons in film and television. One of her proudest moments, as she tells it, was one day while standing on a street corner at a location in Monrovia during the filming of an episode of the David E. Kelley series PICKET FENCES, she received a phone call that changed her life. Her daughter Taylor was about to suddenly enter her world. Producer Alice West rushed to put together a baby shower for the new family. Cheryal remembers what a warm family feeling surrounded this project. She later worked for 8 seasons on another David E. Kelley show THE PRACTICE, and started the series BOSTON LEGAL before her retirement. Kelley's Manhattan Beach campus housed 3 of Kelley's TV series simultaneously at one point and had an expansive daycare center where anyone working there could bring their children. This was such a gift to parents, especially this working mother.
These days are hardly idle. Cheryal keeps busy doing short films and small projects for Producer friends and fills in when other Set Decorators need help. She has shared her experiences by training the next generation through several years of teaching Set Decoration classes at FIDM and Santa Monica College.
When asked what words of advice she might impart, she smiles and says that she has always encouraged fellow filmmakers and her crew, "to always be kind to the PA's/Production Assistants, because we will all be working for them someday."
CHERYAL KEARNEY
Selected Film & Television credits:
Film
ENCINO MAN * THE ADDAMS FAMILY * THE SEARCH FOR SIGNS OF INTELLIGENT LIFE IN THE UNIVERSE * COMING TO AMERICA * LOVE AND MONEY * POLTERGEIST * UNDER THE RAINBOW * FAST BREAK * THE BAD NEWS BEARS GO TO JAPAN * MANITOU * SEMI-TOUGH * THE BAD NEWS BEARS * MOTHER, JUGS AND SPEED * SPARKLE * THE SPOOK WHO SAT BY THE DOOR * CLEOPATRA JONES * BLACK GUNN
Film short:
THE SECOND COMING [Production Designer]
ARE YOU LOOKING [Art Director]
CAPTAIN EO [with Michael Jackson for Disneyland]
Television
Series:
CLOSE TO HOME [1 Season] * THE PRACTICE [8 Seasons] * PICKET FENCES [4 Seasons] * TALES FROM THE CRYPT [1 Season] * DEAR JOHN [1 Season] * L.A. LAW [6 Episodes] * TUCKER'S WITCH [1 Season] * EMERALD POINT N.A.S [1 Season] * SPIDERMAN [4 Episodes] * BIONIC WOMAN [1 Episodes] * HARRY-O [13 Episodes] * SIGMUND AND THE SEA MONSTER [2 Seasons] * CANNON [6 Episodes]
Pilots:
BOSTON LEGAL * ALLY MCBEAL * THE TOM * MIXED NUTS * GOOD OLE' BOYS * MORNING GLORY * COMING TO AMERICA * HOOPERMAN * LONGTIME GONE * MOONLIGHTING * SAM * LAZARUS SYNDROME * WONDER WOMAN * SMILE JENNY YOU'RE DEAD * FOR HEAVEN'S SAKE * GREYSTONE ODYSSEY
Movies of the Week:
THE STORY LADY * THE HOME FRONT * RICH MEN SINGLE WOMAN * REPEAT PERFORMANCE * ALL MY DARLING DAUGHTERS * THE FIERCE DREAMS OF JACKIE WATSON * ASSAULT & MATRIMONY *
INFIDELITY * BEVERLY HILLS MADAM * THE FUGITIVE FAMILY *
CHRISTMAS EVE * NEWS AT 11:00 * HARDESTY HOUSE * A LETTER TO THREE WIVES * LOVE LIVES ON * PEYTON PLACE, THE NEXT GENERATION * SPRAGGUE * TWO OF A KIND * FAMILY OF STRANGERS * GAUGIN THE SAVAGE * $WEEPSTAKE$ * SOME KIND OF MIRACLE * STATE FAIR * THE HEALERS * SMILE JENNY, YOU'RE DEAD * MANEATER * MONGO'S BACK IN TOWN * KISS OF GOLD *THE PRICE OF DEATH
Music videos:
Too Legit To Quit – James Brown/M.C. Hammer
Addams Groove – M.C. Hammer
Chan's Song (Never Said) – Dianne Reeves [Art Director]
Professional Organizations:
Academy of Motion Picture Arts & Sciences
+ Art Directors Branch Executive Committee AMPAS [8 years]
Set Decorators Society of America, International SDSA [Since 1994]
Affiliated Property Craftspersons IATSE Local 44
Set Decorator Member [Since 1970]
Honors/Awards:
O. C. Smith's Black History Award for Faith and Strength [February 2002]
SDSA Contribution Award [1998]
Alliance of Black Entertainment Technicians
"Pioneers Awards" in recognition of outstanding contributions in the entertainment industry

[July 1997]

First Pioneer Award, African American Set Decorator

[1994]
Emmy Award – GAUGIN THE SAVAGE [1998]