NEW GIRL
Set Decorator Jane Shirkes SDSA
Production Designer Michael Whetstone
FOX
NEW GIRL
Set Decorator Jane Shirkes SDSA
Production Designer Michael Whetstone
FOX
The breakout hit this year, NEW GIRL brings together a "modern family" of sorts…three guys and a girl and her best friend…in a quirky, fun and sincere mélange of personalities and style.
After discovering her boyfriend in their bed with someone else, Jess [Zoey Deschanel] moves out of the house and into an urban Los Angeles loft with three guys she's never met. This buoyant and creative science teacher who loves crafting and color, nostalgia and music, brings a female perspective into the lives of…

Nick [Jake Johnson]… law-school-dropout bartender from Chicago who knows he's not living up to his potential both professionally and personally…

Winston [Lamorne Morris]…intensely competitive athlete who returns from playing basketball overseas confused about what to do next, but finds true love and lands a dream job with a nightmare boss…

…and Schmidt [Max Greenfield]…hustling young professional with OCD & a well-defined physique, who considers himself a gift to women, and is often politically incorrect!

Cece [Hannah Simone], a model, is Jess's BFF since childhood and is frequently at the loft.
Set Decorator Jane Shirkes SDSA and Production Designer Michael Whetstone took over from the pilot's team, Ron Reiss and Jefferson Sage, to bring the series to life and to have the sets evolve with the storyline.
Since there has been so much viewer interest in the series and the sets, Shirkes generously shares with us resources and insider notes!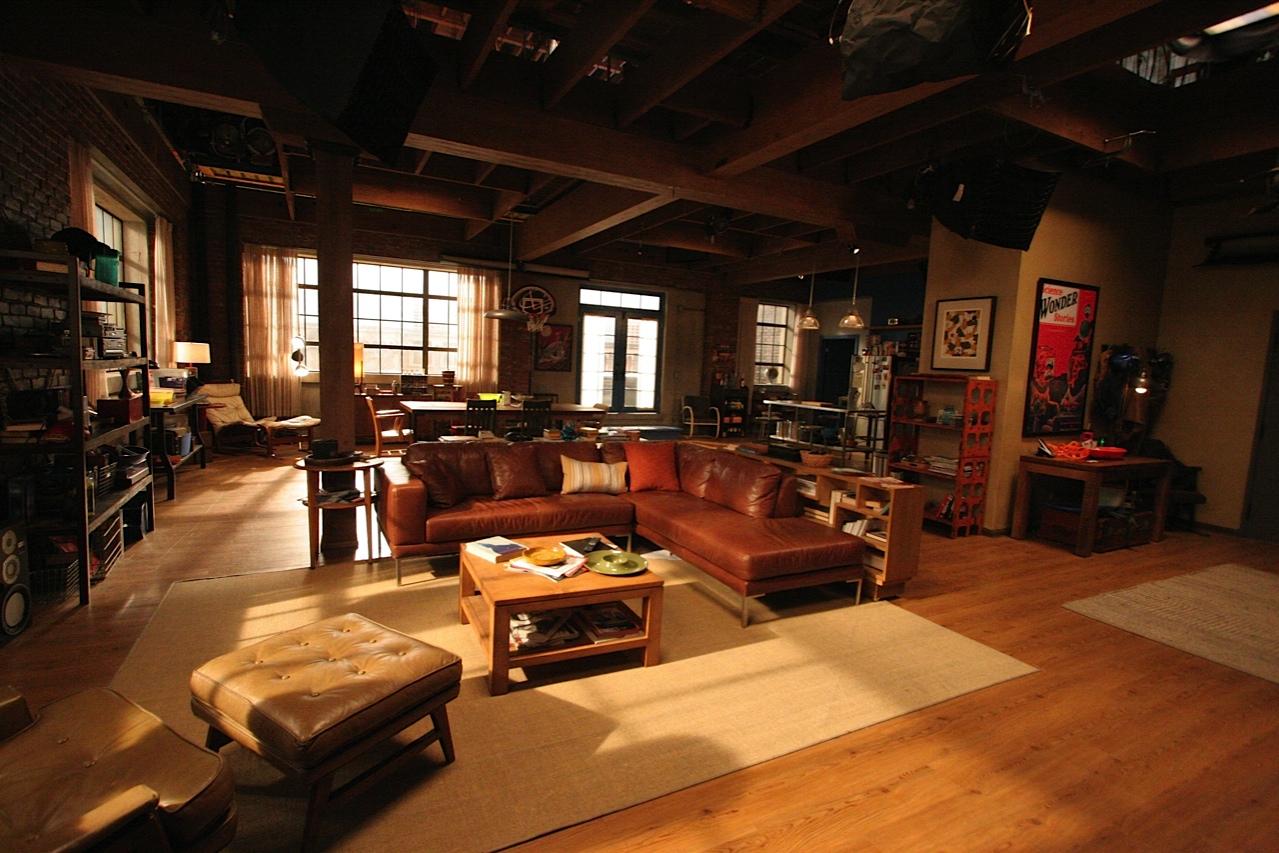 Photo: ©2011 FOX Broadcasting. All rights reserved.
The Loft

"Liz Meriweather, the creator of the show, was very specific in her vision that the loft needed to look like 30-year-old guys lived here," says Shirkes. "The show is based on Liz's life, so she had a lot of specific things she wanted, but also some specific things she did not! Nothing too designed or special. Stuff. Real stuff. So, we have posters for the Coachella Music Festival and Burning Man—things that 30-year-olds would do."

"The idea that everyone agreed upon was that the characters lived in a converted factory loft. For the common living space, the look was to feel very comfortable and lived in. We wanted to keep the essence of the industrial space that existed before it became a converted loft."

Loft common area: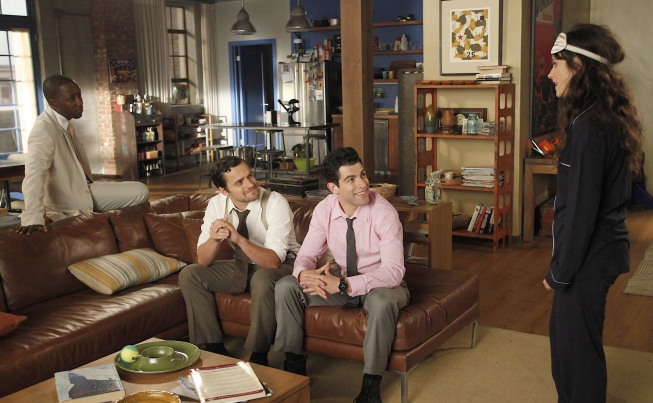 Winston [Lamorne Morris], Nick [Jake Johnson], Schmidt [Max Greenfield] and Jess [Zoey Deschanel].Photo by Greg Gayne ©2011 FOX Broadcasting.
All rights reserved.
The main room was designed for the pilot by Sage. For the series, Shirkes and Whetstone were able to further define each character within the space, expand on the living-together aspect and keep the set evolving…all within a tight schedule!

"It was important for us to really know who the characters are as individuals," Shirkes points out. "You see aspects of each of them in the shared spaces, and they are even more realized in the bedrooms Michael and I created for each one."

Decor cues and set elements that represent the individual loft mates:
Jess: Granny chic…jam jars, turtles, seed pods, science books, yarns, vintage record player…
Nick: Messy…music posters, bar cart and accessories, anything on cinder blocks…
Schmidt: Metrosexual, neat freak…kitchen gourmet utensils, pull-up bar, vagina painting, photographs of self…
Winston: Athletic…basketball hoop, Latvian posters, VHS tapes of high school basketball games, fitness equipment, bears…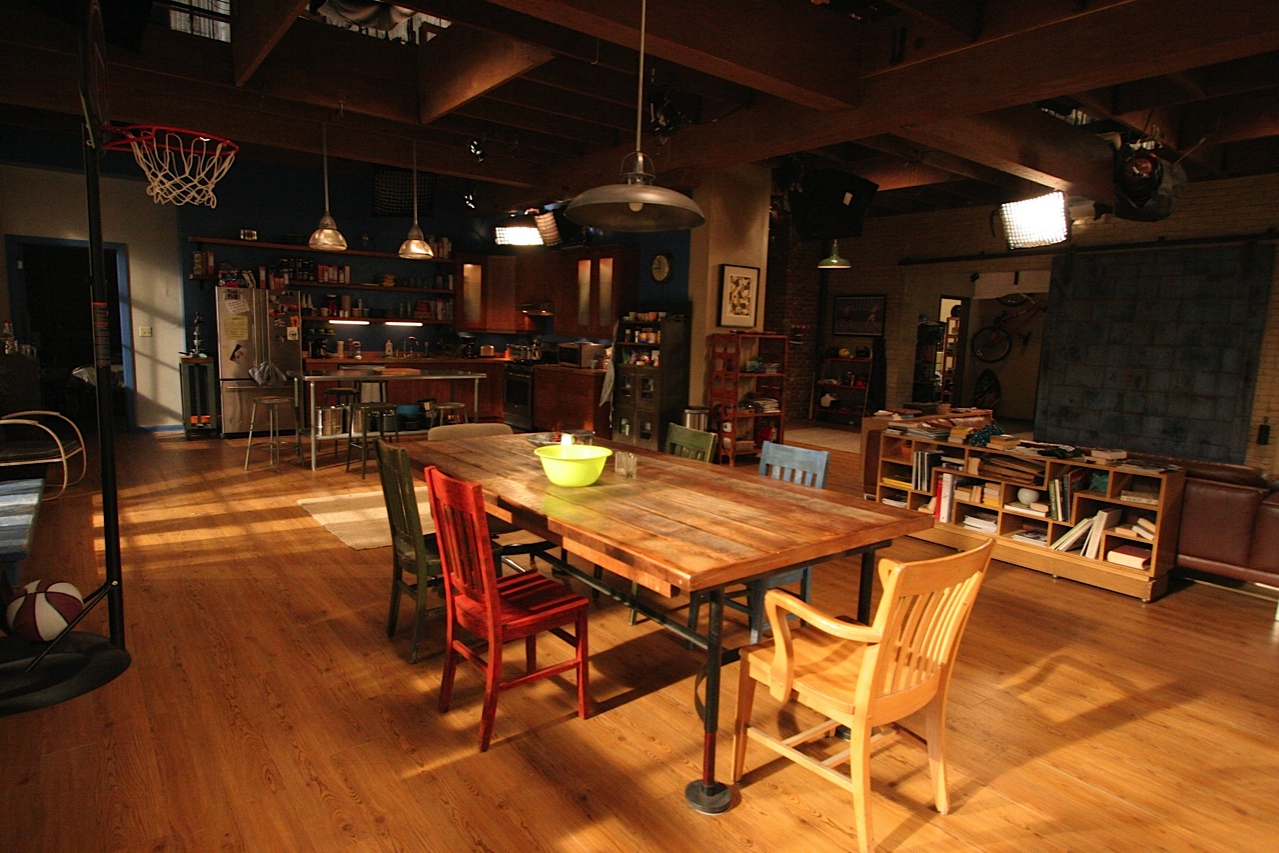 Photo: ©2011 FOX Broadcasting. All rights reserved.
Loft dining & kitchen
Different areas of the open-space loft are well delineated, without the use of screens or half-walls. "The wide open space is indicative of the way people live today," notes Shirkes. "The living room is bordered by the bookshelf at the back of the sofa, the dining room is centered on the hanging fixture, and the kitchen centered on the metal island."

Color punctuates throughout. Shirkes attests, "The loft, for the most part, has warm neutral colors in the background. We use a lot of concrete and natural brick elements as well. So when we introduce color, it is noticeable and purposeful. Michael and I wanted to add color in the artwork…and in certain pieces of furniture which we had painted by our Lead Scenic Richie Rosario, so we could be very specific."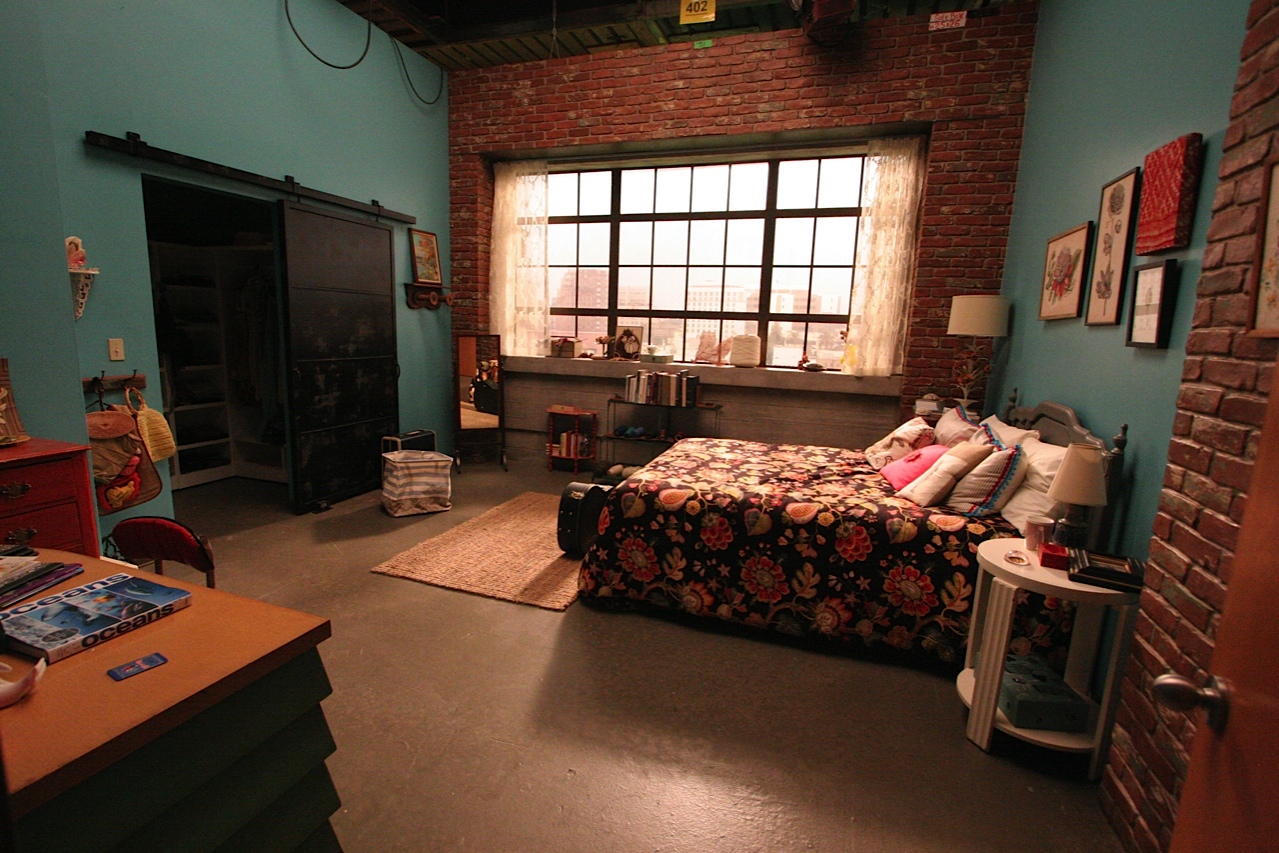 Photo: ©2011 FOX Broadcasting. All rights reserved.
Jess's Bedroom

Jess is a modern vintage-chic girl who is inspired by science and the world of nature. Shirkes incorporated both aspects with the signature bed cover, artwork and the Nouveau-style branch lamp. The palette speaks of seas and earth, highlighted by floral brights, hand-crocheted pieces and crafts materials, including skeins & spindles of yarn & threads. An old portable record player immediately cues us to Jess's taste in music.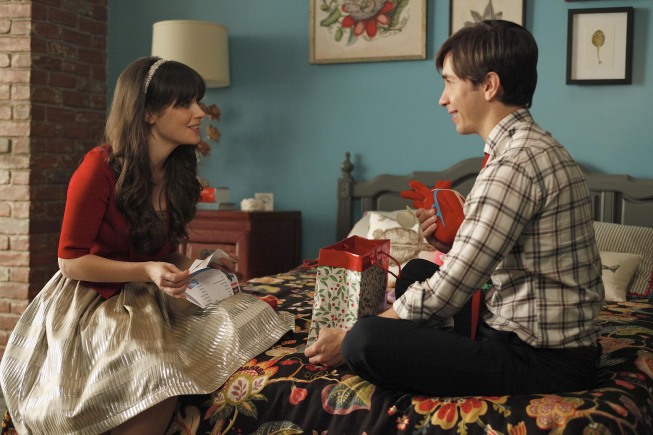 Jess [Zoey Deschanel] and fellow teacher/date Paul [Justin Long}
Photo by Greg Gayne ©2011 FOX Broadcasting.
All rights reserved.
Jess's Bedroom set dressing & resources: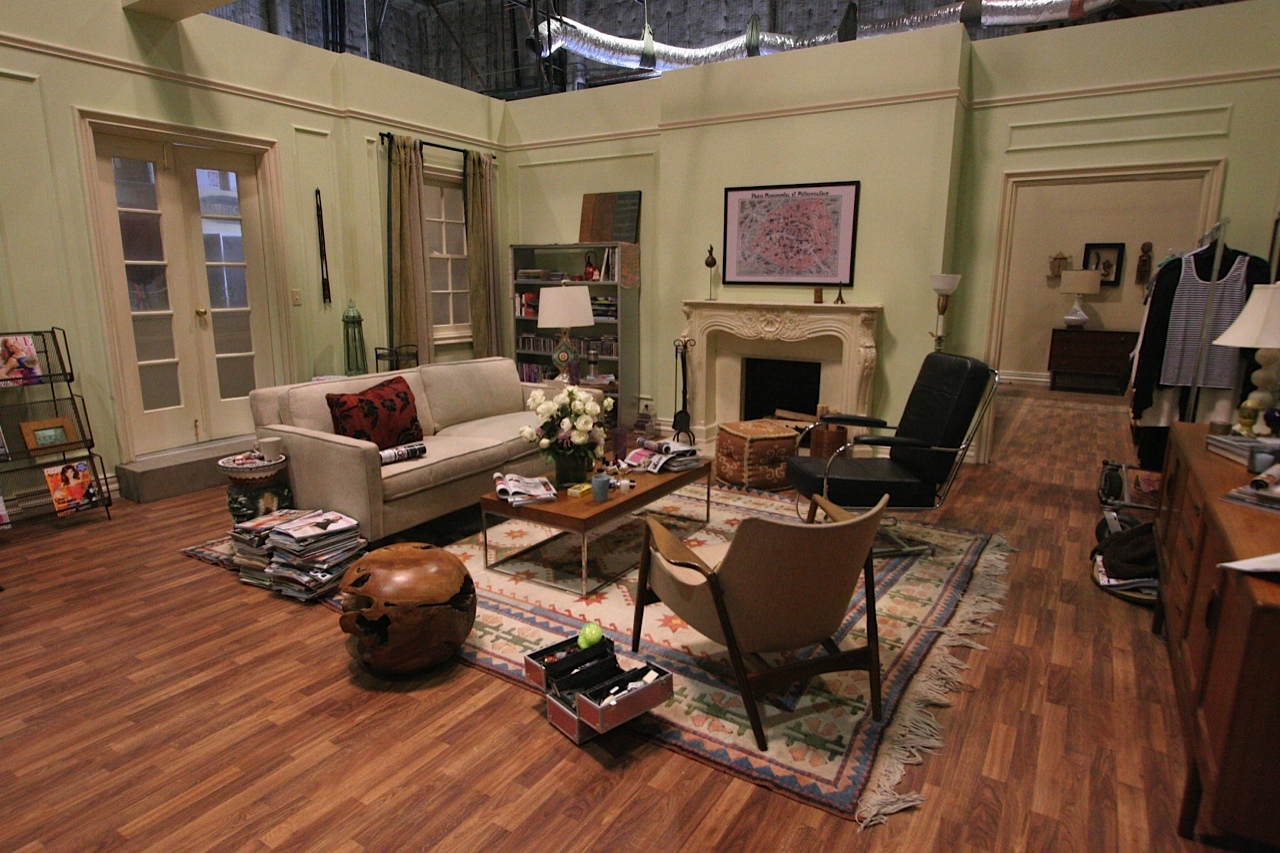 Photo: ©2011 FOX Broadcasting. All rights reserved.
Cece's Apartment
Cece [Hannah Simone] & her roommate are models, so naturally they would have a multi-shelf magazine rack in their apartment, a fondness for Paris, and a more international scope. Shirkes agrees, "Cece's traveled as a model and has brought back her experiences, through photography…which seems particularly fitting…and collections of items from different countries and cultures."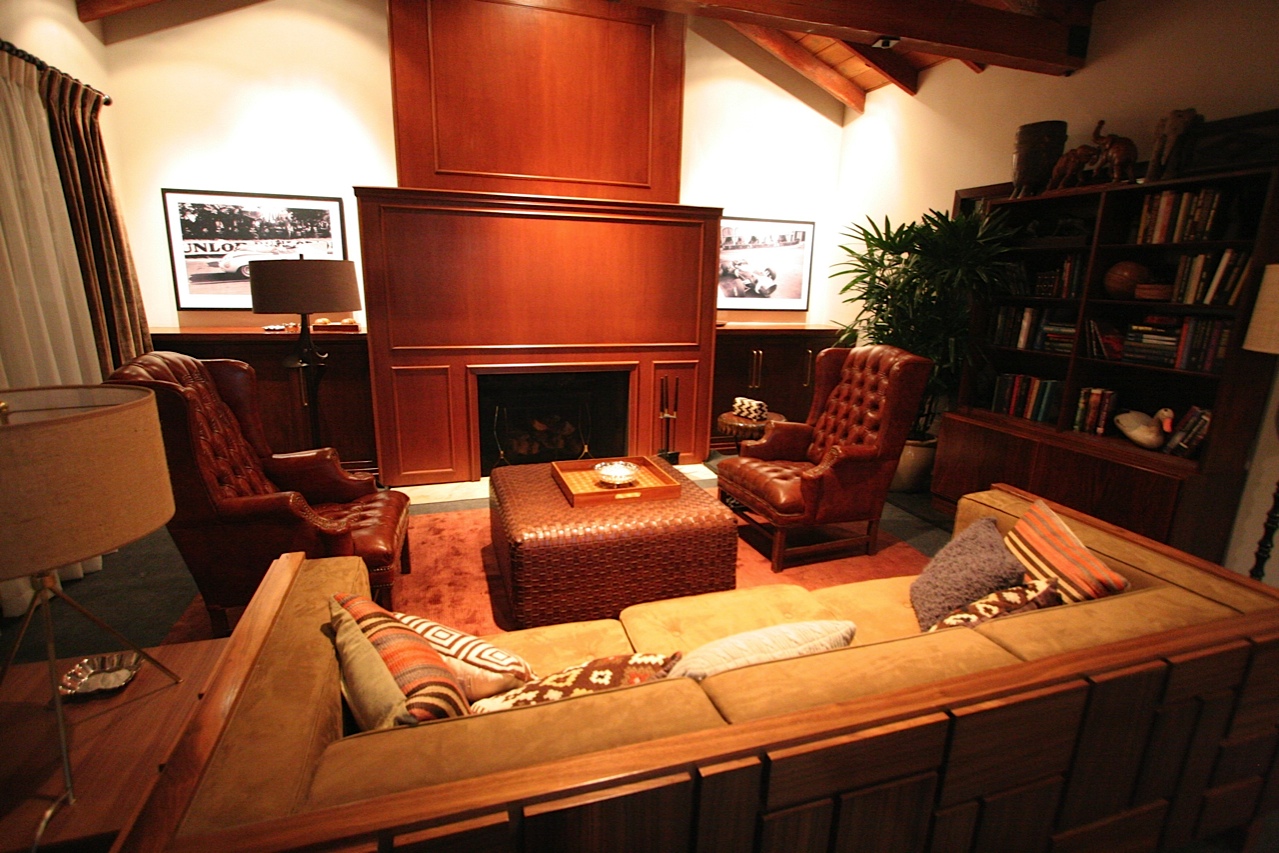 Photo: ©2011 FOX Broadcasting. All rights reserved.
Russell's, a.k.a. Mr. Fancyman, den
Jess's romance with the older, wealthy Russell [Dermot Mulroney] brought a need for an upscale look depicting established elegance. His den is as muted and sophisticated as he is, with an understated but rich décor. Shirkes reveals, "He has traveled many times to Africa and has beautiful textiles, sculptures and photos from his safaris, but it's not overt…the references are subtle."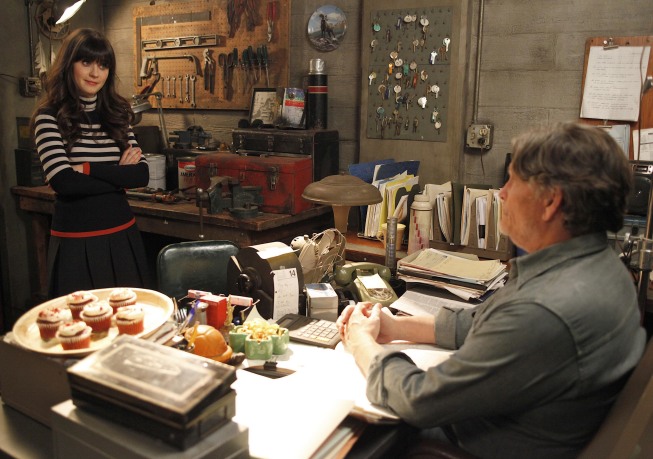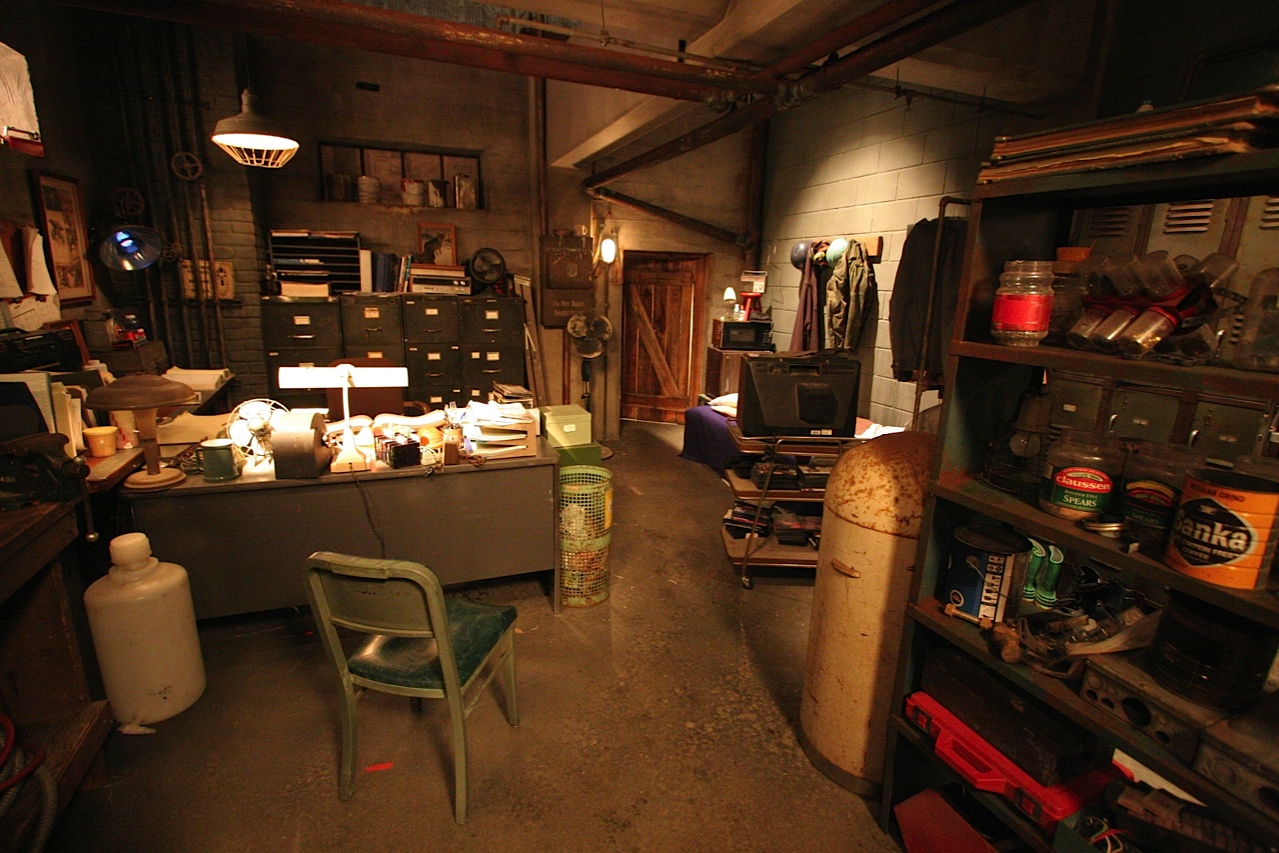 Jess [Zoey Deschanel]and the landlord [Jeff Kober].
Photo by Greg Gayne ©2011 FOX Broadcasting. All rights reserved.
Landlord's Office
When Jess brings cupcakes to the landlord's basement office, we discover a densely filled place as claustrophobic and dark as the loft is open and light. The list of set dressing pieces would be endless, but some of the major resources were SDSA business members EC Props, RC Vintage and Sony.


Challenges?
Shirkes replies, "It's a new show…and an ambitious show. We have to define the characters while moving extremely fast, and we tend to get the scripts and script changes late, so it puts a lot of pressure on us to keep up!"

The sets fill a stage at 20th Century Fox. "Our permanent sets include the loft's common living areas, each character's bedroom and the common bathroom. We also built the loft hallway and the loft lobby. We build swing sets on our second stage and we go out on locations for each episode, usually 3 days on stage and 2 days on location."

Luckily, "Michael and I share a very similar aesthetic so we are able to collaborate quite easily. We have worked together for 6 years on many other shows so we are comfortable with each other in terms of creative process. And I have a great crew. Buyer Michele Munoz SDSA and Art Department Coordinator Jon Bush are invaluable, as are my fantastic Leadman, Chris Fielding and Set Dressers Rob Rudas, John Kirk, Pete Kang and Ron Patterson. We worked with 20 different directors this season, so you get a great mix of different personalities!

Shooting at the Fox backlot allows for moments of respite from the high-intensity production process. "I love driving around the lot in the golf cart!" Shirkes reveals. "I love the wind in my face…so relaxing." At least, for that moment!