PARKS AND RECREATION
Set Decorator Kimberly Wannop SDSA
Production Designer Ian Phillips
NBC
PARKS AND RECREATION
Set Decorator Kimberly Wannop SDSA
Production Designer Ian Phillips
NBC
So much is happening on the beloved series
PARKS & RECREATION
!
In the last moments of the season finale, there's a time jump to 2017, a bold hint of the season to come…
And we have "first look" photos!
We thought
Leslie Knope's
[Amy Poehler] new job as
Midwest Regional Director of the National Parks Department
, would mean she and
Ben
[Adam Scott] would be moving to the big city, but she proved it would be more cost effective to situate the branch in
Pawnee
! So the empty third floor above her old office has transformed into a 2017 mix of old and new, and no surprise: it's fabulous!
We checked in with Set Decorator Kimberly Wannop SDSA for details, a deeper look at a couple of sets and a peek at the totally new final season to come!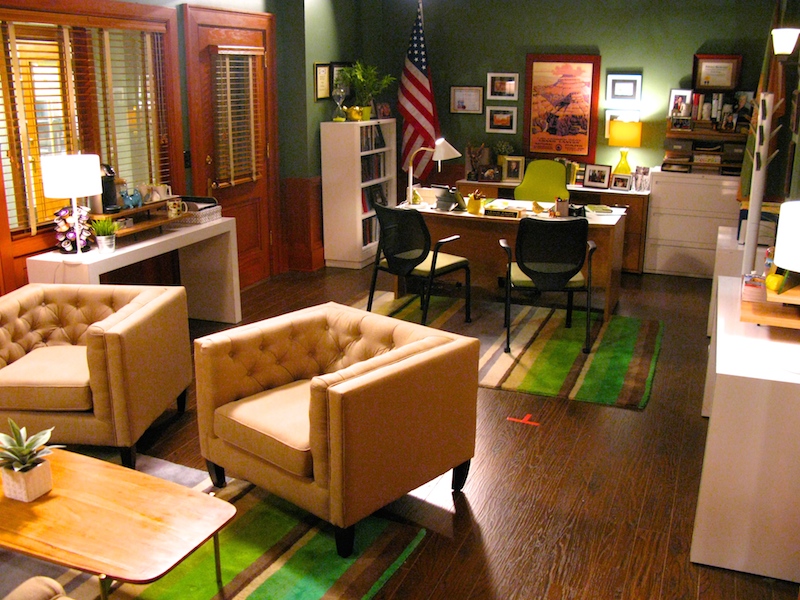 © 2014 NBC Universal. All rights reserved.
Leslie's new office…
Since it is the
National Parks System
, the walls are green, with the oak trim and features that exist throughout the building, a signature of the Mid-western town of
Pawnee.
These are highlighted and contrasted with modern versions of earth tones and more contemporary pieces.
Wannop reveals, "Some of the furniture is still 'government issue', so we tried to modernize and yet keep that awareness. I added white furniture for
Leslie
. I love that it is more feminine, more like her personality, bright against the green. And then we integrated framed archival National Parks posters and oversized lithographs of the National Parks postage stamps."
"The rugs came from IKEA, because that's where she probably would have bought them," Wannop notes. "You have to be realistic, you have to bring in the reality. And I wouldn't want to cheat that, although it's almost more of a challenge to keep it within that character's budget and perspective! Because the near future will probably have a more paperless workplace, and the parks system would naturally emphasize less tree cutting, there's only one small file cabinet set and the rest are tables…"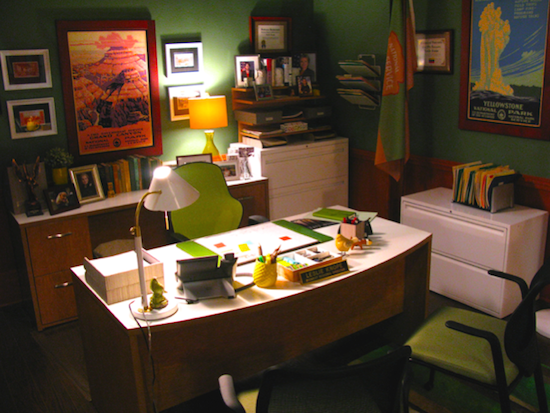 © 2014 NBC Universal. All rights reserved.
"The office is sleeker, with less stuff. But
Leslie
still has all the women that she loves and the ones that inspire her, so she brings these photos with her all the time," Wannop smiles. "The small shelves are part of a modular desk system, but I just placed one set on top of the white cabinet and hung another above it to bring in the wood, but keep more contemporary minimal lines and dual-tones."
There is much more to this set that we can't yet reveal, so be sure to check back! Meanwhile…
More sneak peeks!
In the season finale's momentary time-jump, we also caught a glimpse of the bullpen for the new branch. Although they've taken over a floor in the same building, they are transitioning from neighborhood parks to the National Parks System.
Wannop feels there would be less clutter overall in 2017, phasing out paper and relying more on computers and digital storage, which translates into fewer filing cabinets, binders [a mainstay of
Pawnee
offices!], smaller bulletin boards…in fact, the office directory in the foyer is now a screen with digital listing of offices. "We still show evidence of paper," she says, "but I'm trying to cut that back even more."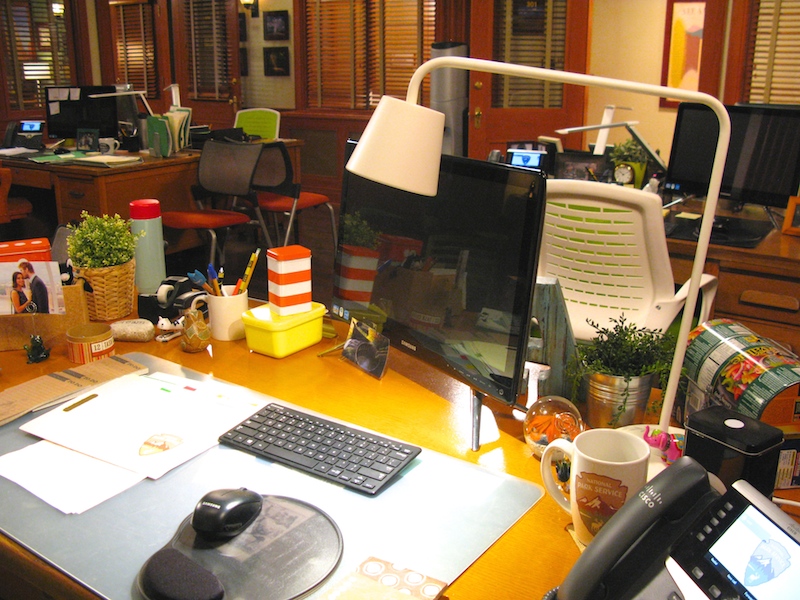 © 2014 NBC Universal. All rights reserved.
"The computer screens will be thinner, and nobody has CDs anymore!" she notes. "A challenge is that a lot of the character dressing goes away because now it's all on our phone, or on Pinterest. Like, do we even use Post-its in 2017?"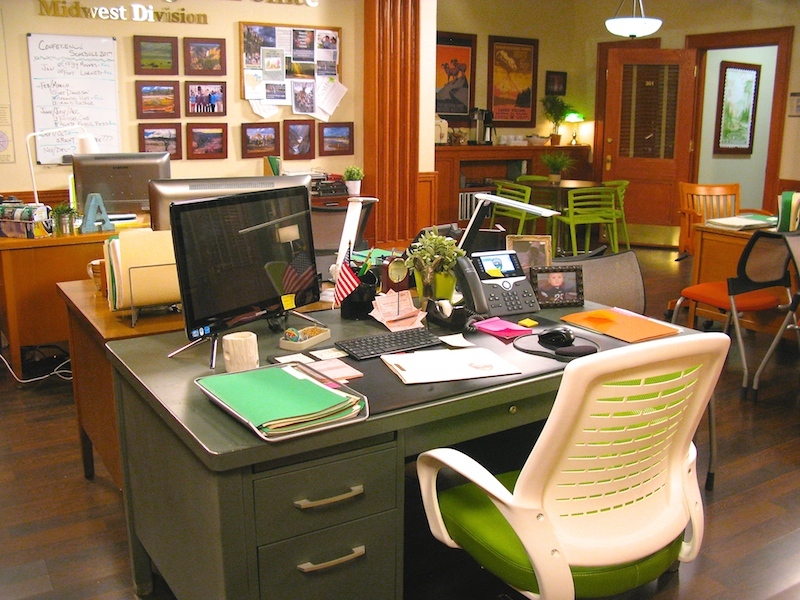 © 2014 NBC Universal. All rights reserved.
In keeping with the National Parks theme, Wannop has added bits greenery throughout, although she admits that, as on most sets under hot lights, it's difficult to keep them green! All the different types of desks and woods are more realistic than having everything match. Check out all the fun chairs!
White and green office chairs: Amazon.com
Green chairs: Advanced Liquidators
Table: Advanced Liquidators
Side chair: NBC Asset Warehouse
Old-fashioned wooden desk chair: Advanced Liquidators
Computers: Samsung
Phone System: Cisco
Pendant light: Ballard Designs
White thin-line desk lamps: IKEA
Coffee system: Nes'café/Keurig
National Parks posters: Rangerdoug.com, National Archives
National Parks stamp lithographs: iStock.com
Framing: Hollywood Studio Gallery, Pinacoteca Picture Props, Aaron Brothers
Plants, planters: IKEA
Tom's Bistro…
And in 2017, THE hottest place in town is still
Tom's Bistro
!
That the "town" is
Pawnee, Indiana
makes no difference.
Tom's
would be THE place wherever! The bistro debuted to blazing success on this season's finale and remains a "star" in the upcoming final season, so you will have the opportunity to see more of this hotspot—and find some of the great elements!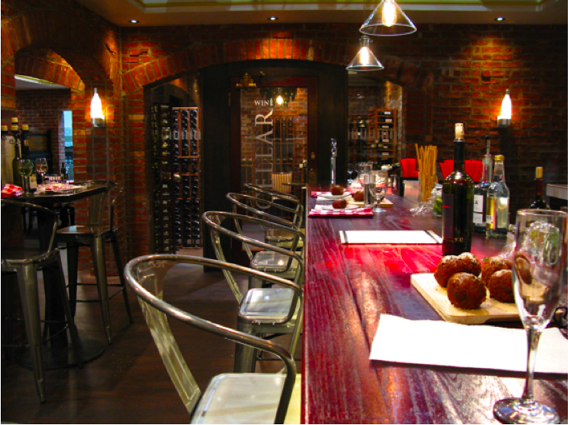 © 2014 NBC Universal. All rights reserved.
The bistro is contemporary/traditional Italian. The very hip
Tom Haverford
[Aziz Ansari] couldn't do traditional without reinterpreting with a modern touch, so Wannop has provided it in the details. The lighting includes wine bottle sconces and chandeliers created from recycled wine bottles and bare bulbs. Wannop explains, "Old is new! We tried to get him some cool things that he could afford, because part of the storyline is that he can't afford really high end right now, but he can always do the look to some degree. There's a lot of wine integration, since one episode he spends searching for a sommelier, and we have the whole wine room off to the side, and, well… it's a bistro!"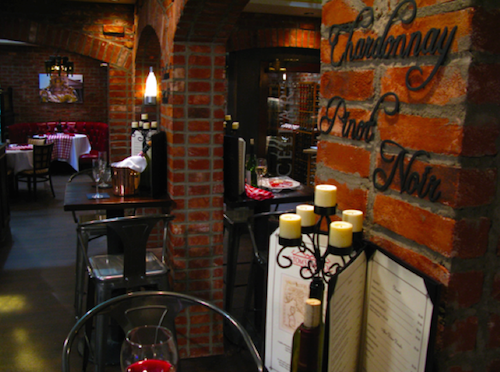 © 2014 NBC Universal. All rights reserved.
Customary wrought iron is made current with wine bottle candelabras and graphics presented in an avant-garde script.
Wannop says this new set is one of the few that doesn't have major changes for 2017. "Tom is always on the tip of what's cool. So hopefully these metal bar chairs are still cool by then!" The linens are crisp white and a deep wine-red check mixed with the traditional red, the booths upholstered in that darker hue, all of which add depth and subtlely step up the refinement.
The wooden bistro chairs were chosen specifically as part of the storyline –
Ron Swanson
[Nick Offerman], director of the
Pawnee P&R Department,
is a woodworker craftsman at heart and makes them by hand for
Tom
. "Prop Master Gay Perello and I worked together finding a chair that he would have been able to make and still have it be interesting, instead of just the standard slatted back." The counterpoint for those are chic dining chairs upholstered in white pinwale corduroy that Wannop said she and
Tom
just couldn't resist!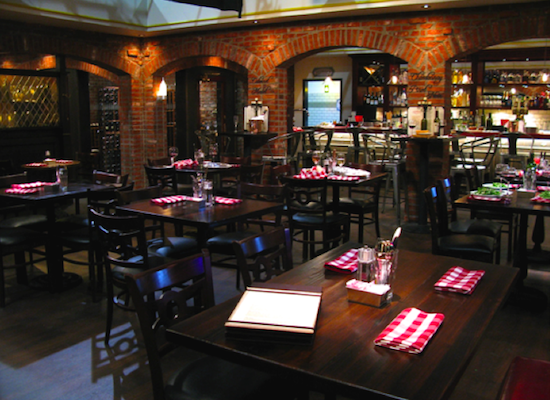 © 2014 NBC Universal. All rights reserved.
With both
Tom
and herself on tight budgets, Wannop consistently found ways to incorporate a few higher end pieces, and then make the rest look as if they were. The wine racks are actually different and came from several sources, then she had them stained the same color. The oversized framed architectural photos of Venice are hers!
Pendant lights: WineEnthusiast, Rejuvenation
Bottle sconces: WineEnthusiast
Wine bottle chandeliers: WineEnthusiast
Wine bottle candelabras: Amazon.com
Barstools/chairs: Modernism
Wooden chairs: Warner Bros
Iron wine names: Amazon.com
White pinwale corduroy chairs [not pictured]: Amazon.com
Tables: Warner Bros
Upholstered booths: Warner Bros Property, NBC Universal Studios Property
Wine racks: WineEnthusiast, wayfair.com, Amazon.com
Rent-A-Swag…
How could we talk about set decoration without mentioning
Tom's
previous business –
Rent-A-Swag
?!!
The young fashion-forward entrepreneur came up with such a great idea that he left the
P&R Department
to open his own first business. Wannop points out that this is a totally character-driven set. "
Tom
is so cool and smooth and on trend that of course he's going to have the lamp that is just a bunch of light bulbs enclosed in a glass ball. He was so ready to jump into a business that he brought all of his furniture from home…because, why not? We figured he would be thinking, 'I don't have any money for all new stuff, I'll just bring it from my ultra-stylish home.'"
© 2014 NBC Universal. All rights reserved.
"I worked really closely with wardrobe and props getting all his signature pieces, like his cobra jacket, all his canes, his slippers," says Wannop. "And he only walks on red carpet! I love that on this show the characters are unique and skewed, and the sets get to reflect their distinctive worlds."
Offices…
One doesn't think "sexy" when describing offices, yet as seen above, Wannop manages to make what could be quite ordinary quite interesting. In her tenure at P&R [she's been with the show for the last 4 seasons], she and Production Designer Ian Phillips have created numerous offices, particularly for
Leslie
and
Ben
.
We met the show's Director of Photography Tom Magill on the vast set of
Leslie's
new offices, which we've only given you a peek of, and which he highly commended! When talking of all the office sets they have shot, another one that stood out for him was
Ben's Washington DC
office. "That was another big one, and beautiful," he recalls.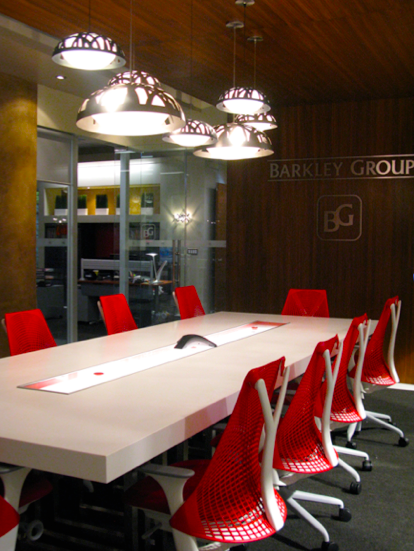 © 2014 NBC Universal. All rights reserved.
"Every once in a while, we get to do something completely modern, not our
Pawnee
traditional wood on wood," Wannop rejoins. "This one was much more high-end."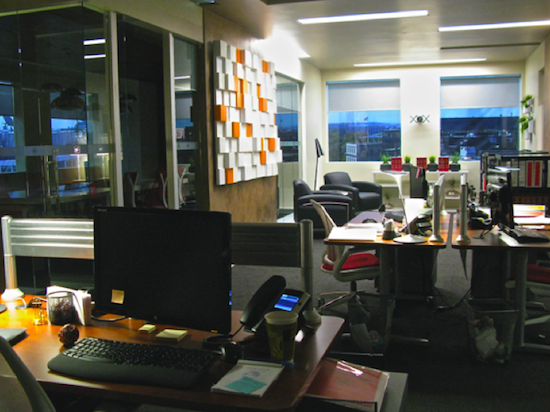 © 2014 NBC Universal. All rights reserved.
Here's what to love about it…the conference room, the lighting, the very mod yet artful bullpen – check out the contemporary desk backbars/dividers and the artwork that seems perhaps a very sophisticated homage to Post-its!
Conference room pendant lights: Info Lighting
Conference table: Custom made in-house
Conference chairs: Humanscale
Wall art piece: Designed By Ian Phillips
Black leather club chairs: Warner Bros.
Pole lamp: IKEA
X wall sculpture Sconce: Info Lighting
Grey vases/planters: IKEA
White display shelving unit: Bindertek
Hanging vases/planters: Myurbio.com
Desks: NBC asset warehouse
Office chairs: Humanscale
Computer: Dell
Phone system: Cisco
Parties galore!
Leslie
is a party-maniac, so hardly an episode goes by when there isn't a party or event or gathering of some sort. Wannop confesses that with the tight, tight shooting schedule, LA Party Rents have become her BFFs! "They definitely come through for me. There's just not time to pull it together all on our own every week, so I've learned to really rely on our vendors." Weddings, birthdays, party that became a surprise wedding, prom, Halloween, conventions, conferences—all in one season, which this year included a huge indoor farmers' market and a gigantic
Unity-day
outdoor concert!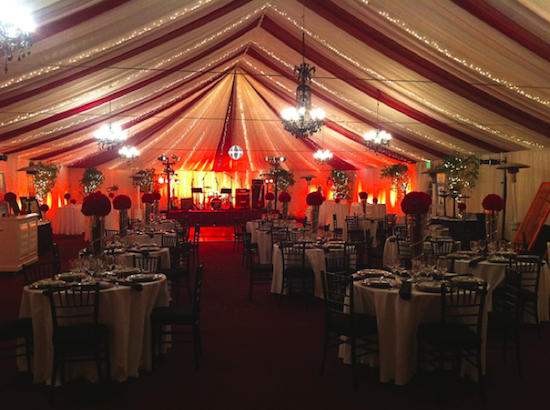 © 2014 NBC Universal. All rights reserved.
"We shoot and we prep at the same time, prepping for the next week while dressing, shooting and wrapping the current one. When there's a new episode every Monday, it's kind of crazy! And we are off the lot and out on locations usually about 2 ½ days per week, which often means I'm getting the set to dress on the same day we shoot it. It helps tremendously that Ian is creative and flexible, but we hit the ground running and pretty much don't stop."
"I think my lead man, Patrick Alven, has duplicated himself in some way, because I don't know how he does it. A lot of times I'll be thinking, 'We're never going to get this done!' He's super-organized. He's on top of it for me, as is our fabulous onset dresser Jordan Steinberg. And my crew – the guys are amazing. It is bell to bell here, which is hard. There's not enough time to like, 'Let's go have coffee.' I do try to grab moments when we can."
"Thankfully, I have a fantastic buyer, Ethan Goodwin. And thankfully, Warner Bros. and Universal prop houses are nearby and are constantly updating their inventories! We try to keep it contained to this proximity when possible. It's kind of a downfall of this fast pace. We can't go to 5 prop houses all over the city every week. So we try to be really creative in our problem-solving, and the producers are really supportive."
"For the
farmers' market
, we had 20 vendors—real market vendors. They were great. But I needed them to bring everything, 'Whatever you have in your booth normally, I need you to bring it all.' So the goat cheese people even brought their goat! We added in a
risqué chard
booth and we did the
cabbage lady
and an extra fruit stand to add color in the background. We got food products from Indiana, like Indiana honey, pickles and a hot sauce, thus we had 'local' products to interweave with the real vendors from here in CA. The
market
set was about 24 booths, and there's no way that I had the time or the budget to create each of those to the quality and realism we needed. That's where I'm saying to the vendor, 'I'm hiring you to bring all of your stuff with you. I can pay you this much…and you can be an extra if you want. We would love that even more.' If someone is a fan of the show, as they usually are, they're totally into it. It's great that I can sometimes include that."
"I'm so lucky with Ian and these producers," she laughs. "They are so nice—and realistic! Even with budget or timing needs. If I said to them, 'I really need a prep day here, because we're wrapping this,' or 'I need time to get these particular elements,' they would find a way to do it. The producers and entire crew are wonderful on this show. That's how we make it work."