IN MEMORIAM: LESLIE ANN POPE, SDSA
Leslie Pope was an exceptional Set Decorator, a treasure in our community. She passed away after a long illness on May 6, 2020.

She garnered awards, nominations and accolades over her long career.
Every set she decorated was somehow perfectly expressive, telling its story, narrating character, placing us the viewer exactly where she meant us to be.

She embodied intention, which included being a great friend, a superb manager, and an amazing artist.

Leslie's boundless wit and warmth will be greatly missed.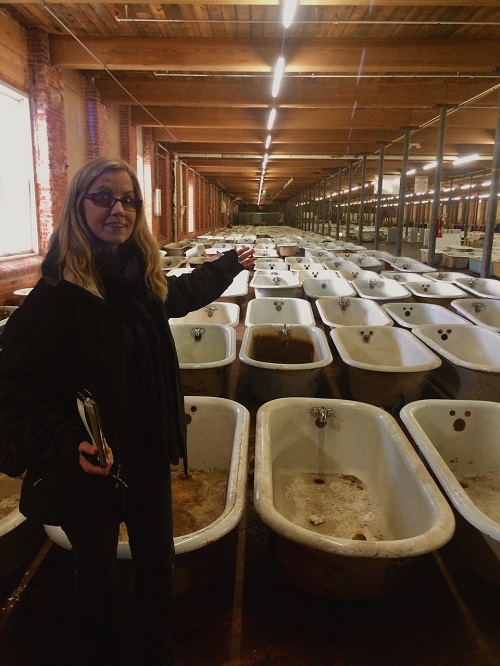 SET DECOR has covered some of Leslie's work over the years.
Here are links to those articles:

THE AMAZING SPIDER-MAN (2012)
https://www.setdecorators.org/?art=film_decor_features&SHOW=SetDecor_Film_The_Amazing_Spider_Man

AVENGERS: INFINITY WAR (2018)
https://www.setdecorators.org/?art=film_decor_features&SHOW=SetDecor_Film_Avengers_I_W

AVENGERS: END GAME (2019)
https://www.setdecorators.org/?art=film_decor_features&SHOW=SetDecor_Film_Avengers_End

SEVEN POUNDS (2008)
https://www.setdecorators.org/sites/setdecorators/information/SetDecor_Winter_2008_2009.pdf

The Academy of Motion Picture Arts and Sciences produced a video of Leslie speaking about her career in 2014.
https://www.youtube.com/watch?v=QBPwOR-Pz0o

The SDSA mourns her passing alongside her family, colleagues, and friends, which include many SDSA members. Here are brief memories from a few of them:


FROM JEANNINE OPPEWAL, PRODUCTION DESIGNER:

She touched everyone's lives around her in a special way. Sharp tongue,
vicious sense of humor.

An electrician once came to me to tell me that he was afraid that Leslie
didn't like him. My response: What did you do? Say something stupid?
Leslie hates stupid. Did she call you an Igmo - short for ignorant moron?

I once mentioned to Bob Rehme (at one time the head of AMPAS) that
Leslie and I were thinking of making a trip together to Peru. He advised us
not to get captured by the Sendero Luminoso. Then he stopped, laughed,
and said, On the other hand, I feel sorry for any Sendero who would capture
the two of you.

FROM BRAD CURRY, DRAPERY FOREMAN:
Working on my second film with Leslie, we had a large drapery installation at the Greystone mansion. My job was to obtain the paint sample, and venture out to find various fabric samples to show the designer and the decorator. I met with them at the end of the day, and we chose one of the samples. I called to check stock, and they told me there was plenty, so I placed an order for 150 yards to arrive on Monday, this was Friday afternoon. The set would shoot that next Thursday, so it was pretty tight. They actually chose the paint from that sample. Friday evening I got a call from the fabric company apologizing saying, "Oh Mr. Curry we're sorry, after doing a physical check, and we only have 50 yards." I immediately stressed out, saying to myself, "Well it was nice working with her, I'm sure I'll be fired." So all of Saturday and Sunday, I dreaded having to meet with her, and tell her the bad news.

With little sleep over the weekend, Monday morning arrived, I went to work, and met with Leslie. "I'm sorry Leslie, after a physical check they realized there wasn't enough yardage." "Oh Igmo," she replied, (I found out later that's what she called people she liked) "don't worry about it, show me what else you have, we'll choose another." So I showed her my other samples. She picked one and said, "Do they have enough stock"? And I said, "Yes they definitely have enough stock of this one." She said, "Just order it honey, it's not a big deal." Not a big deal? It's not a term you usually hear in our industry. It's always a big deal!

The calming affect she had on people was amazing. She was always on an even keel at the most stressful times. So after 25 years, I did my last film with her before retiring called " AVENGERS: END GAME". She was referred to as my Day Wife, because as you all know, we spend more hours at work than at home. It was a pleasure to call her my friend and my boss, and I miss her terribly. She made it a joy to come to work. She was the conductor, and we were the orchestra! And what amazing music we made together.

Goodbye Igmo, I will never forget you!




FROM CLAUDETTE DIDUL, SDSA, SET DECORATOR:
I first met Leslie in 1987 and was her NYC buyer on and off from 1991 till 1996 and in Los Angeles 1997- 2003 and on and off after that.
She was my friend, sister, mentor and awesome boss. She always included me in Christmas and occasional Thanksgivings.
She always loved challenges and going beyond the call of duty in shopping and research.
There are so many great stories to share. One of my favorite stories was from "Family Man". We were filming at LAX and to get ahead I ordered vertical blinds for that location. I misread her handwriting, ordering 111" blinds. What she had written was 11'1". Soooooo there was a bit of a scramble and luckily construction built a quick pony wall for the area. From that day forward we called them "The Stonehenge" (Spinal Tap reference) blinds and couldn't stop laughing about it in the years that followed. Sometimes to tears of laughter.

I'll miss her awesome sense of humor, her always correcting my vocabulary and for always being there for me whenever I needed her.
I believe she is still there for us.

FROM RUSS ANDERSON, SET DRESSING LEAD:
Leslie Pope was a talented Set Decorator. Her wide-ranging career included period movies like CATCH ME IF YOU CAN and SEABISCUIT and the fantasy world of the Marvel Comic Universe. Leslie was an outstanding Leader, Organizer, Delegator and Creator. Those of us who were lucky enough to work with her will never forget her. As a boss Leslie was clear in what she wanted, and compassionate to those in her department. Set Dressers were happy and excited to work for her, as she treated them like old friends, even if she had just met them. Leslie gave clear instructions and when corrections were needed she would do it with a smile on her face. Leslie's crew felt respected and important. They would do anything for her.

As wonderful as Leslie was as a boss, she was an even better friend. I was her friend and neighbor for over 20 years. Leslie had many friends who she had known much longer. She was still in contact with people she met in kindergarten. Leslie had many friends from her years working in New York. I was able to work with some of them on location jobs. They accepted me readily, because I was Leslie's friend. Her house in Venice functioned as a bit of a clubhouse. I once met an anthropologist fresh off a plane from New Guinea. Another time I discussed basketball with a guy I thought was a "grip", but turned out to be an Academy Award-winning Director. It was a place where all were welcome.

Leslie's laugh was infectious. Leslie loved practical jokes. Leslie loved Doug, her family and her friends.

Leslie will be greatly missed.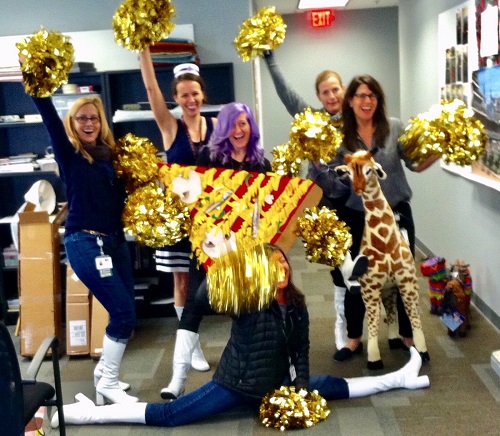 FROM CLAUDIA BONFE, SDSA, SET DECORATOR
I remember the first day I worked for Leslie she said "Tell me about yourself, what do you like to do for fun." I knew from industry people Leslie was extremely smart, so I wanted to say something intellectual….and all that came out of my mouth was "I like to eat". Leslie busted out "me too." We shared many of our laughs and stories over food.

I worked with Leslie on 5 films. She was the most generous of bosses and expected nothing more than to have fun, joke and learn. Leslie was loyal to her crew and vendors. She would do anything to include you on the project…in whatever capacity she could think of and always made sure you were a part of the creation. She embraced the underdog and guided them like it was nobody's business until they found their own way. She had impeccable taste and her sets were seamless. Leslie could decorate a futuristic spaceship in the morning, a Victorian New York apartment filled with antiquities at lunch and Thanos's eco hut in the afternoon….on top of the many additional production requests throughout the day. She just did the work and made no deal of it. Leslie was liberal with her time and a excellent listener. She would rise to the occasion when someone needed a personal pep talk by opening her doors and giving great advice. When it came to Christmas, birthdays or wrap parties Leslie did not hold back….she hosted events, handed out great gifts and sent sincere thank you letters. Leslie championed equal rights for all, shown by her actions and not just words. Leslie was a mentor, a friend and an inspiration for many. I miss her dearly and will forever be grateful she was in my life.

FROM ROBERT GREENFIELD, DIRECTOR OF PROPERTY AT WARNER BROS. SDSA BUSINESS MEMBER
Leslie was someone who took the extra moment to connect and say hello when she visited WB. Always a total professional. Clear communications and very direct, and always pleasant in the process. Fair too, she thought of everyone's best interests in all business dealings and her reputation was golden. Everyone spoke highly of her, and working with her was a lot of folk's aspiration.
We didn't get the chance to see her as much as we would have liked, I'm afraid.
Her crews loved her and were always very loyal. The scale and scope of her work has always been impressive, and she will be missed in the industry.

FROM TRISH GALLAHER GLENN, PROPMASTER
It's no accident that she was called The Pope – she was like The Queen. We'd don our Pope hats on her birthday just to make her laugh. Leslie just had that effect on people – she was bigger than life and took center stage. She liked to have a crowd and I was lucky enough to be drawn into her orbit. My husband Rick worked on Leslie's crew for many years and we celebrated all the ups and downs of life with her and her husband Doug. She loved the movies but mostly she loved the people that she worked with. And we loved her back. And we always will.

FROM ADRIANNA CRUZ-OCAMPO, SDSA BUSINESS MEMBER, U-FRAME-IT GALLERY
Working with someone like Leslie Pope for as many projects as I have, she became more than just a client. We met in the early 2000s when I was framing for CATCH ME IF YOU CAN. Working with her on SEABISCUIT was an amazing learning experience for me, and it was great to see her get an Oscar nomination for her work. Our friendship over the years brought an enlightening energy to how to run my business in the film industry. Leslie was so creative and had such a big heart that she was an inspiration to me both as a business owner and as a woman. In the years we've known each other, she encouraged me to think ahead in my life and I wouldn't be where I am today with her guidance and optimism. I'll miss her down-to-earth nature, I'll still think to reach for the phone to call her if I have a question. But she left me with a slice of her confident disposition and that's a gift I'll cherish forever.

FROM CINDY CARR, SDSA:
Leslie asked me to take over for her on a movie that had just begun filming in New Orleans, since she had broken her foot and needed to return home. I said yes immediately - I knew how organized and meticulous she was, and that it would be fun to spend a couple of crossover days with her in Nola.

In the next week Leslie and I quickly got to know each other. We shared a love of New Orleans, fine/fun dining, and had similar political leanings. It was a fabulous week as I familiarized myself with her vendors, contacts, and favorite restaurants. The local Set Decoration crew loved her and were sorry to see her go, but she helped make my entry into the mix seamless. I got along well with the Production Designer, and I knew the Set Dec Gang boss from before, who stayed on as my Lead. The first set they had completed was a house the 2 main women characters lived in, and it was beautiful. Turned out I'd be proud to have my name on this film as Co-Set Decorator.

I got to see Leslie's process, which was illuminating, because we Decorators rarely get to work alongside one another. She took her job very seriously, and therefore everyone around her did too. She was smart and funny and said what she was thinking. I really enjoyed her company and was glad when a few years later, it turned out she'd be working in Atlanta, where I've worked on location for quite a while. When we got together we'd dish about work first, then move on to world affairs and whatever else we felt like discussing. I wish I'd seen her more. But I'm very glad to have spent the time with her that I did. Taking over a film another Decorator started can be difficult, but my experience with Leslie was incredible, and formed the basis of a friendship of two colleagues who respected and liked each other.
She will be missed so much, by family and friends, and everyone who had the pleasure to have worked with her.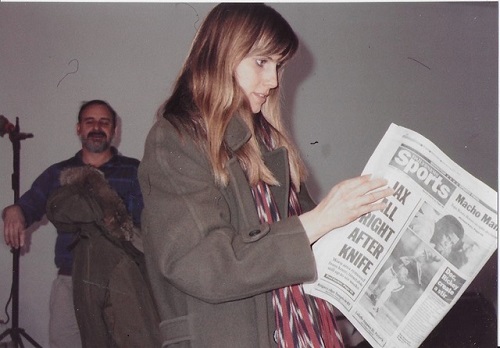 FROM ROLAND BROOKS, CHARGE SCENIC AND ANN EDGEWORTH, ASSISTANT PROPMASTER
If you wanted a great looking movie or TV show, you went out and hired Leslie Pope. If she liked you, you were in for a riotously funny ride. She was infectiously witty and would back you up like a Momma Grizzly. She told the bawdiest jokes and loved life like crazy.

We have been friends with Leslie since the early 1980's, and worked on at least ten movies together, among them MATEWAN, CARLITO'S WAY, PRINCE OF TIDES, FAILURE TO LAUNCH, THE DAYS AND NIGHTS OF MOLLY DODD (which Leslie designed), CATCH ME IF YOU CAN, LET IT BE ME, LAST EXIT TO BROOKLYN, THE SUPER, IRONWEED (which Leslie called Dillweed), ANGEL HEART, ALMOST YOU, BABY IT'S YOU and THE KILLING HOUR.

We miss her wit and her talent and are saddened by the fact that she is gone from us.

FROM ELAINE O'DONNELL, SDSA- NY
Leslie was my superhero Warrior Queen, like someone from the Marvel films she decorated. She was a force to be reckoned with; nothing stopped her. Leslie had only been decorating a few years when I met her on Angel Heart 34 years ago. She was a pro right from the beginning, generously teaching, encouraging & inspiring me to excel. I worked on 11 projects for her throughout the years where she celebrated every day with hard work balanced with singing and carrying on. She was unpretentious though ambitious; super organized; funny with acidic wit; smart; fiercely loyal; mother & mentor too many of us. She impressively managed to juggle a successful career with deep devotion to family & friends. The thing I most admire about Leslie is that while undergoing her own devastating physical ordeals this past year she continually reached out to take care of me when she found out I had severely fractured my humerus at work in NY. But as her husband Doug was taking fulltime care of her I relented. Although I never got to see her, I feel her presence everyday.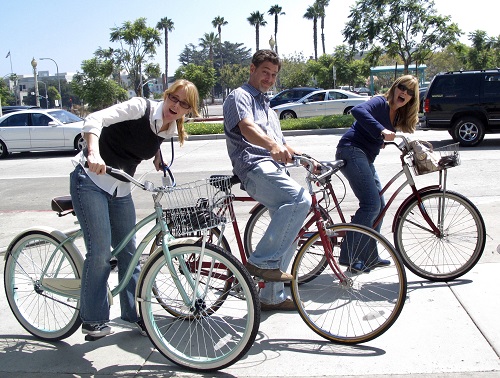 FROM SAM TELL & HELEN KOZORA-TELL, BUYERS

We were close friends, family and the truest of collaborators. There is not a set decorator or film professional who was more efficient or had a better sense of design and aesthetics. Leslie was the consummate pro and her perspective on life was the grandest. She was interested in everyone's life, family, and our collective, personal well-being. The best things in life were not to be missed – food, wine, music, film, and awfully bad jokes. Many of us remember the set decorating department script read thru's. This set the tone for workplace decorum – over the top 'acting', some hyperventilating laughter to the point of tears.

Pope worked to live and sometimes lived to work, and at the core thought so highly of her department and valued everyone's contributions. She was quick to offer praise and accolades, confidently attributing all our hard work to those above-the-line. It was tremendously important to her to have impeccable relationships with prop-houses, outside vendors and the whole of the film community. Her business ethics were impeccable.

With Leslie we truthfully didn't work longer hours than necessary. The minutiae were finalized, the busy work let go. However, under 'Pope Rules' nothing was left undone. Leslie finessed the script details more than most directors.

To those who worked closely with Leslie, however briefly or longstanding, whom she dearly befriended, who are forever part of the inner circle of privileged humans we want to celebrate one of the best film bosses out there.

Each of us inspired by Leslie has a special connection to one another, we have a sort of Pope language and style, a secret handshake if you will, that helps streamline the process and tries to make better sense of our set decorating craft, working intelligently and efficiently.
She demanded excellence.
She exemplified excellence.
Her belief in those she worked with was fiercely strong.

Leslie, you always made us feel more alive. We miss you.

Pope -The Last Haiku
You Are One of The Greatest
And Dearly Loved

We lost a boss, a mentor, and a friend.
FROM RUSSELL BOBBITT, PROPERTY MASTER
For the last six plus years of my work life, I have had the pleasure of working side by side with Leslie. Held in admiration, she always treated her fellow crewmembers and staff with a great deal of respect.

Her thorough understanding of the film-making process allowed her to thrive in an industry with constant changes, curve balls and crazy requests, and accomplish that for 10% less money and 20% less time. And yet, Leslie got it. The impossible was always possible for her.

With great pride and dignity Leslie and her crews produced grandiose sets with finesse. We worked very closely during the preparation process and planned well together. When Leslie and I would walk through her sets, just before shooting, we both knew that there would not be much to say. They were complete and ready to hand off to my team. Our working relationship was collaborative and lighthearted, yet precise. What a talent….

On a personal level, we found ourselves neighbors in our newfound home of Atlanta (aka Y'allywood). We had many conversations about our dedication to hiring our L.A. Local 44 folks on location. With our respective spouses (her husband Doug and my wife Tracy), we enjoyed concerts, parties and dinners – rare for most crewmembers to get together, because of our rigorous hours. No time for a personal life in the film business. We had the pleasure of learning that Leslie's heartfelt conversation, passion and love was not that of a "work friend" but a true friend. I will always have that as a positive memory from my life in the film industry.

We spent so much time together on and off set, and have done back-to-back projects for so many years now. I miss her in my heart. Leslie Pope, you will be on all my big shows.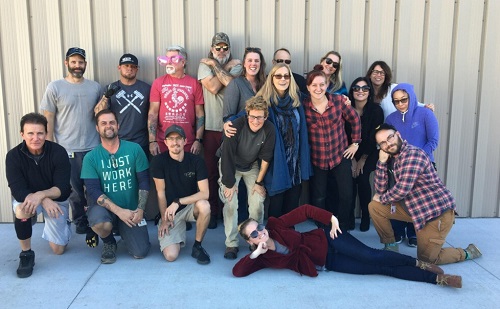 A CHRONOLOGICAL LIST OF LESLIE ANN POPE'S CREDITS

All credits as Set Decorator except where noted

AVENGERS: ENDGAME: 2019 – WON, ART DIRECTORS GUILD AWARD: EXCELLENCE IN FANTASY FILM

AVENGERS: INFINITY WAR: 2018

GHOSTBUSTERS: 2016

ANT-MAN: 2015

CAPTAIN AMERICA: THE WINTER SOLDIER: 2014 – NOMINATED, ART DIRECTORS GUILD AWARD: EXCELLENCE IN FANTASY FILM

DJANGO UNCHAINED: 2012 NOMINATED, ART DIRECTORS GUILD AWARD: EXCELLENCE IN PERIOD FILM

THIS IS 40: 2012

THE AMAZING SPIDER-MAN: 2012

THE STAND-IN: 2011 – a Short Film: Associate Producer

DEATH BY FUNGUS: 2010 – a Short Film: Associate Producer

GET HIM TO THE GREEK: 2010

FUNNY PEOPLE: 2009

SEVEN POUNDS: 2008

THE LUCKY ONES: 2008: Production Designer

LIONS FOR LAMBS: 2007

SPIDER-MAN 3: 2007

FAILURE TO LAUNCH: 2006

SPANGLISH: 2003

SEABISCUIT: 2003 – OSCAR NOMINATION, BEST ART DIRECTION & SET DECORATION; NOMINATED: SATELLITE AWARD

CATCH ME IF YOU CAN: 2002 – WON, ART DIRECTORS GUILD AWARD

S1mOne: 2002

BAD COMPANY: 2002

THE FAMILY MAN: 2000

FLAWLESS: 1999

THE ASTRONAUT'S WIFE: 1999

ONE TRUE THING: 1998

IN & OUT: 1997

DONNIE BRASCO: 1997

THE JUROR: 1996

LET IT BE ME: 1995

THE COWBOY WAY: 1994

CARLITO'S WAY: 1993

SLIVER: 1993 – NY Unit

MAD DOG AND GLORY: 1993

DAYBREAK: 1993 – TV Movie, Production Designer

WOMEN & MEN 2: IN LOVE THERE ARE NO RULES – TV Movie, Production Designer

THE PRINCE OF TIDES: 1991

THE SUPER: 1991

BETSY'S WEDDING: 1990 – NY Unit

OPPORTUNITY KNOCKS: 1990 – Art Director

THE DAYS AND NIGHTS OF MOLLY DODD: 1989-90 – TV Series, Art Director, 4 Episodes

LAST EXIT TO BROOKLYN: 1989

CROCODILE DUNDEE II: 1988 – NY Unit

IRONWEED: 1987

MATEWAN: 1987

ANGEL HEART: 1987 – New Orleans Unit

AFTER HOURS: 1985

ALMOST YOU: 1985

OLD ENOUGH: 1984 – Art Director & Set Decorator

Photograph Legend:

Leslie shopping Ghostbusters: Photo by Claudia Bonfe SDSA

Leslie laughs wearing a pig hat: Photo by Claudette Didul SDSA

Cheerleading photo on Ant Man:
Leslie Pope, Amy Lehman, Clarissa Mobley, unidentified crew member and Claudia Bonfe.
Karen Gerbs on the floor in the splits
Photo by Tony Andraus

Days and Nights of Molly Dodd, with Jeff Hays

Leslie bicycling with Sam and Helen Kozora Tell
Photo by Amanda Bromberg

Avengers: Infinity War Crew
Back Row: left to right:
Eric Sherlin (Set Dresser), Paul Detlefson (Gang Boss), Brad Curry (Drape Master) , Erik Polczwartek (Gang Boss), Charlotte Lee (Set Decoration Buyer), Russ Anderson (Leadman), Nancy King (Set Decoration Coordinator),
Claudia Bonfe (Assistant Set Decorator)

Front row left to right:
Benton Tedlie (Gang Boss), Frankie Walker (Gang Boss), Robert Davis (Set Dresser), Lisa "Pike" Rincon (Set Dresser), Leslie Pope (Set Decorator), Clarissa Mobley (Set Dresser), Courtney Cocherell (Set Decoration Buyer)
Cleo Wang (Shop Foreman)

Kneeling: John David Duncan (Set Decoration Assistant)
Laying down: Katelyn Cocherell (Set Decoration Assistant)