The SDSA mourns the loss of two well established and respected set decorators from the film community: Lee Poll and Warren Welch. For those of you who may not know their body of work, we begin this memoriam with a celebration of Warren Welch compiled by Rosemary Brandenburg and then with a reprinted article about Lee Poll from Set Decor Magazine Summer 2004.
Warren Welch 1926-2008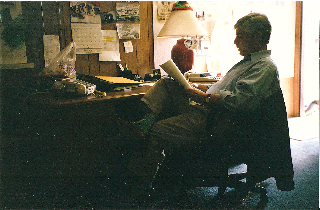 From The Hollywood Reporter, 10-29-08:
Warren Welch, a Hollywood set decorator for more than four decades, died Oct. 15 in Los Angeles of pancreatic cancer. He was 82.
Welch served as head of Decorating, Property, Hair, Make-up and Costumes at CBS from 1968-87, then worked as director of production services at MTM Enterprises from 1987-94.
The Emmy-nominated Welch worked on more than 50 series episodes on shows including "Batman," "Gunsmoke," "The Wild Wild West," and "The Mary Tyler Moore Show." His feature credits included 1967's "Tony Rome."
Started in Motion Pictures in 1960 at 20th Century-Fox as a Prop man. When he joined the Academy his position had been for 9 years as Department Head of Property & Decorating, CBS Studio Center. He joined the Academy 11/8/76. Worked at 20th for 7 years then to CBS.
-From the Academy of Motion Pictures membership office _____________________________________
The film business was very different in the 1970s and 80s. Studios had Department Heads who could help us acquire jobs, in addition to looking for work ourselves. When I first started in the business, my first job was given to me by CBS Decorating Department Head Warren Welch, an extraordinary man. That show was called "The Price of Death," where I got the opportunity to go on location to San Francisco. Warren even helped me pick my first leadman, Dominick Bruno.
He recommended decorators for different jobs on the CBS Studio Center lot (MTM). I really have to call this a thank you letter from the bottom of my heart, because I have had such a great and long lasting career.
Cheryal Kearney, SDSA
______________________________
I met Warren in 1980 when I did the pilot to "Hill Street Blues."
We were at C.B.S Radford Studio and Warren was the head of the
Property and costume department. I was a young Decorator recently
from New York and we talked about that a lot.. how TV was done
in NYC, as I was on staff at CBS In NYC for 6 years. Not only was
Warren helpful in assisting me, he was also very supportive of my
work and talent.
When I completed the project at CBS, Aaron Spelling was
seeking a new Decorator. Warren recommended me highly and that gig
lasted for 8 years with Mr. Aaron Spelling. I had an interesting career in
TV to say the least. When I took an early retirement due to a health
reason, I went to work part time for our local #44. I would see
Warren and his wife at our many retirement events and we were both
pleased with our good health and were always happy to see each other.
For the 20 years plus I knew Warren I always respected and
admired him at a department head and a set decorator. He was a
gentleman and a very kind person. I will miss seeing him and I send
his family my deepest sympathy.
- Joe Armetta
___________________________
I found Warren to be a very nice man. In our conversations I remember him telling me he grew up back in the NYC area. He started in the business, actually as a member of IATSE Local #1. This was one of the most powerful stagehand locals in the country. Their jurisdiction covers Broadway, Lincoln Center, Music Halls, and a good bit of live TV. I don't recall when he arrived in Hollywood, but I'm sure it was about the middle 1960's.
- Marvin March
_________________________
He was the head of the dept. at MTM in 1988 and was no longer decorating as he had some heart trouble. I was 9 1/2 months pregnant with my youngest and he offered to take my show over until I could come back. I was so worried that the stress may be too much for him that I came back two weeks after her birth. Of course looking back I was not in terrific shape myself! He was a generous thoughtful man and I will always remember him with great fondness. He was also a wonderful dresser and always looked like he just stepped out of a men's magazine.
He carried himself with grace and dignity and I am better for knowing him.
- Jennifer Polito
______________________________
Warren gave me my first show in America when I moved here from 15 years living and working in Italy. I had no U.S. resume. Just a portfolio under my arm and he still gave me my first U. S. union show. I talked to him a couple months ago. He wasn't thrilled to be ill...but it was great to talk with him. I think he also gave Cheryal Kearney her first job. Gary Oseransky at Uni was close to him. He is so appreciated. Patti, his wife is head of Wardrobe still I believe at Warner Brothers.
-Cloudia Rebar
__________________________________
He was 83 when he passed. He came from New York Local 1, as did his father and grandfather. Before coming to Hollywood, he stage-managed a large Cuban musical review at the Fontainebleau Hotel in Miami Beach, FL. While there he hired many of the unemployed Local 1 members to be a part of his crew. Eventually the U.S. sent most of his cast packing back to Cuba.
A former NY union friend, now with 44, called Warren and told him he would be happy to help him in Hollywood, Warren accepted.
First stop, 20th Century Fox. He worked in the Property building. Under Walter Scott and Walter Wormick. He pushed a broom, re-stocked the furniture, and anything else they found for him to do. He would spend his lunch hours with Mr. Scott walking through the house learning furniture 101: periods, styles & applications of all. He also took design classes at UCLA in the early '60's/
His first show was "Batman," as a Fox staff Decorator. From there he did feature films with Frank Sinatra such as "Man With the Golden Arm. In those days whether on a show or not you were carried, wow.
Years later he was offered the head post at CBS, now Radford, where he had a long run with MTM productions, and a stint on "Gunsmoke."
I met Warren through his good friend Dominick Bruno. I led for him on the "Adventures of Brisco County Jr." Warren loved Westerns so much, and his work reflected it. His window treatments, or "rags" as he referred to them, were nothing less than spectacular. I never stopped learning from him. We did the first season of "ER" and then he hung up the hold tags.
I've been his good friend ever since, taking him to lunch, movies, and one of his favorite places to eat, Musso & Frank's grill. I spent the last 5 days of his life at his bedside, making him laugh, and just letting him know how much he meant to me and many others.
- Michael Casey
______________________________________
Warren Welch was the first set decorator I ever worked for and in my
opinion, probably the best. He won the respect of the producers,
directors, and production designers that he worked for, thus making it
easier for us to get our work done. Most of the time, we only had to
dress a set once to gain their approval and Warren always seemed to
select just the right amount of furniture that he needed to complete the set.
With that said, I would like to tell a story about what kind of friend
Warren was. My wife, Linda, and I had our house remodeled and part of
the remodeling project was the addition of a new den. Warren came over
to see the progress of the addition and suggested that we install a
parquet floor. He said that he would help me with the installation. The
only problem was that I had no idea how to install a parquet floor,
besides having 2 left hands. Well, Warren said he'd come over on Sunday
morning at 8:00 A.M. and we'd begin. On Saturday, I threw my back out
coaching my son's baseball team practice and when Warren showed up on
Sunday, I was totally useless, even more so than usual. For the next 3
weeks, Warren came over every Sunday and laid that beautiful parquet
floor. Every time I look at it, I think of Warren and the wonderful
friend that he was then and remained forever.
I will miss Warren, but I am so thankful that I had the opportunity to
work for him and be his friend at the same time. After his retirement,
we continued to attend Dodger games, get together for lunches, and just
talk on the telephone. I have had a wonderful time working in the
"business" and Warren Welch was responsible for a great deal of that
wonderful experience.
-Gary Oseransky
I first was introduced to Warren Welch when I went looking for work after I left Universal Studios in 1965. Warren put me to work on the swing gang with My Three Sons at CBS Radford, and I worked on and off with him for the next forty years. Eddy Denault was in charge of production for CBS Radford studios at the time it was rapidly becoming an elite boutique studio. Pilots, TV shows, Movies of the Week and feature productions were all be filmed at the same time and Warren was the (go to guy) on all of them. He was one of the first department heads hired when the studio was set up and he remained at CBS Radford until the department was closed in middle 1980's. Warren was never short on giving his opinion and with his guidance and talent decorated many a pilot and hundreds of episodes for CBS and MTM productions. His good friend Abby Singer, who was in charge of production for MTM (Mary Tyler Moore), would always call upon Warren when they could not find the talent needed to decorate a pilot for MTM. He was disciplined, honest, fair, loyal and an extremely talented working Set Decorator and Department head.
Warren's life in show business started in New York and his work eventually took him to Florida in the heyday of nightclubs and extravaganzas. He decorated many shows at the Fontainebleau and decided after a couple of years that he needed to move to Hollywood to continue nourishing his career. He packed up his bags and took his family west to begin anew. He got his break at 20th. Century Fox Studios, and fortunately for all of us, he never looked back.
He became a set decorator and one of his first TV shows was Batman. He worked tirelessly at his craft in the days when you worked until you dropped. Anything that needed to be done Warren handled as a professional and expected anyone working with him to keep up. Many a lead person, myself included, had a very difficult time keeping pace with Warren's work ethic. He was detailed and never succumbed to the; "that's good enough for TV" axiom that was so prevalent in those days. He hammered home that point to many of us in the industry and fortunately for many of us his work ethic became our work ethic. Every set he decorated had all of his attention to detail, whether or not it was a back alley full of garbage, or a prairie full of teepees.
I worked as his lead person on many a show. We did a MOW in San Francisco with Peter Falk, Vic Morrow, and Peter Lawford and apart from long hours we still managed to hit every bar in San Francisco and get up in time for work the next day. My friendship with Warren grew throughout the late sixties and early seventies and his advice, guidance, and loyalty continued to inspire me as the years went on.
I had moved to Europe for a couple of years and stayed in touched with him sending post cards and writings. When I returned, flat broke, the first person I went to see for work was Warren. His best piece of advice came with his pointed finger in my face when he said, "Enough already, settle down and make something of yourself." That lecture, advice, and caring manner of his changed my life forever. There was a new pilot being shot at CBS Radford called, of all things, Spencer's Pilots. Warren encouraged me to take the Show because he decided that I would be a better property master than a set decorator. My first shot in the big leagues came from Warren and off I went on my first series and to many new adventures.
Warren loved to play golf but hated the fact that it took so much work. His next new love was snow skiing and along with our wives we traveled to many a place in search of snow pack. He was pretty damn good given he didn't take the sport up until his late forties. He could ski anything and we would have the best of times no matter where we were.
It is interesting to try and recall one's history throughout one's life, there are so many chapters to Warren's story and my few words here do not come close to describing this man that I was lucky enough to know and love. His generosity, tutelage, and guidance were responsible for some of the finest Set Decorators and Property Masters still working within our business. Warren set the bar very high for those of us he cared about, and each and everyone that listened to him became a better person for knowing him. He was a class act and was always there for me. That's just the way it was with the two of us. He was my mentor, friend, advisor, best man, and my professional life, in large part, is a result of Warren's guidance and support. He lives within my heart and much of him rests in my soul. I will miss him forever and I will never forget all that he has helped me to become.
- Dominick Bruno
Lee Poll 1922-2008
SDSA Lifetime Achievement Award 2006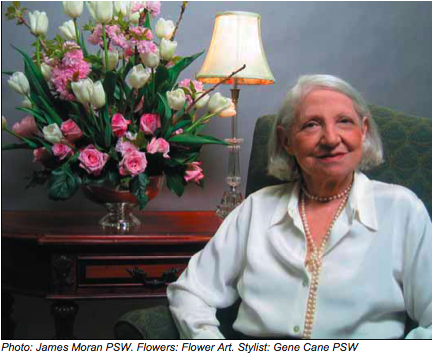 At age 55, Lee Poll became single and without money or job.
However, within six months of her divorce from Producer
Martin Poll (LION IN WINTER), she sold her house for a tidy
sum, opened an antiques boutique and launched a career as
a set decorator. More than twenty-five years later, her credits
include Emmy nominations for episodes of MURDER SHE
WROTE and the films SLEEPING WITH THE ENEMY,
SOAPDISH and PLACES IN THE HEART.
Lee's first set job was actually pre-divorce. Her soon to be
ex-husband was raising money for THE SAILOR WHO FELL
FROM GRACE WITH THE SEA in the States while production
was assembling for the shoot in Dartmouth, England. Lee was
costume designing for leads Sara Miles and Kris Kristofferson.
This meant fittings stateside, then going with the stars to
England. When she arrived, Production Designer Ted
Haworth pulled her aside and told her that she had to stay to
help decorate the sets. Haworth was having trouble conveying
ideas about the characters to the art department. Lee had
been working with the script for costume design, so she
already understood the characterizations that the director
wanted. As Lee recalls she replied, "Well, you'll have to check
with my husband because I'm sure he's bringing his lady
friend. We're still friendly, but it could be embarrassing. If he
says it's okay, I'll stay." She stayed, and the set décor was
considerably revised.
Unlike many in the business who start with low-budget
independents, Lee's career began at the top and stayed there.
Lee comments, "I always worked on really good films with really
good production designers and really good managers. There
was never a problem because we were always prepared."
Post-divorce her first set decorating job was through Oscar
winning Production Designer Gene Callahan. As Lee
describes, "I didn't have a penny, and I didn't know what I
was going to do. Then Gene Callahan called me."
BLOODBROTHERS was the first of eleven projects
Callahan and she would work on together. Lee says of
Callahan, "The way Gene does sets, you can look through
and see the entire thing. You know just where the action is,
and you are never held off by anything. It's never fake. It's
always real. It's always big."
One of their collaborations, PLACES IN THE HEART, has a
special place in Lee's heart. On this film, she also worked with
fellow Set Decorator Derek R Hill, who shared, "It was wonderful
working with Lee. We had a true partnership." Lee particularly
admired Director Robert Benton's technique. She
remembers, "I thought how clever he was because he had his
editor standing next to him every day at the shooting. That film
was made better by the editor's presence. It had so many stories
in it that it could have been very confusing."
Lee shares set decorating credit with Garrett Lewis SDSA
on another of her favorite films, STEEL MAGNOLIAS. During
her location work, Lee recalls, "I met all the people who were
the real people from the story. One was the lady with the
beauty shop, a lovely lady. It was a funny little old beauty shop
with everything exactly as I needed it. I said to her, 'Would you
like all new equipment?' She said, 'Oh, would I?' So I took her
whole shop for our set and bought her all new equipment to
replace it."
Her all-time favorite film project is SOAPDISH. She remembers:
"I thought that set was probably the best that I have ever
seen. It was two floors. The downstairs was the soap opera
set, and the upstairs held all the sets for the offices, dressing
rooms and hallways." The production designer was Eugenio
Zanetti, who Lee says was "absolutely a wild man, but brilliantly,
brilliantly talented." Lee continues, "He was so funny.
He'd say, 'Tomato! Tomato!' Everything had to be red."
Lee's process begins with research. With period projects,
research is imperative, but from Lee's point of view it is primary
with any production. She emphatically states, "There is
no other way. And it begins with the script and the character."
Asked if she has a particular style, Lee smiles as she says,
"There was a time when people teased me about all the beauty
parlors I did. There was one in PLACES IN THE HEART, in
THE MORNING AFTER and in STEEL MAGNOLIAS. I've also
heard production designers say, 'Oh, you know Lee Poll does
great living rooms.' And I want to say, 'But have you seen my
caves?' I think that I am true to the character. The character
is what the style is about."
Nowhere is character more evident in Lee's work than in
SLEEPING WITH THE ENEMY. Julia Roberts' character
inhabits a house that reflects her wife-beating husband's controlling
cruelty. It is a gray environment of stark, harshly modern
angles, a sterile house bereft of hominess. The heroine
escapes to a house of gentle charm with softly patterned fabrics
in an array of colors and turn-of-the-century furnishings.
Here Lee graphically juxtaposes the husband's cold milieu
with surroundings in which the heroine can thrive.
Lee's four seasons working with Angela Lansbury on MURDER
SHE WROTE were her favorite television projects and brought her
two Emmy nominations.The Executive Producer/Star was interviewing
set decorators for the crew slot with the series. After her
meeting with Lee, Lansbury saw no need for further interviews.
Lee was the set decorator she wanted.
It was mutual admiration: "I loved Angela. She knows
about everything. She knows script. She knows lighting. She
knows acting. She knows decorating. She knows costume.
The woman, believe me, knows everything."
Retired for over five years, Lee confides, "I didn't think I was
going to like retirement, but I have rather enjoyed it." She still
does some "civilian decorating," as she calls designing for private
homes. Lee is a staunch union advocate, member of the
Motion Picture Academy of Arts and Sciences, and a longtime
member of the SDSA. She mentors others in the profession
just as Gene Callahan once served as mentor to her.
—by Susan Ory Powers
(You can download a complete copy of Set Decor Magazine from 2004 by going to the link
Set Decor
-top left side of Page)