THE ADJUSTMENT BUREAU
Set Decorator Susan Bode-Tyson SDSA
Production Designer Kevin Thompson
Universal
Photos by Andrew D. Schwartz ©2011 Universal Pictures. All rights reserved. Not for sale or duplication
That instant knowledge of a character we get from the moment the set comes onto the screen is the result of the collaboration between production designer and set decorator, as perfectly realized in the hit romance/sci-fi thriller THE ADJUSTMENT BUREAU.
Set Decorator Susan Bode-Tyson SDSA and Production Designer Kevin Thompson offer us insight into the film's visual clues to character, and Bode-Tyson reveals her New York shopping favorites!
She first notes NY SDSA business members she considers essential, and whom she used on this film: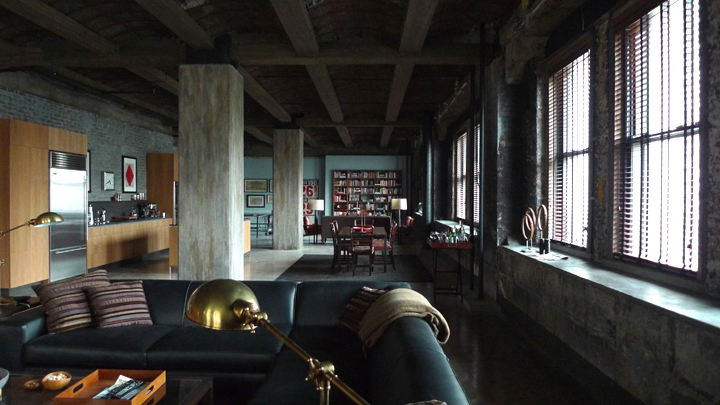 David's Loft:
Charismatic "everyman" New York politician David Norris [Matt Damon] is caught in an unexpected deep romance and an existentialist conundrum. Thompson says, "David's loft was designed to reflect a masculine state. A place he lived alone. There was an intentional feeling of something missing in his life. This was represented in the few personal items and lots of space between furnishings. Things in his life were controlled, right down to the palette."
Bode-Tyson observes, "Kevin has such great vision. He kept the architectural bones of an old office bldg…you can see the Xbeam in the corner [photo below]and the exposed brick…and established the palette from there. The main pieces came from Thayer Coggin. Assistant Set Decorator Jenny Nickason and I shopped vintage and antiques stores in the tri-state area. The accessories were strong, minimal elements, like the collection of antique maps chosen because he represented New York or the old gas sign that had a graphic, masculine quality. The dining table, a beautiful sort of grayish color, faded and pickled, we bought on sale. It's hard to do rich on a budget. So you're always looking for bargains that will help you achieve that end."
Leather sectional & coffee table: Thayer Coggin

Pillows: Dransfield & Ross

Butler's tray: Find Home Furnishings, Brooklyn

Dining table: Room

Chairs:

House of Modern Living , Asbury Park, NJ

Lamps: Visual Comfort; Phosphoria; Gracious Home, Restoration Hardware

Antique maps:

The Old Print Shop, Lexington Ave, NYC

Vintage gas station sign: Braswells, Norwalk, CT

Ping-pong table: [

via Wendy Cohen

]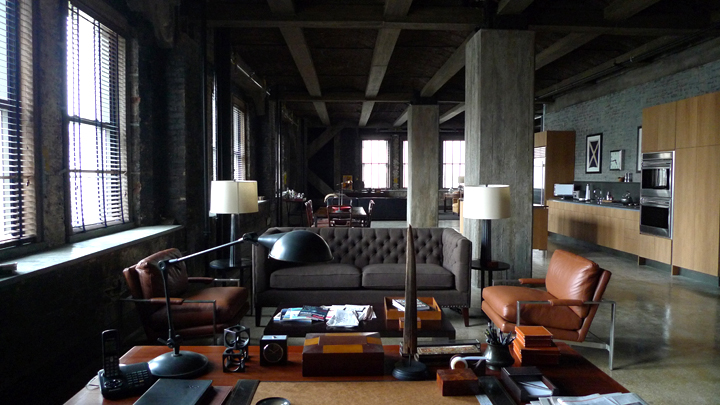 David's Loft, study:
Note the rough beams and exposed brick counter-balanced by the polished floor…all textures reflected in the furnishings.
Wooden venetian blinds: M.Epstein's Son, Manhattan

Chairs: Thayer Coggin

Tufted Sofa: ABC Carpet [warehouse sale]

Lamps: Visual Comfort

Accessories: John Derian, Newell Art Galleries, Leo Design, NY gift show, flea markets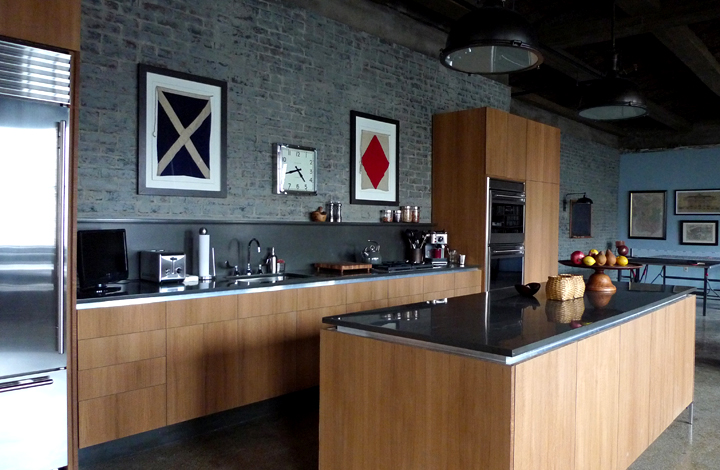 David's Loft, kitchen:
Thompson designed the kitchen unit, which was built in-house. Kitchen elements limited to toaster, espresso maker and monitor wordlessly reveal character.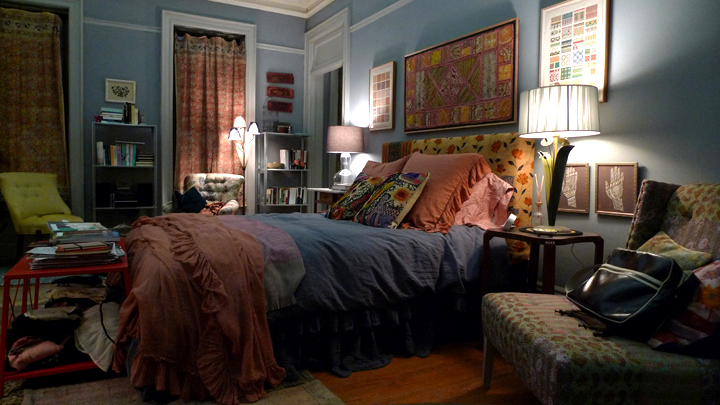 Elise's apartment:
"Elise's apartment was alive with pattern, color and texture," describes Thompson. "She could offer David the things that were missing in his world and vice versa." Bode-Tyson brought in handcrafted and ethnic elements, along with vintage pieces to convey the artistic vivacity of the contemporary ballerina and free spirit Elise Sellas [Emily Blunt].
Handstitched fabrics: John Derian; Matta, Soho

Headboard custom: Thompson design, created from re-conditioned vintage Indian fabrics

Sunburst pillows: Dransfield & Ross

Black & white linoleum-cut prints: Hugo Guinness at John Derian

Gray lamp, orange tables: CB2

Anodized bookcases: Ikea

Curtains: Tabwa, Greenwich Village

Rug: patchwork of vintage rugs

Rug w/metallic threads: Matta, Soho

Chairs: India via NY gift show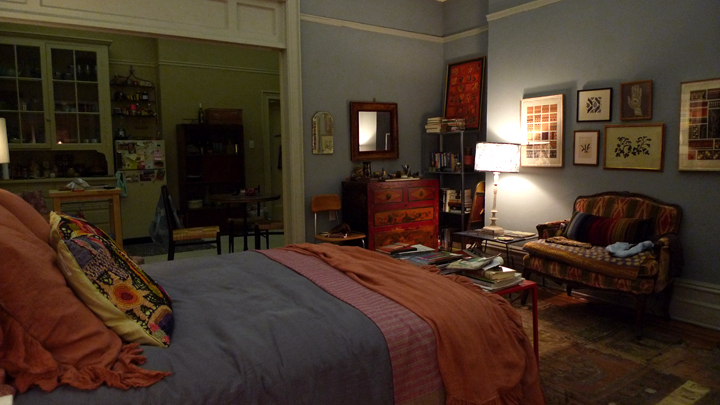 Elise's apartment:
"We knew how much money Elise made, which informed my choices," Bode-Tyson explains. "I always try to put myself in the character's shoes, to make decisions based on how they 'live", how they look at life and what they would do."
Setee: Braswells, Norwalk, CT

Bureau: Jay East, Brooklyn

Black & white linoleum-cut prints: Hugo Guinness at John Derian

Rug: patchwork of vintage rugs

Anodized bookcase: Ikea

Lamp: flea market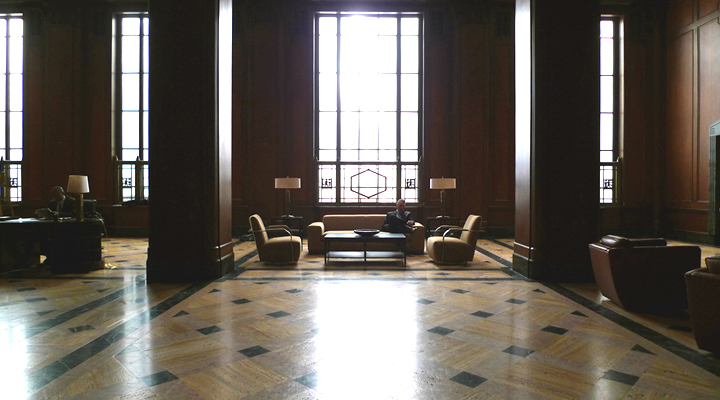 The Adjustment Bureau – Thompson's office:
"Large scale buildings in which human beings feel small are suggestive of otherworldly power," states the film's Writer/Director George Nolfi. Thus, Thompson imparts, "The Adjustment Bureau space was all about the luxury of emptiness on a large scale." Working in this framework, Bode-Tyson chose pieces that had a timelessness, that wouldn't be associated with a particular era. She discovered the signature desk perchance when doing research, and was able to have six copies made.
Reception seating & coffee table: Thayer Coggin

Desks: EJ Audi, NYC

Desk chairs: Arenson

Oversized desk: Dining table from Greenbaum Interiors, Patterson, NJ

Lighting: Visual Comfort

Accessories: Newell Art Galleries
For the entire film, there were 85 locations during the 70-day shoot. Bode-Tyson says, "It was wonderful to work with Kevin. The way he approaches each character and the world they inhabit ends up on the screen!"