Congratulations to the 61st emmy awards nominees & winners!
SETDECOR offers a peek at the 8 Emmy-nominated shows decorated by SDSA members.
Download Full List (PDF)
Link to Academy of Television Arts and Sciences

Outstanding Art Direction For A Single-Camera Series
Sets in these episodic television series gave a physical reality to imaginative storylines or established a time period without being confined by it.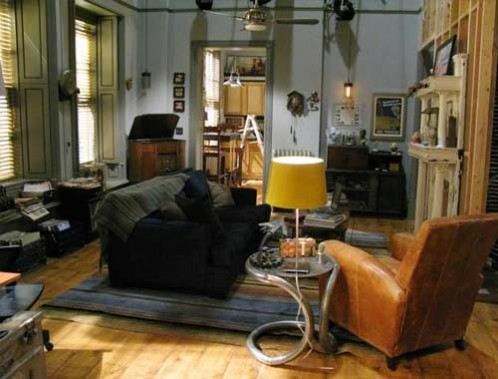 BONES
Set Decorator Kimberly Wannop SDSA
Production Designer Michael Mayer
Art Director Gregory S. Richman
FOX

The mystery remains: Season 4 of BONES led forensic anthropologist Dr. Temperence Brennan and Special Agent Seeley Booth to solve atypical murders—in the UK, on a plane to China, of circus brothers in an oilfield and of an artist whose installations involved crushed vehicles [including one with him inside!]. A one-man submarine hidden within the hull of a ship served as a hostage cell for the nominated episode, which included Brennan's Lab and Office at the Jefferson Institute, the Founders Bar and a thorough search of Booth's Apartment, keeping it very close to the bone!

[Watch for an upcoming SETDECOR article on BONES!]
HEROES
Set Decorator Ron Franco SDSA
Production Designer Ruth Ammon
Art Director Sandy Getzler
NBC
Season 3 of HEROES explored the dark side, literally with a prolonged
solar eclipse
and figuratively with the
heroes
finding villainous aspects within themselves. There were so many global locations, so much time-travel, shape-shifting and different manifestations of each character, the viewer definitely had to rely on the sets to map and define space and time.
[For SETDECOR article on HEROES, click here.]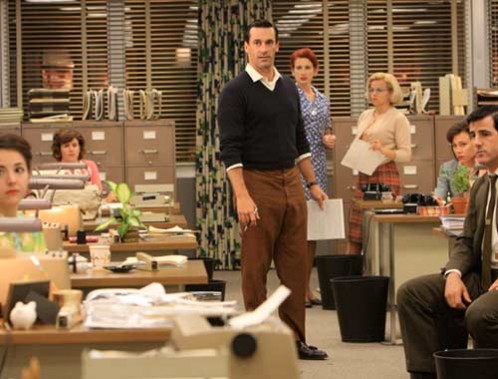 MAD MEN
Set Decorator Amy Wells SDSA
Production Designer Dan Bishop
Art Director Christopher L. Brown
AMC
The mores and the look of the emerging 1960's continued to unfold in Season 2 of MAD MEN. The high stakes games of business & politics, both office and international - the "bluff", the secrets, the maneuvering - were played out at home and in the corporate world against the backdrop of the evolving Cuban Missile Crisis.
[For SETDECOR article on MAD MEN, click here.]
PUSHING DAISIES
Set Decorator Halina Siwolop SDSA
Production Designer Michael Wylie
Art Director Ken Creber
ABC
2009 Emmy award winner!
The quirky, whimsical PUSHING DAISIES finished its run with a panoply of eccentric settings that visually translated the unpredictable storyline for each fantastical episode. Saturated colors, layered patterns, vintage design elements, and humor as an accessory created a vibrant, unique look throughout the series.
[For SETDECOR article on PUSHING DAISIES, click here.]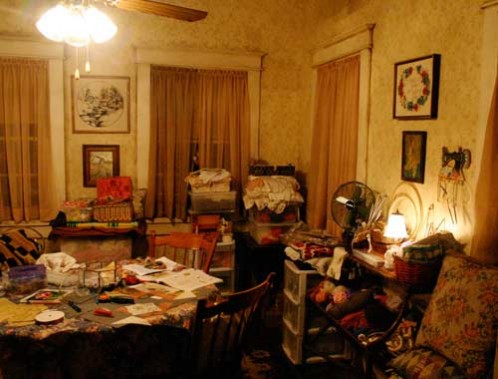 TRUEBLOOD
Set Decorator Rusty Lipscomb SDSA
Production Designer Suzuki Ingerslev
Art Director Cat Smith
HBO
Southern gothic suffuses the vampire/human romance mystery of TRUEBLOOD, anchored by the almost surreal small town ethos of
Bon Temps, Louisiana
. The most notable sets: Merlotte's roadhouse, the vampire bar
Fangstasia
, the 150-year-old Stackhouse farmhouse,
Lafayette's place
, the
Compton
family plantation home and the requisite rural cemetery, give presence to the present-day phantasmagoria.
[For SETDECOR article on TRUEBLOOD!]
Outstanding Art Direction For A Multi-Camera Series
The resurgence of the sitcom in the upcoming Fall television schedules underscores the value of the current nominated shows, which include two sitcoms and a comedic romance.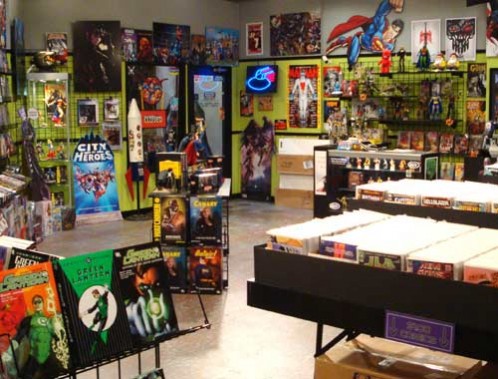 THE BIG BANG THEORY
Set Decorator Ann Margaret Shea SDSA
Production Designer John S. Shaffner
CBS

Putting a theoretical twist on the standard nerds-meet-beauty comedy dynamic, the geeks on THE BIG BANG THEORY are physicists - socially inept, but brilliant multi-degree scientists. Their beautiful neighbor, an aspiring actress-waitress, has the common sense one develops from being raised on a farm in Nebraska. Fresh perspectives and youthful energy are represented visually in bright palettes and contemporary, very "now" elements in contrast to the more vintage aspect of the main set.

[Watch for an upcoming SETDECOR article on THE BIG BANG THEORY!]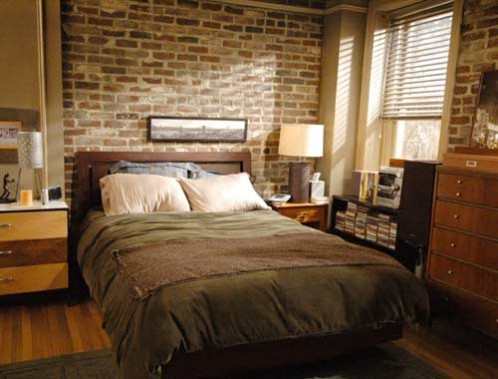 HOW I MET YOUR MOTHER
Set Decorator Susan Eschelbach SDSA
Production Designer Stephan G. Olson
CBS
2009 Emmy award winner!
It's not surprising to see the award-winning HOW I MET YOUR MOTHER nominated again this year. The richly layered sets look more like those for episodic television than a half-hour romantic comedy. Described as "A love story in reverse," the tales of a couple and their close friends are
Scheherazade-esque
in scope, but set in current
Manhattan
.
[For SETDECOR article on HOW I MET YOUR MOTHER, click here.]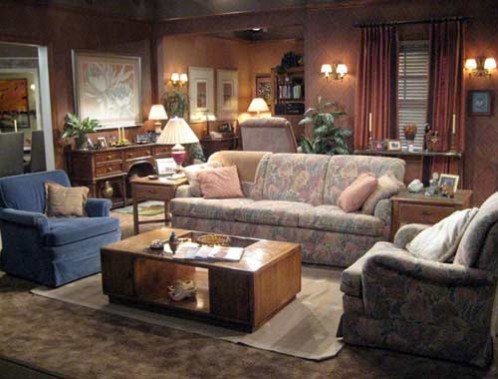 THE NEW ADVENTURES OF OLD CHRISTINE
Set Decorator Amy Feldman SDSA
Production Designer Cabot McMullen
CBS

Nominated for a second year in a row, THE NEW ADVENTURES OF OLD CHRISTINE doesn't grow old! Swing sets on a tight budget require pop and detail presented as if there were no restrictions. In Season 4, besides having to spend Thanksgiving at her parent's house, Christine closed her gym, went to a boxing ring, held a bachelorette party for New Christine in Las Vegas, and then had to attend the wedding rehearsal and wedding—sets galore!

[Watch for an upcoming SETDECOR article on THE NEW ADVENTURES OF OLD CHRISTINE!]

---
Set Decor / Awards Awards Archives